-
search results
If you're not happy with the results, please do another search
The Hop Inn is clean, safe, and the staff are SUPER friendly. I highly recommend it.
On the way back to Batangas Port from Sabang Beach, our damn pump boat broke down four times. The Captain fixed the diesel engine with a wood saw. The engine was running rough from the start. I can't recommend the Blue Penguin.
Booze cruise over to White Beach for some beach volleyball. What a great trip. Thanks to the Bikini Bar and crew for organizing this trip and putting up with my drunk ass.
Here's Day 2 at the floating bar featuring drunken high diving off the top deck. Stay tuned for Day 3's episode with beach volleyball at White Beach!
Here's some rambling philosophy on life.
I certainly enjoyed my stay at the Bamboo House in Talipanon Beach, Philippines. I highly recommend this place. It is off the beaten path but 100% worth the time to get there.
Here's the initial discovery and first impressions of this little floating gem. Stay tuned for Day 2's episode featuring some high-dive action off the top of the Bikini Bar.
Got lost on the motorbike and found Tamaraw Falls near Puerto Galera, Philippines.
I took a walk around Puerto Galera. It's really a quaint little place. If you're into scuba diving, Puerto Galera is the place to be.
While the journey to Puerto Galera via Batangas Pier was an adventure, the next time I'll fly AirJuan and avoid the headaches.
I picked up this little shoulder bag by Travelon. It's designed for concealed carry but it also makes a great bag for the world traveler.
The Sunday Flower Beach Hotel is one of my favorite places to stay on Bantayan Island in the Philippines.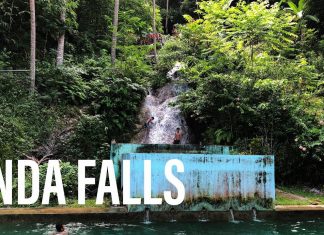 I took a quick trip up to see Anda Falls. The waterfalls drain into a swimming pool. No need for chlorine at this pool.
Here's a walking tour of the little town of Anda. There are 3 restaurants I recommend you eat at during your stay there. For accommodations, I recommend the Little Miami Beach Resort.
The WellCome Hotel is my new favorite place to stay in Cebu City, Philippines. It's near Ayala Mall. The hotel offers FAST WiFi, nice rooms, and a roof top bar and restaurant. The staff are all super friendly.