Traveling on the ferry to Manila is sort of like taking a budget 24-hour cruise. That is, as long as you get a State Room. If you don't get a State Room, it's probably more like taking a 24-hour crowded bus—not exactly the same experience. The State Room comes with breakfast, lunch, and dinner in the ship's cafe. It's a pretty good deal if you're traveling with your significant other. You're getting transportation, three meals, and a night's accommodation all in one.
Buy Your Tickets In Advance
I recommend that you purchase your tickets in advance because the State Rooms might sell out. I also recommend that you pay cash for your tickets at a travel agency or at 2GO's office at the port. You can buy tickets on the 2GO website, but they require you to bring photocopies of your credit card, ID card, and the receipt to be submitted upon check in. It's better to not have extra copies of your credit card and passport floating around on someone's desk in the port. Pay cash at a travel agency and be done with it. Just my opinion.
The Port in Cebu City
In Cebu City, you will check in at Pier 1. As you walk into the building, you have to pay the terminal fee which is 25 pesos. You'll then go through the x-ray / security checkpoint. After you clear security, look to your right. There is a 2GO counter up against the wall. Proceed there and check in with the staff. They'll take a quick photo and stamp your ticket. You will get your luggage weighed and have to pay a fee. We had one big suitcase that they charged 100 pesos for. The suitcase stays there and a porter will make sure it gets to your State Room. Make sure that you have locks on any luggage you leave with the porters.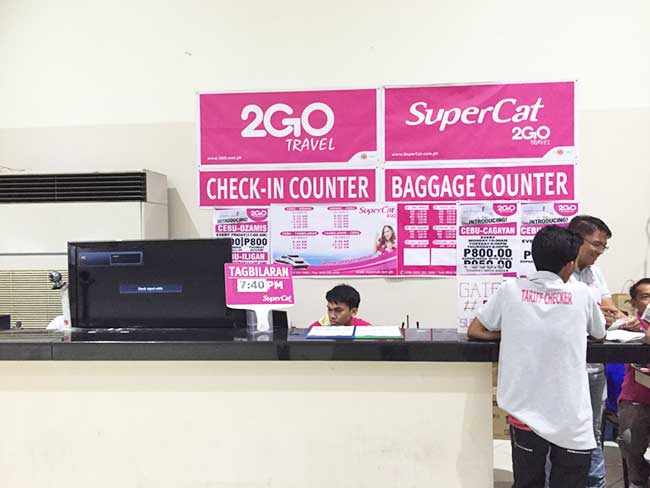 You'll wait there at Terminal 1 until it's time to board. Make a note that the coffee shop upstairs closes without warning at around 5:00 p.m. and they kick you out. The little snack bars downstairs close around 6:00 or so. If you need something to eat or drink, buy it before it gets too late.
They will bring buses to pick up all the passengers for transport to Pier 4. It's a mad rush for the bus, so don't even get up from your seat until the line dies down about 30 minutes later. If you have a State Room, there's no need to be in a hurry.  Why stand in the crowded line and get packed onto a bus like a can of sardines? Wait for the last bus and your stress level will be much lower.
Boarding
At pier 4, be ready for another security screen and pat down. Then, it's time to climb the long staircase up to the boarding door. Go up the escalator and check in with the desk clerks in the lobby. They will escort you to your State Room.
Once we got to our State Room, the suitcase was just sitting outside in the hallway, unattended. Passengers were filtering past it. A few minutes later, the porter came back (obviously) to receive his tip. Since it was so heavy, we gave him 100 pesos. The security is lax with your suitcase so make sure you don't leave anything valuable in it. It's out of your control for too long in my opinion.
The State Room
The state room we stayed in had a full-size bed, a single bed, and a contoured couch. The way it is set up, it's kind of like a suite with a sitting room off to the side. Technically, it could sleep four if need be. There was a small desk next to the main bed and a second desk next to the comfort room. A small refrigerator gave the room that added touch.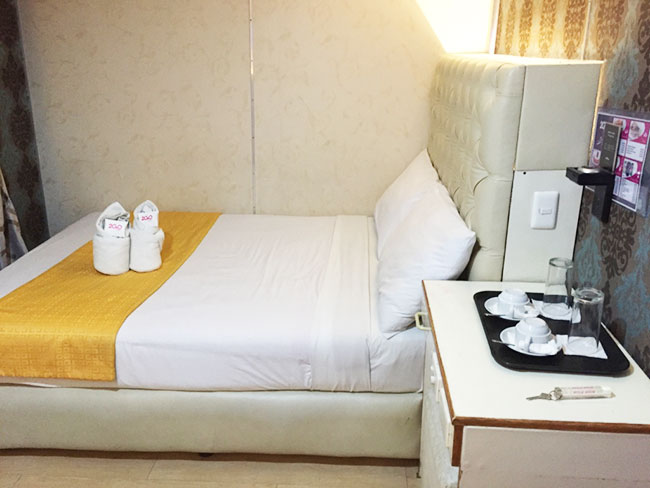 The tv is fairly modern with HBO and three other channels. The signal quality was a bit poor but maybe it was just a bad connection in that particular room. The hot water in the CR worked just fine.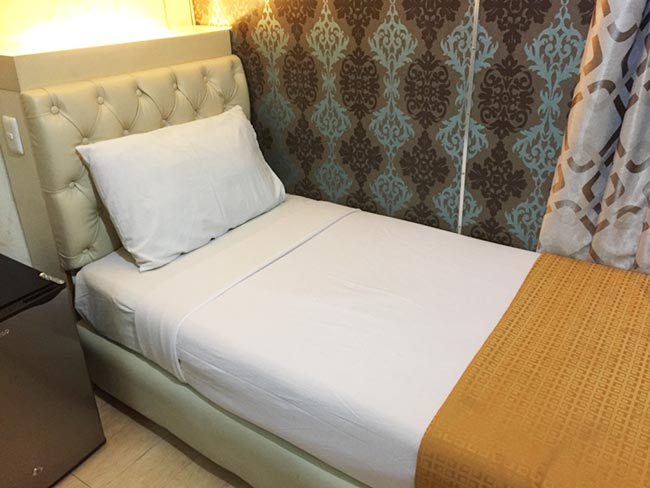 The food at the cafe is ok, especially since three meals are included in the price of the ticket. I'm not going to say it's bad or good. The food is nothing to write home about, much like airline meals.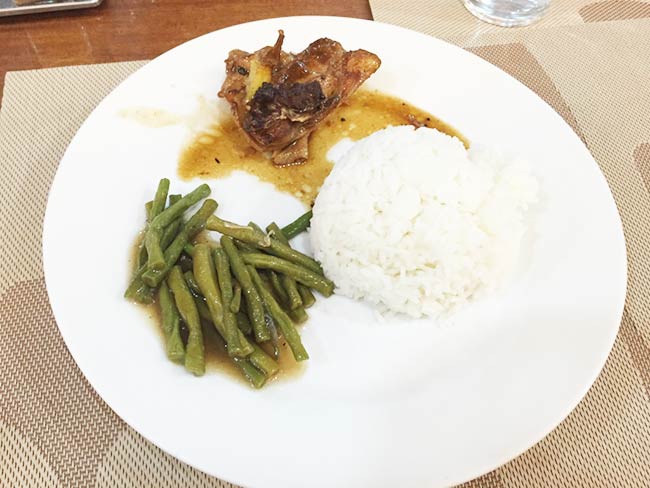 There is a hair salon and a small convenience store that sells snacks and drinks.
In the room, there is a food and drink menu. All you have to do is push a button and a waiter arrives at your door. That's convenient. What's not convenient is the fact that when you try to order something, the waiter comes back in five minutes and says it's not available. After four tries to get a snack, you realize that it's easier to just walk down to the convenience store. It seems that many of the staff on the ferry are college students in the HRM (Hotel & Restaurant Management) course, so just be patient with them. It's not Carnival Cruise Lines.
The Journey to Manila
The trip takes approximately 24 hours. Throughout the journey, cell service is up and down depending on how close you are to land. The boat doesn't offer Wi-Fi as far as I could tell.
Walk outside after every meal to take a break and get some fresh air.
When you get to Manila, a porter will come and knock on your door. Give him your bag and then chill out in the room for another twenty minutes to let the crowd die down. Since you have a private room, there is no need to stand in the madness unnecessarily.
Once you disembark from the ferry and grab your bag, you will have to walk a bit and cross over the street to the departures waiting area. To the left of this building, there are taxis. It's a mess of confusion because porters / staff of some sort swamp you and ask if you need a taxi. It was too much to figure out so I elected to get away from the disorganization and walk out of the port. Once you walk outside the gates, there are taxis waiting on the street.
Dealing with Taxi Drivers in Manila
I flagged a taxi and told him we were going to Makati. I asked him how much and he advised 350 pesos. (Manila taxi drivers hate to use the meter.) I countered with 300 and he popped the trunk. It was starting to rain. Once my girlfriend's big-ass suitcase was secured and we jumped in the back seat, the most familiar words of a Manila taxi driver were uttered…
"Traffic. Too much traffic. 350 pesos."
The price got raised back up.
I'm so tired of hearing the word traffic from the taxi drivers in Manila. Every damn one of them will pull the same shit, like it's a huge surprise or revelation.
Really? You're a damn taxi driver. You drive for a living. There is traffic in every major city in the world. There is always traffic in Manila. You're really going to argue that point?
Sure they are—right after you put your bag in the trunk to where it's a hassle to get out and pick another cab. That's why I usually only travel with one backpack.
What really pissed me off with this idiot was the fact it was around 1:00 a.m. in the morning. It was the middle of the night. It was the time of the least amount of traffic throughout his entire shift.
I told the guy to pop the trunk.
He put the car in gear and off we went in silence.
Overall?
It's a nice little adventure to take the ferry from Cebu City to Manila if you have the budget to get a State Room.
If you do not have the funds to book a state room or if they are fully booked, do not take the overnight ferry. Get on a plane and be done with the trip in an hour. That's my advice for expats and old foreign guys like myself here. It's just too damn crowded in the regular and tourist class areas of the ferry to spend 24 hours.
If you are a young backpacker or an extreme extrovert, then go ahead and hang out in the cheap seats.
The boat we rode during this trip is called Pope Saint John Paul II. Personally, I like St. Leo the Great better. Not sure why, but if I had a choice I would take St. Leo the Great. Check out the 2GO sailing schedule to help plan your voyage.
Book A Room in Manila or Cebu City
The quickest way to book a room in the Philippines is on Agoda. They usually have the lowest rates, in my experience.
A cheap hotel in Cebu City is The Cebuview Tourist Inn. It's clean and the price is right.
A budget place to stay in Makati is The Red Planet Hotel. The rooms are tiny but they're clean and security is good. There is a sports bar connected to the hotel that's a nice place to eat and drink.