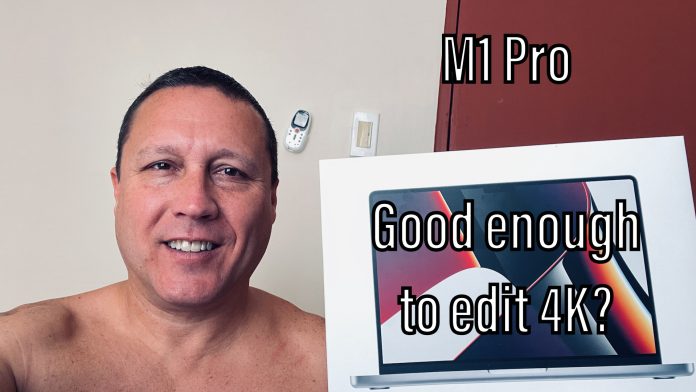 I bought a new Macbook Pro with the M1 Pro Chip and 16 GB of RAM. Is it good enough to edit 4K 60FPS video at 100 Mbps? Yes, it is.
Here are the specs on my M1 Pro laptop:
14 inch
M1 PRO Chip
1 TB SSD
16 GB RAM
10-Core CPU
16-Core GPU
$2,499 USD in the U.S.
146,990 PHP in the Philippines ($2,876 USD)
Thoughts on the M1 Pro:
Editing 4K60 at 100 Mbps is no problem. Computer barely gets warm. I usually dump 2 plus hours of video and edit that down to an hour.
Editing 5.3K GoPro footage causes the computer to heat up significantly. I dropped the resolution on the GoPro back down to 4K and the laptop does just fine.
Any editing over 4K60 100 Mbps, upgrade to the M1 Max chip and 32 GB of RAM.
16 GB RAM: With Google Chrome open and running Final Cut Pro, it will use some of the SWAP memory. If you restart the laptop and only open Final Cut Pro, it will come close to using all 16 GB of memory, but usually won't use any SWAP memory. The ideal memory for most YouTube video editors is 32 GB of RAM.
I had a Mac Mini with the first M1 chip that came out. The original M1 chip is NOT for video creators. Don't believe the hype. Don't even consider the first M1. You need at least the M1 Pro, preferably with 32 GB of RAM.
I'm glad I went with the low-end laptop, because now that the Mac Studio is out there, I have more funds to put toward purchasing a spec'd out Mac Studio. I'm thinking about buying the Sony A1 and shooting in 8K. The M1 Ultra chip with 128 GB of RAM should handle the 8K. Yes, that combination of camera and computer is going to be expensive. But, both components should last me at least 5 years before they become obsolete.
GoPro Hero 10
Not any better than the GoPro Hero 8 I had. I think I even like the 8 a little bit more. Yes, the 10 has a front screen, but I never had a problem staying in frame with the 8. The front screen is convenient, but not really necessary. The 10 has glitched on me, just like the 8 would do on occasion. Again, nothing has really changed. GoPros are a great piece of gear, but unreliable. Don't try to film any weddings with a GoPro, let's put it that way. If you have an 8 or newer, no need to upgrade to the 10.
My advice to GoPro? Work on one important aspect that is a problem with all of your products… RELIABILITY!!! The Osmo Action doesn't glitch or have any of the issues GoPro's have. If they can pull it off, so can you.
If you're torn between buying an iPhone 13 Pro Max or getting a GoPro, get the iPhone. The stabilization is just as good and the video quality is better.