UPDATE: Saddleback Leather has DISCONTINUED the Thin Briefcase. Not sure why, because it is a great product. You can obviously still find the Thin Briefcase on ebay. Just make sure you get the real deal and not a knockoff.
Original Article:
If you're looking for a briefcase that can take on the adventure trail as well as the boardroom, check out the Saddleback Leather Thin Briefcase.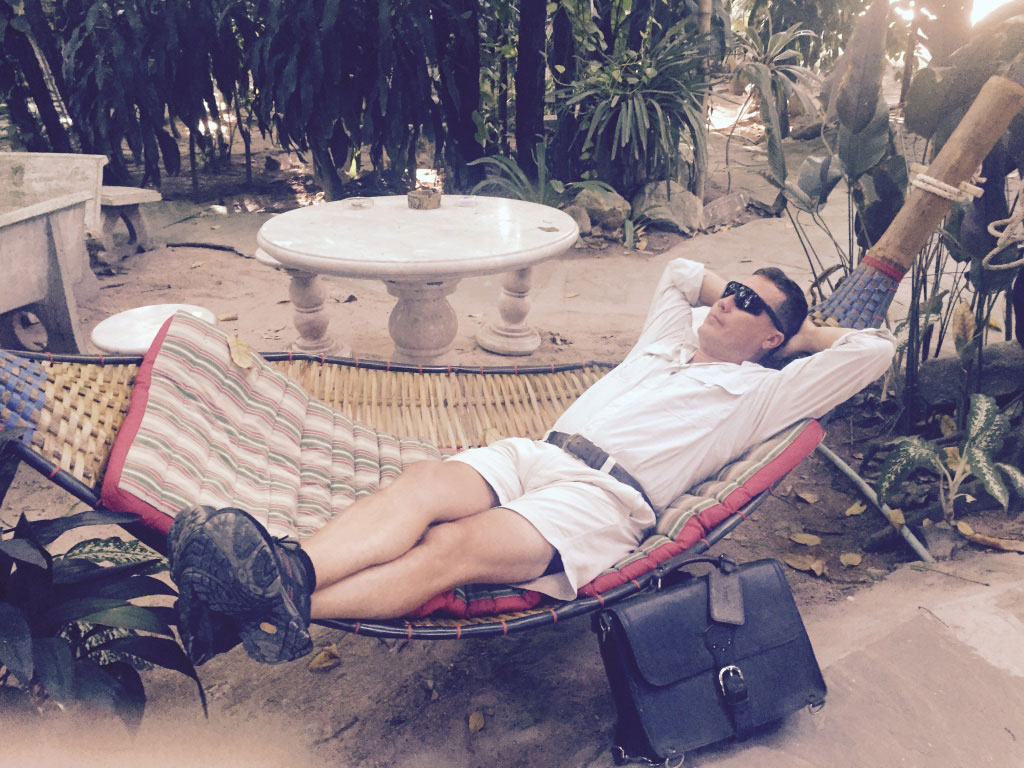 For the CEO & World Traveler – Bottom Line Up Front
The Thin Briefcase by Saddleback Leather is built like a tank. When you show up to a meeting, everyone will know you mean business.
The bag is over-engineered and designed to last. The interior is lined with tough pigskin for added durability.
I highly recommend this briefcase for every-day carry. It even converts into a backpack for those extended jaunts into work.
It comes with a 100-year warranty! I'm not kidding.
Be sure to check out the Classic Briefcase if you need a bag with greater storage capacity.
My Story – March 25, 2015
Saddleback Leather. Several months ago, I'd never heard of them. However, I had actually seen one of their bags before and didn't know it. I just remembered how nice my cousin's leather bag was. I learned later on that it was a Saddleback Classic Briefcase in tobacco brown. Anyway, I somehow stumbled onto Saddleback's website while watching tv and browsing on my laptop. This immediately became my nightly routine for about three months—read the articles, watch the YouTube videos and compare the bags. The hardest part is trying to decide which bag is best for you. The second hardest part is trying to choose which color to go with.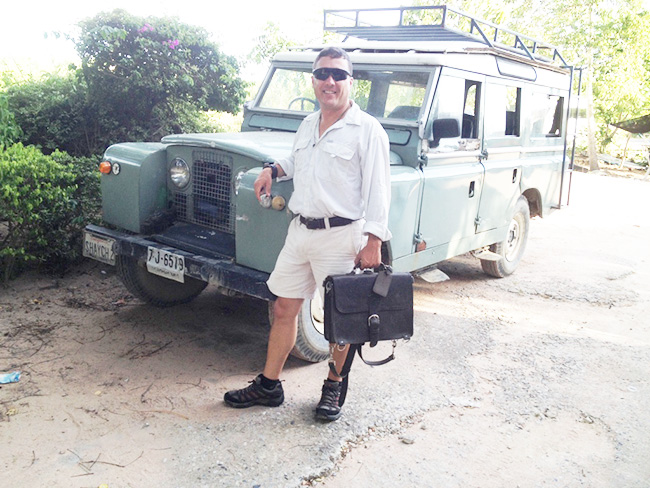 The Decision to Buy
After browsing the website for about three months, I decided to pull the trigger. It's a big trigger to pull, because their bags aren't cheap. But, a sudden 35% off sale on several products made me take the plunge. Saddleback is reportedly doing away with the carbon black color (they did). I had never considered it before because I was dead set on the tobacco brown. But hey, 35% off is 35% off. All of a sudden, carbon black didn't look so bad.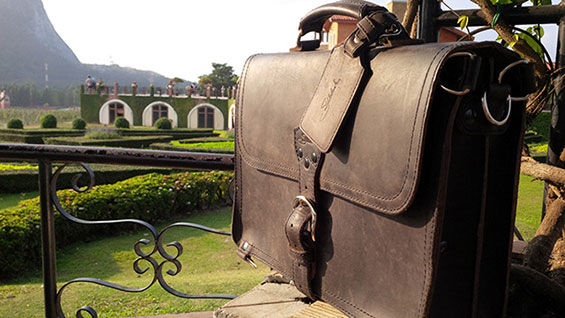 I continued back and forth between the Front Pocket Briefcase and the medium Thin Briefcase for several days. After hours upon hours of more agonizing comparisons, I settled on the Front Pocket Briefcase. It was still in stock but I elected to go to bed and sleep on it for one more night. I got up early the next morning and fired up the laptop. Time for action. I added the Front Pocket Briefcase in carbon black to the cart, along with about fifteen other discounted items. When I tried to pay, there was an error. After some tinkering, I figured out that one of the products in my cart had apparently sold out during my slowness. It was preventing my sale from going through. I took out the item and tried again. Still no luck. After some more fiddling I realized that the Front Pocket Briefcase was now listed as out of stock. You snooze, you lose. It was time for plan B so I quickly grabbed the medium Thin Briefcase in carbon black and tried again. This time, it went through. My roughly $1,000 shipment was on the way.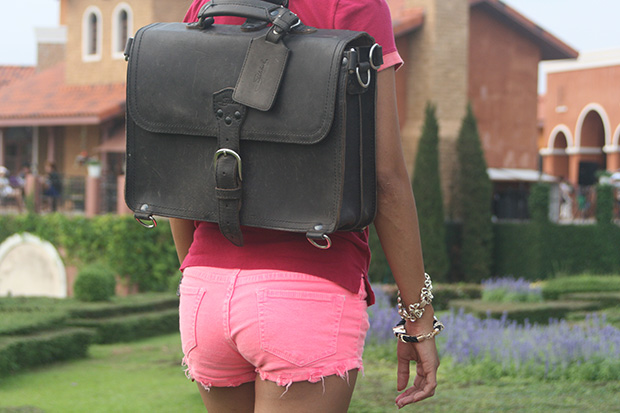 About a week and a half later, the UPS truck pulled up. Since I'm currently traveling around Thailand, I got hit with a 30% import tax and 7% on VAT. There went my 35% off. Oh well, my leather had gone from Texas, to Kentucky, to Alaska, to Hong Kong, to China, and then to Thailand. My bag was already a world traveler.
The Unboxing
After getting the box inside and opening it up, it was like Christmas. The reviews and pictures don't tell the real story about these products. My new Saddleback Leather Thin Briefcase is by far the most elegant, rugged, and fashionable item that I've ever owned. I quickly realized that it was exactly what I needed for a daily-carry bag. The Front Pocket Briefcase would have been too big.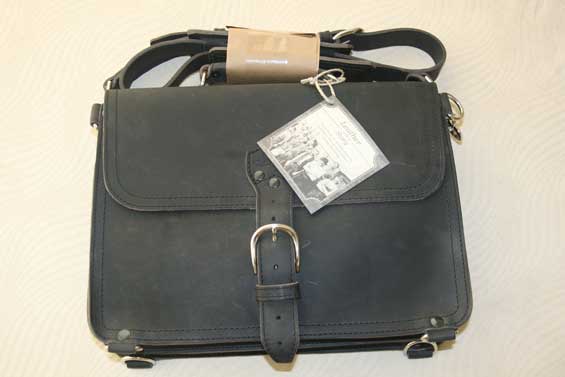 I spent the rest of the day packing and unpacking the bag to see what it would hold. That night, my Saddleback briefcase sat next to me while I watched tv. During the commercials, I just marveled at it. Yeah, it's that cool. Suddenly, the price tag was no longer a factor. It was definitely worth the money. There's no doubt that it will be with me until the end.
Where to Buy?
I recommend that you buy direct from Saddleback, but their products are also sold on amazon. Just be aware that there are a lot of people knocking off these bags. You definitely want to make sure that you get the real thing. Obviously, it's not a concern if you buy from Saddleback Leather. I would say that these bags are like Harley-Davidson motorcycles. They hold their value. If someone is selling a Saddleback bag on the cheap, I would question its authenticity.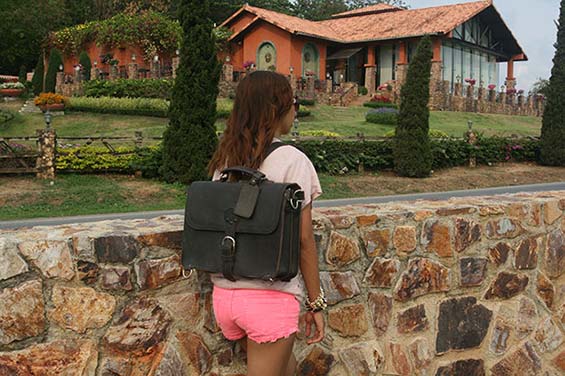 For a bargain, check out Dave's Deals. The items on this page supposedly have some type of blemish so they are marked down. I purposely ordered an item off of Dave's Deals to see how it would turn out. I looked and looked but could not find anything wrong with the piece. It was just like new. If you see the item you've been lusting over on Dave's Deals, you would be smart to go ahead and grab it. The items don't last long. As a warning, even though the item is in your cart, it's not yours until you pay for it and successfully check out. Remember, you snooze, you lose.
The Strap and Buckle
When you first try to buckle the lone strap, it is a bit awkward. The strap is stiff. It takes two hands and some patience for the first few dozen times. Once the strap gets broken in, the process becomes painless. You'll get the hang of opening and closing it one-handed. As a matter of fact, it's part of the joy of owning the bag. While zippers in general are great for travel gear, they have no place on a bag like this. The strap and buckle are part of the nostalgia of the briefcase. I read a review where someone complained about the strap being too long. It's part of the design and makes it easier to buckle and unbuckle. It's not too long. It's perfect.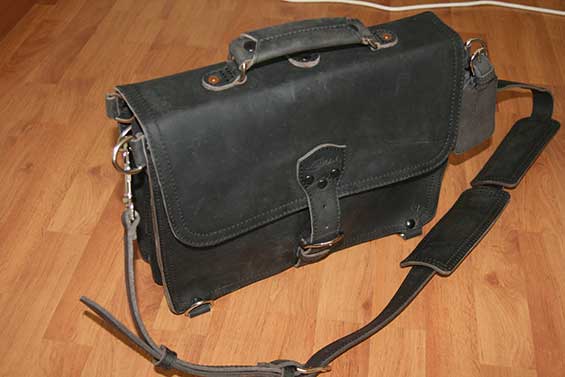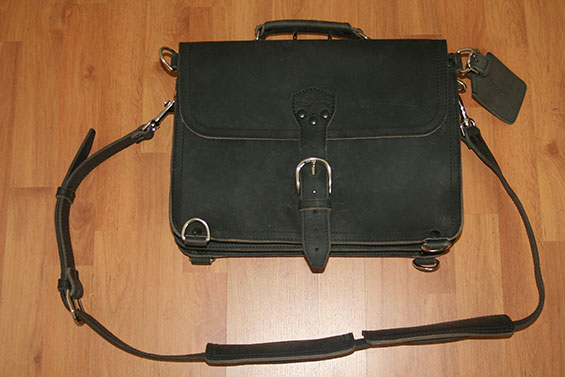 The Interior
The pigskin interior is soft to the touch and adds a layer of elegance to compliment the rugged exterior. It supposedly makes wiping out the bag easier. Either way, it looks and feels great. My bag came with a few scrapes already on the pigskin. Its character had started building before I even opened the box.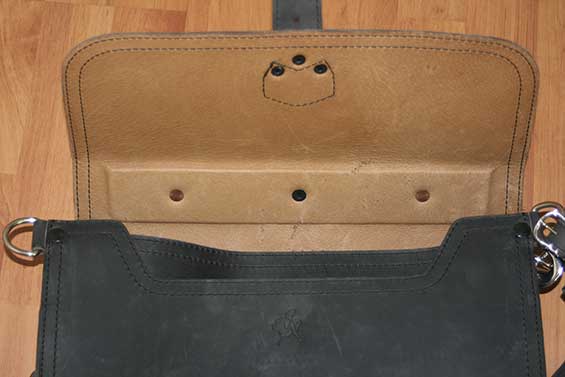 How much stuff will the Thin Briefcase hold?
In the back section, I carry a MacBook Air in a Chestnut Saddleback Leather Sleeve, a legal pad / portfolio, and a few files. In the front, I carry the MacBook charger, a few cables, an external hard drive, a pack of cigars, and a flask of whiskey. That's the everyday packing list and it fits just fine. Since I'm an extreme minimalist, I do often use it as my sole travel bag. In addition to the above-mentioned items, I can roll up a pair of underwear, a pair of shorts, a t-shirt, and a pair of socks, and make it all fit. The average traveler will not be able to use this bag as their sole piece of luggage. It's a briefcase, not a suitcase.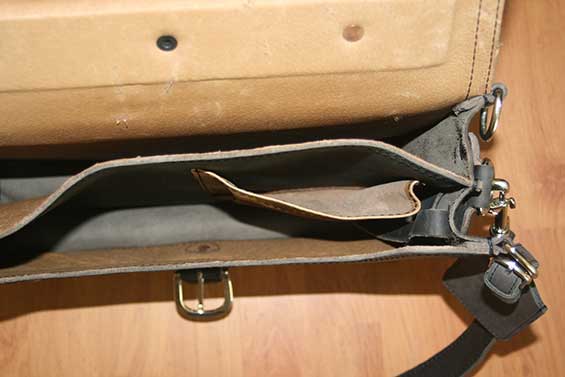 Will a 15-Inch MacBook Pro fit in the medium Thin Briefcase?
Yes, it will, but just barely. It's a snug, tight fit, but remember that leather stretches. It will not fit if you put the MacBook Pro in any type of case. There's just not enough room. It's probably better to go with the large Thin Briefcase if you're sporting the 15-inch MacBook.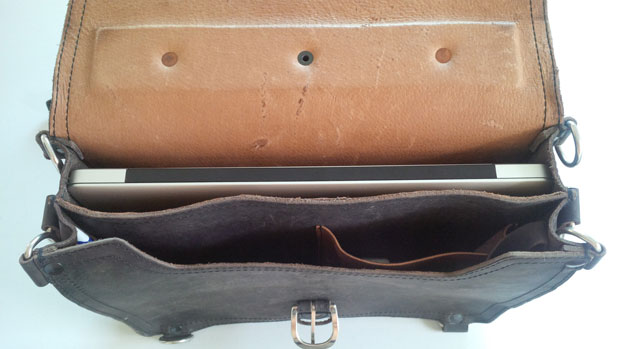 Business Psychology
The Thin Briefcase is a piece of gear that makes a statement when you walk into a meeting. It says that you mean business. It says that you're rugged, yet fashionable. It broadcasts that you're just as comfortable on a job site as you are in the boardroom. It will subliminally give you an edge over any ego-centric alpha males in the room trying to dominate the negotiations. Once they lay eyes on the bag, they will immediately realize you did more research on non-verbal cues than they did. You've already scooped them without saying a word. Whatever bag they happen to be carrying will all of a sudden look weak next to your Saddleback. If you really want to get their attention, just let the lid drop freely after you open it. The thud will give everyone a clue as to the heft of the bag. I wonder if Dave factored in this psychology when he was designing the bag. Probably not, but it's a side effect. Forget the power tie.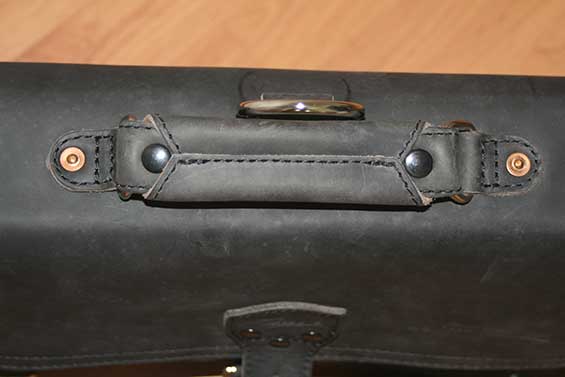 Let's face it. Your appearance is paramount in the business world. It's just the way it is. You have to wear nice clothes and drive a nice car if you want people to take you serious. Chances are, not many people are going to see your Mercedes in the parking garage when you go to a meeting. They're not going to see your eight-bedroom house in the country-club neighborhood. What they are going to see is you, your clothing, and your damn briefcase. Every time. Every meeting. Think about that for a minute. Do you really want to pull an important file out of a bag that looks like it came from Walmart? That's the equivalent of a neurosurgeon pulling out instruments from a paper sack. It does not inspire confidence.
The Shoulder Strap — When to Use and When to Ditch. The shoulder strap is engineered to last. That's a given. It's like they hooked two sturdy belts together and added two huge pads. It looks great and is functional. If you do a lot of walking or you're traveling, keep the shoulder strap and use it. If your shoulder gets tired, you can even convert the briefcase to backpack mode.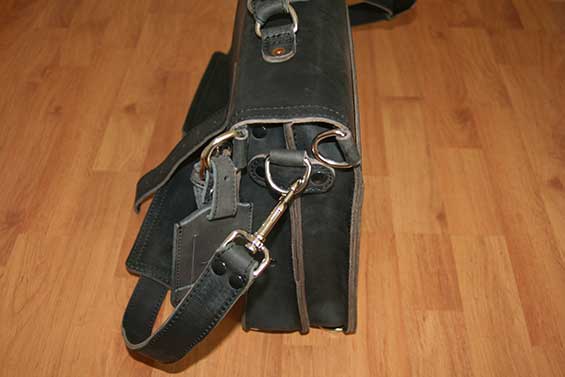 If you're walking in and out of meetings, ditch the shoulder strap for the day. Why? Well, the metal hardware jingles a bit. It attracts attention. If that's what you're going for, then it's no problem. But, if you're late and trying to sneak into a meeting, that strap is going to highlight your lateness. When you sit the bag down on a table, the strap makes it awkward to get the bag settled right. So, in an office environment, I recommend taking off the shoulder strap until you are ready to call it a day and head for the house. It takes all of two seconds to remove the strap because it's equipped with the same heavy-duty latch that you'd find on a dog's leash. Easy on and off.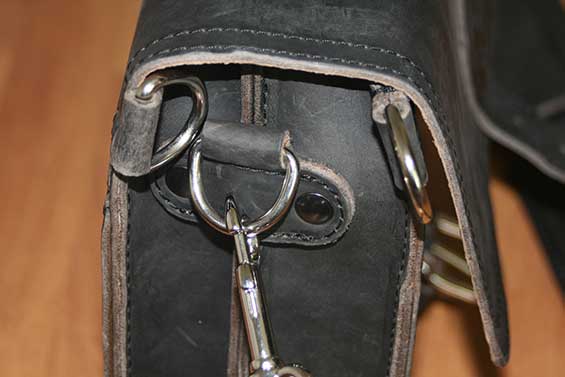 Saddleback Leather MacBook Air Laptop Sleeve
My main laptop is an 11″ MacBook Air. It's the best laptop I've ever owned, and I've probably gone through a dozen or more. I ordered the Saddleback Leather MacBook Air Leather Sleeve in Chestnut to protect it and to compliment the briefcase. The sleeve is custom made to fit the MacBook Air. It's not a one-size-fits-all case. The chestnut looks great and goes well with the interior of the thin briefcase. It's a treat just to reach in the briefcase and retrieve the laptop. It's hard to describe, but it makes you feel like you're a rich tycoon when you're in the midst of that much quality leather.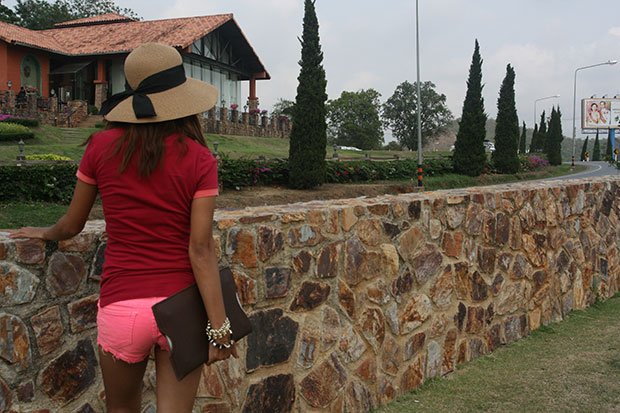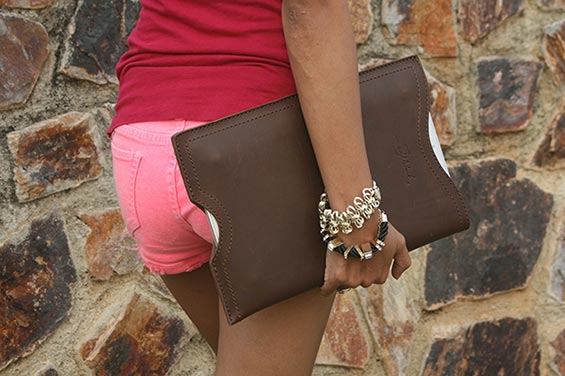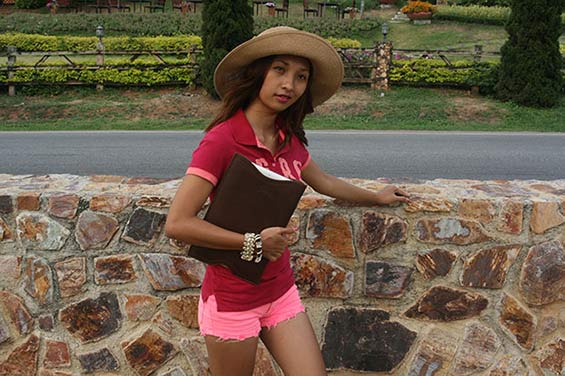 Should You Go With the Thin Briefcase or the Classic?
My opinion is that the Thin Briefcase is just that—a briefcase. It's something that you carry to work every day. It's a bag that spends as much time with you as your cell phone.
The Classic Briefcase and Front Pocket Briefcase are actually more like duffle bags, or in the category of the types of briefcases airline pilots carry. They're of a larger size. You can use them for three-day trips. They make good backpacks. As one reviewer who is a lawyer put it, he uses the Classic Briefcase during trial weeks when he needs all of his files. The rest of the time he carries the Thin Briefcase.
I'm an extreme minimalist so I actually use the Classic Briefcase as my primary suitcase.
For everyday business and frequent carry, I would stick to the Thin Briefcase. It will become an extension of your fashion. To me, if you walk into every meeting with a big bag, it's sort of like that old saying—the more keys you have, the less important you are. Again, all of this is coming from a minimalist so you may not feel the same way.
If you are going to travel the world with just you and your Saddleback, then the Classic or Front Pocket Briefcase is what you need. You can live out of those bags and carry your laptop and camera with no problems. The Thin Briefcase won't hold enough provisions for you to hike the Darien Gap or climb Mount Everest.
Thin Briefcase – Medium or Large?
Should you go with the medium or the large? For me, this wasn't a huge decision because I'm only 5'6″ tall. The medium was obvious. (The model in the pink shorts is 5'4″ tall.) My opinion is that if you are under 5'8″ you should probably go with the medium. If you are 5'8″ to 6′, it's a toss up. If you are over 6′ tall, go with the large. Again, it's all based on personal preference so don't take this as a concrete guide.
Youtube Video by Saddleback Leather
You can see the difference between the Medium Thin Briefcase and the Large Thin Briefcase in this video.
Which Color to Go With?
(2016 Update: The  colors have changed a bit. The carbon black is retired and there is a new black color. It has a shiny finish to it. The Tobacco Brown is now Tobacco. It's a slightly darker color. I've left the rest of this section in its original form.)
As I've already mentioned, choosing the right color is about as difficult as picking out the right bag. Dave has written a paragraph about this topic on the Saddleback website under FAQ's. It's worth reading before you place your order. While my bag is in carbon black, I do own at least one product in every color. Here's my two cents on the colors but hey, don't pick your color based on what I or others say. Don't succumb to conformity. Pick the color that you like.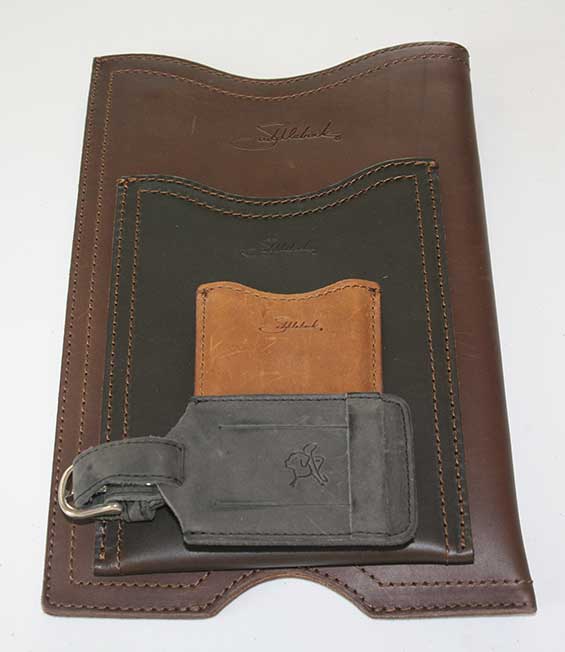 Tobacco Brown
If you are a world traveler, the tobacco brown is the Holy Grail of all colors. Indiana Jones is crying right now because he didn't have a Saddleback bag in tobacco brown. This is what I really wanted, but the 35% off on carbon black changed my mind at zero hour. In my honest opinion, tobacco brown is the most mesmerizing color Saddleback offers. As it scratches and ages, it just gets better and better. You will not find a more unique piece of leather.
If you live in Texas or anywhere in the Southwest, you could use this color for an everyday-carry briefcase. If you wear boots or work outside, it's perfect. If you shine your shoes, this might not be the color you need.
If you are a college student or a professor, this is exactly the color you are looking for. It inspires learning and creativity for some reason.
If you are an artist, the tobacco brown is for you.
For the extreme adventure travelers, tobacco brown and carbon black are the colors to go with.
Carbon Black
This is a flexible color in my opinion. It's supposedly being retired, but there's a lot of bags still out there so I'll comment. It's a dull black, like a matte color. You could strap two bags in carbon black on a Harley and use them as saddle bags. You can use this as your primary briefcase in an office environment with no problem. I guess I would describe it as being neutral.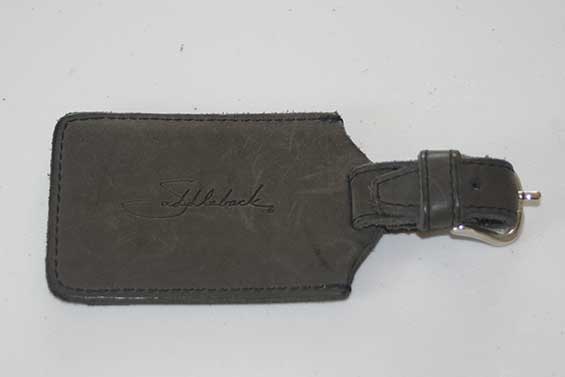 If you are adventure traveling, it obviously doesn't stand out at night. I'm very happy with my Thin Briefcase in carbon black. Out of all the colors, I think carbon black attracts the least amount of unwanted attention from potential pick-pockets.
Dark Coffee Brown
Dark coffee brown projects elegance. It is the most fashionable of the colors. If I were going to be hanging out or doing business in Hollywood, I'd be carrying a bag in dark coffee brown. Even Paris Hilton will want to know where she can get one. If I were to imagine myself on a private jet or in a five-star hotel, I would be carrying a bag in dark coffee brown.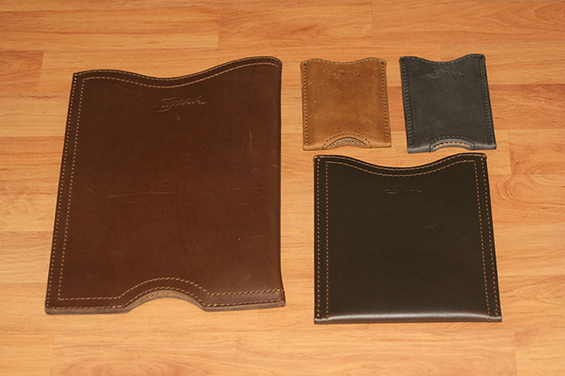 If you're planning a trip to a destination like Paris, or Rome, or Prague, you definitely want to have a Saddleback bag in dark coffee brown with you. This color will add to the ambiance of the backdrops and make for better travel photos. You'll actually want to have your bag somewhere in the picture.
The scratches show prominently on the dark coffee brown. It's a beautiful color, but one that makes me not want to get it dirty.
If your image in the business world is paramount, then go with this color if you are younger. Go with the Chestnut if you are on the more senior side.
People will definitely think you have money on the extreme adventure circuit if you're carrying a bag in dark coffee brown.
Chestnut
If you are a lawyer or corporate type, this is the color you need. It has CEO and banker written all over it. It's purely business. It's formal. It says that your bag contains spreadsheets, legal documents, and the Wall Street Journal. It will subliminally inspire confidence in your client that you know what you're talking about.
I would never want to put a scratch on my items in Chestnut. Not one single scratch. Saddleback could probably charge double for this color and people would gladly pay it.
The color is not for adventure travelers in my opinion. It's just too formal.
The 100-Year Warranty
Saddleback Leather Company products have a 100-Year Warranty! Yeah, that's pretty crazy. It's hard to say what the world will be like in a hundred years. But, if Saddleback is still around and your great-grandson has a problem with his bag, they'll fix it for free. What the warranty tells you is that Saddleback stands behind their products. In a world of cheap, mass produced junk that just ends up in landfills after a couple of months of use, it is refreshing to see a company that bucks the system. Saddleback bags and gear defy the norm.
Leather is a by-product of the beef industry. A Big Mac lasts for about five minutes. A Saddleback Leather bag will last for a century or more.
Youtube Video from Saddleback Leather
This is a pretty funny video from Saddleback Leather. It's worth watching. Dave explains the effort and quality that goes into making one of their bags.
How I Justified Spending So Much Money on a Bag
Being a minimalist, I am very cheap by nature. I usually only buy second-hand items. So, why in the world would I drop a ton of money on a new bag? It goes against all of my principles of minimalism. My only explanation (excuse) is that I love to travel. I have a backpack that has been with me since 2008. We've been around the world together. It's one of the only sentimental items I now own. However, I know that one day my backpack will wear out and its good material will have to be recycled into a change purse. One day, I will lose that friend to time and wear. However, my new Saddleback bag will last longer than I will. Our travels, memories, and scars can be passed on to the next generation of world traveler. Whoever the lucky recipient is will have a true historical treasure.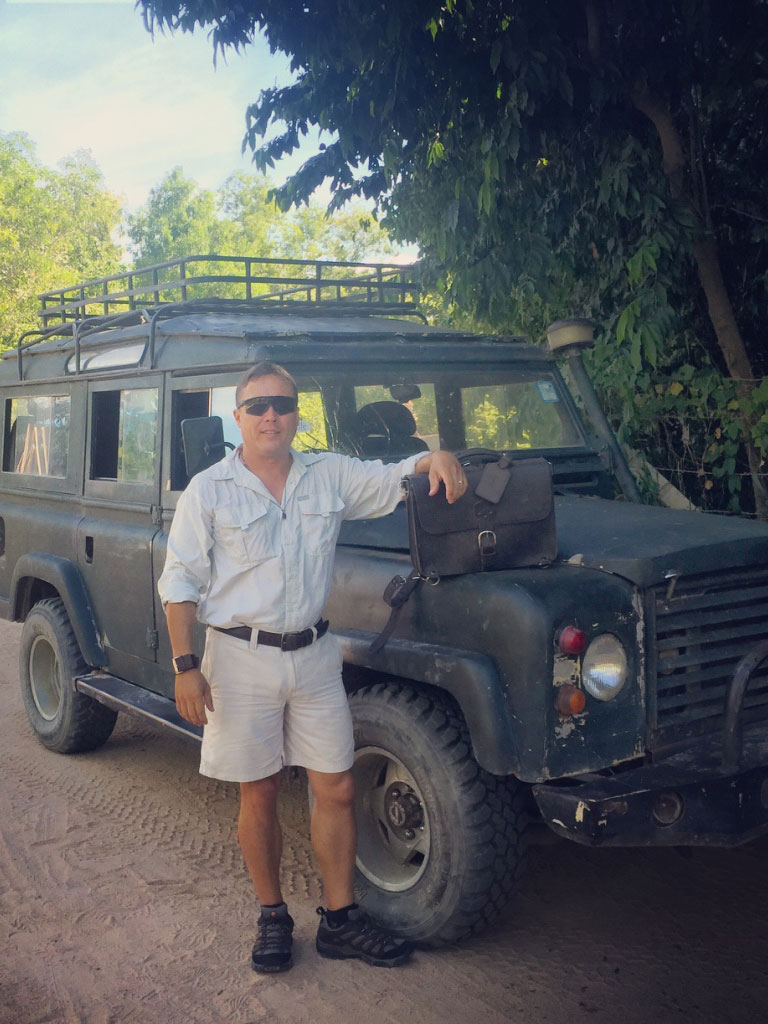 Besides, say I'm around for another twenty years. That's only about $25 U.S. dollars per year for the rent on this magnificent piece of work. It's roughly the same price as a cheap backpack whose zippers will break in three months.
Saddleback's tagline is: They'll fight over it when you're dead. I certainly believe that to be true. However, they'll actually start fighting over it as soon as you open the box.
Honest Warning to My Fellow Extreme Adventure Travelers and Backpackers
There is a downside to carrying a Saddleback bag if you are an extreme adventure traveler. When the bag is new, it looks EXPENSIVE. That's great if you are traveling around the United States or Europe. It's ok if you are abroad, taking guided tours and staying in decent hotels. It's not so good if you are traveling around the back roads, cheap hotels, and dive bars of Cambodia or Central America in adventure mode. It's not exactly good when you're trying to hitchhike or ride on top of a chicken bus with the locals. A new Saddleback bag attracts attention. It says, Hey, I'm trying to blend in while carrying a million-dollar bag. Of course the bag attracts attention. It's top quality. You can't buy anything better.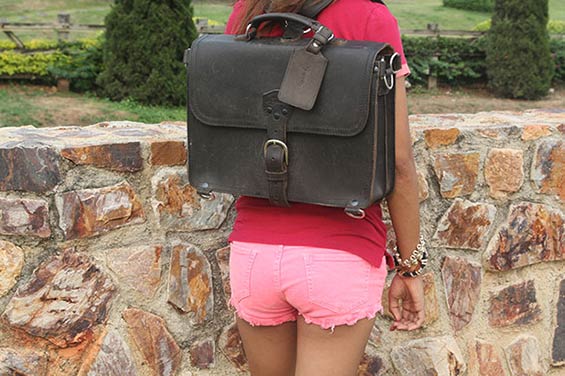 While I am obviously a fan of Saddleback bags, I have to be objective with this post and discuss all sides. My cousin frequently travels in Mexico and Central America on the adventure trail. He recently told me that he stopped traveling with his Saddleback because as he put it:
I stopped carrying my Saddleback in Mexico because the thugs think you either have money or diamonds. It's hard to keep a low profile.
There. For my fellow adventurers and those of you who like to immerse yourselves in local culture when traveling, you've been warned. People think you're rich when they see the bag.
The Solution to the Problem
But wait, there is a solution to the problem. You just need to beat the bag up a bit before stepping out into the middle of Guatemala City. Maybe drag it down a dirt road behind your car for about fifty miles or so. That should do the trick. It ain't going to hurt it. You've got to knock the shine off of it to where it looks a bit older. My cousin won't take this course of action because he can't stand to mess something up that's so beautiful. He carries it everyday in the U.S., but it doesn't make anymore trips with him while illegally riding on freight trains.
My Favorite Way to Carry The Briefcase
Just yesterday, I used the briefcase in backpack mode for the first time. It's actually quite comfortable, which was a bit surprising. I figured out that my favorite way to carry it is by throwing the bag over just one shoulder while in backpack mode. It's easy to carry and, let's face it, it looks cool.
The Briefcase is an Ice-Breaker
I don't mean that you can use it to break the ice off of your driveway. What I'm saying is that for some reason, total strangers have no problem walking up and asking about the bag. Most folks want to hold it, look inside, and smell the quality leather. It's a great way to meet people. Just sit your bag in plain view and see how long it takes someone to approach and strike up a conversation.
Saddleback Leather Thin Briefcase – After Three Months of Daily Carry
My briefcase is starting to gain a bit more character due to the scratches and scrapes sustained over the past three months. It looks better now than when I first got it. The shoulder strap is starting to get soft and more user friendly. It's not the stiff board it once was. The same goes for the closure strap.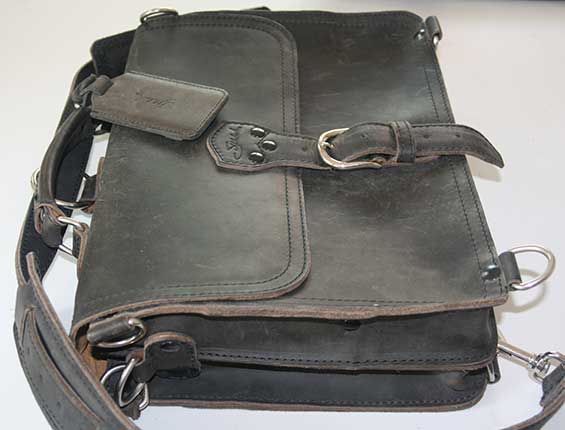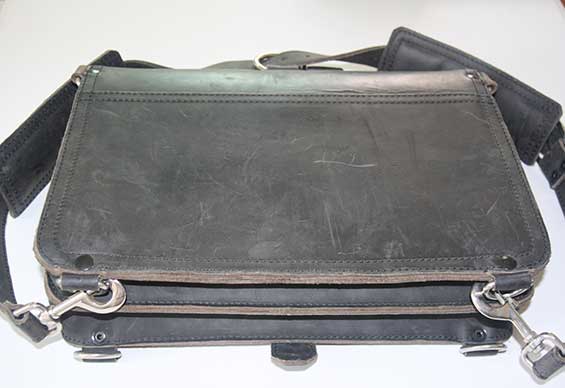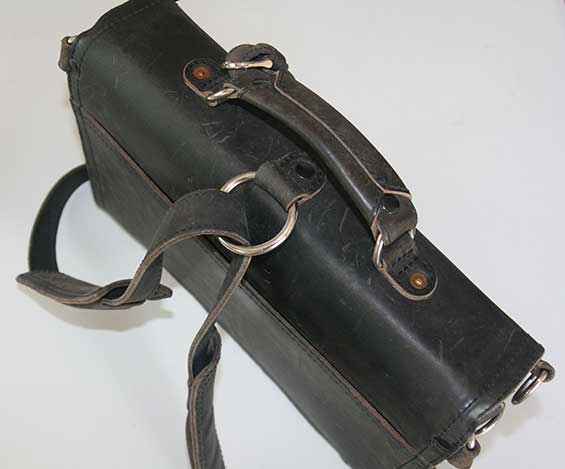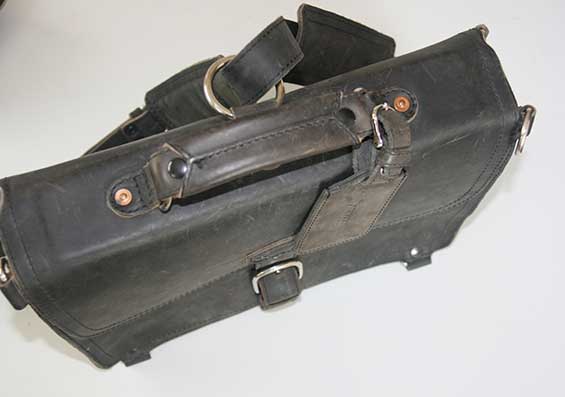 The bag is starting to get broken in, but I really think it will take a full year to knock the new off of it. However, I am at the point now to where I don't worry about protecting it like it's a museum piece. It's goes everywhere I go in any weather condition. It protects my MacBook Air like a bullet-proof vest.
The Saddleback Experience
It's hard to explain the feeling you get when the box from Saddleback arrives and you tear into it. You're not just buying a bag—you're in for a unique experience. It marks the beginning of many adventures. I compare it to the feeling you get when you purchase a new Apple product. It's exciting. Sure, Saddleback and Apple products are not cheap. The reason is that they are the absolute best quality and engineered to last. You get what you pay for. I don't remember any of the times I purchased a new PC or a cheap piece of luggage. I do remember every trip to the Apple store that resulted in a new piece of gear. I will always remember the day I first grabbed the handle of my Saddleback Leather Thin Briefcase. Strange.
If the cost is the only thing holding you back, just keep saving your money until you have enough. You won't miss a few hundred bucks when you're telling people about your weathered briefcase, thirty years down the road at your retirement party.
On-Going Review + Disclaimer
I will continue to amend and update this article so that the information stays somewhat current. I'll also post more photos as my briefcase ages. The bottom line is that if you're looking for a briefcase that will last, has character, and is unique, check out the Saddleback Leather Thin Briefcase.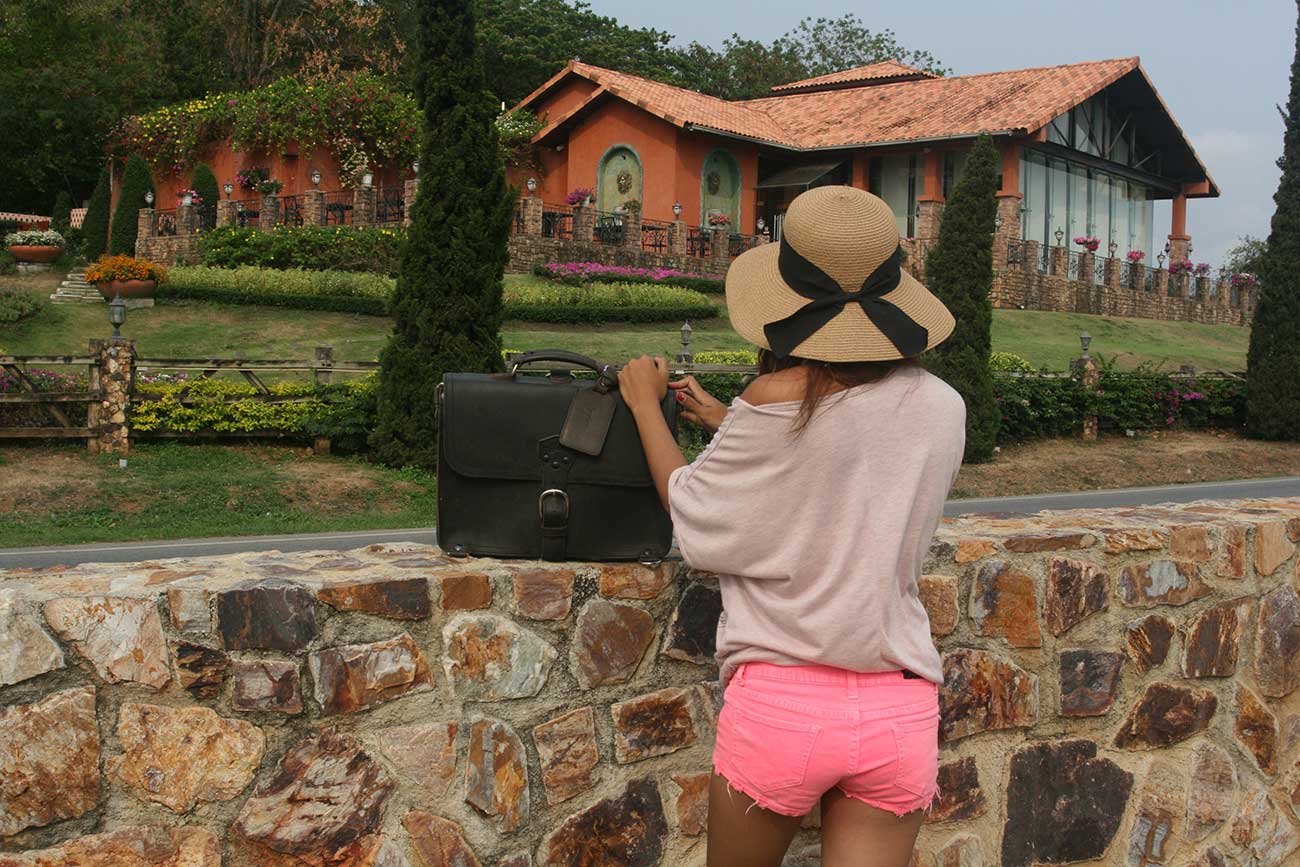 I was so impressed by the quality of my Saddleback gear that I decided to start promoting their products. The links on this page are affiliate links to Saddleback's website. It means that I will receive a commission for any sales generated by this article. While most articles I read these days are written by people trying to make money from products they've never seen, I really own a Saddleback Leather Thin Briefcase and truly love it. If you have any specific questions about the bag, please send me an email and I'll try to answer them.
2016 – Update – The Makings of a Family Heirloom
Last Christmas, after much thought, I made the decision to give the Thin Briefcase to my dad. I did this because I love my briefcase and I love my father. I figured I would bring the two together. I'm glad I did and it makes me smile when I think about it.
I want him to carry the Thin Briefcase for the next few decades and then give it back to me. The briefcase will have even more nostalgia when it comes time to pass it on to a younger generation. I hope for it to become a family heirloom that continually gets issued out on some youngster's first day of college. I miss the briefcase, but it was something I really wanted to do. Sure, I could have bought him a new one, but it wouldn't have been the same—especially since Saddleback stopped making the briefcase in carbon black. My dad's one of a kind and so is his briefcase.
Why You Should Buy a Saddleback Product – The Real Reason
The following video is perhaps the most compelling advertisement of why you should purchase a Saddleback product. I think the folks at Chamberlain's Leather Milk actually produced it, but I'm not sure. Either way, it's classic and worth watching. You might actually shed a tear.