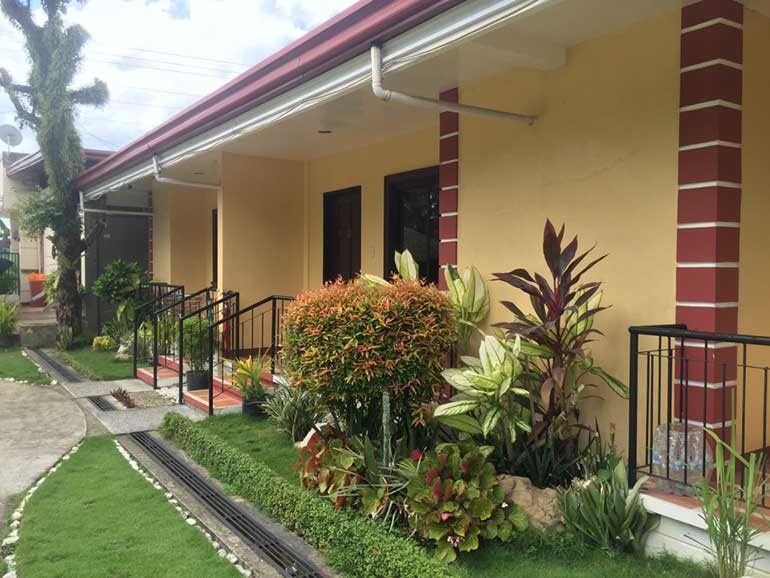 Calbayog City – Western Samar
To make a long story short, I had been exploring Northern Samar for about a week and needed to start heading toward Ormoc City. From Catarman, I jumped on a D'Turbanada Van and made a two-hour trip south to Calbayog City. While enroute, I was able to search Agoda and found a hotel called S & R Bed and Breakfast. The place had great reviews and looked like a quaint little spot. One of the reviewers said that it was like staying in a garden.
Best Hotel in Calbayog, Philippines – S & R Bed and Breakfast
Upon arrival, I was immediately greeted by the beautiful desk clerk, who was more than happy to answer my questions and show me the rooms. As we walked into the courtyard / garden area where the rooms are located, I noted that I had 5 bars of cell service on my phone, which was wonderful since I'd been out of comms for a week. But, the really nice thing was the quaintness of the hotel.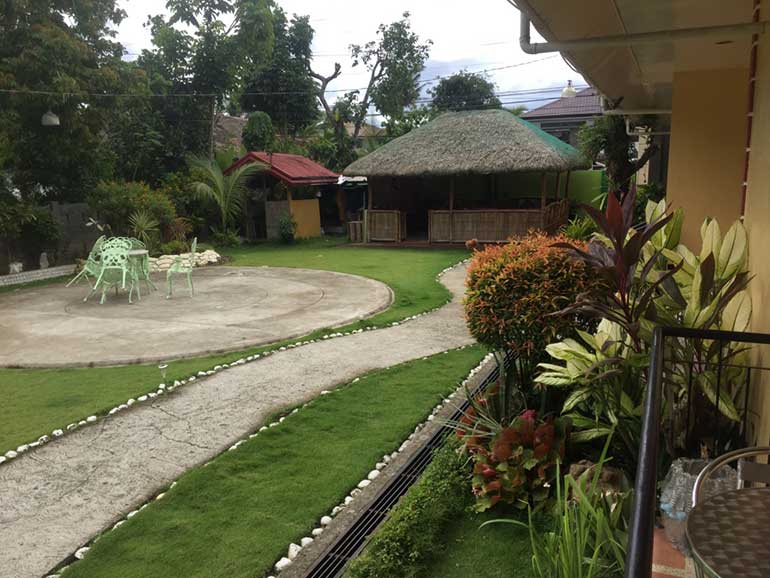 There is just one row of rooms that face the courtyard. There is also a small covered seating area for dining, reading, or relaxing, along with a dart board hanging on the wall.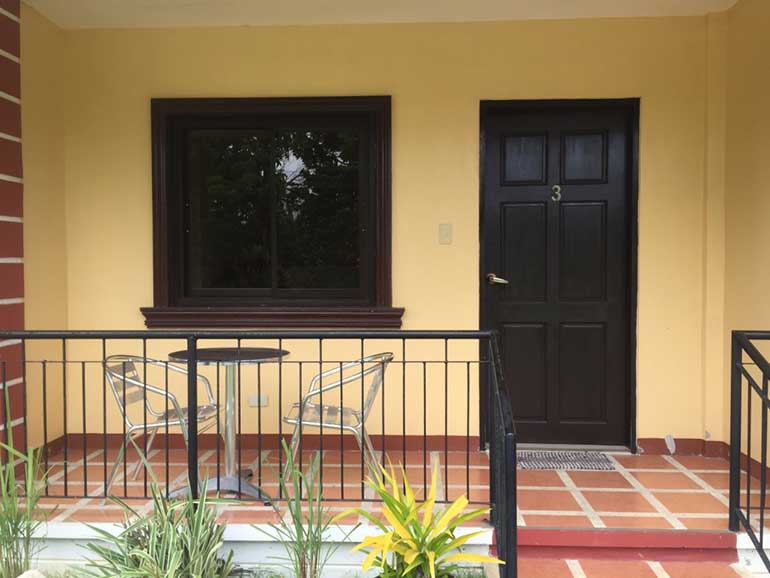 The clerk showed me the both the standard room and the deluxe room. The standard room was a bit cheaper and the only real difference was that it had two twin beds instead of one queen bed. I told her I would take the standard and that I would book it on Agoda. She said it was no problem and to just go ahead and get settled in while she got the password for the wi-fi. She informed me that they only served breakfast, but not to worry as there are several other options for food:
Chinese Restaurant nearby that delivers to the hotel
Jollibee delivers
A small bakery next door
Restaurant close by called Marcial's Grill
Sari Sari store located on the other side of the road within walking distance
She said the staff would be glad to assist me with facilitating lunch and dinner.
A young man brought my bag to the room with a smile. I asked for a beer and by the time I cracked open the laptop, he had returned with a cold Pale Pilsen.
The Bottom Line
Excellent Service and Friendly Staff
Clean Rooms
Safe Environment
It's a home away from home
The Room
The room itself was tidy and orderly. The CR (comfort room or bathroom) was CLEAN. For some reason, in Southeast Asia, cleanliness of bathrooms is usually not a big priority. I'm not being mean or picky, it's just the way it is. Most places that I stay in (on the cheap); you have to wear flip flops to take a shower or use the toilet.
The room had a nice, flat-screen TV, a lamp, a full-length mirror, and hot water for the shower. They even threw in free shampoo and toothpaste. The beds had foam mattresses about eight-inches thick.
The patio had a table with two chairs and is private from your neighbors next to you. The best thing for me was that there is an electrical outlet for the patio, so working outside on the laptop is convenient.
Inside the room, I had three to four bars of cell service. The hotel's free wi-fi connection was reliable and allowed me to get my work done just fine.
Free Breakfast
The free breakfast was pretty good. I had the tuna, which has a good flavor to it in sort of a sweet, tangy sauce. It comes with rice and a fried egg, along with 3-in-1 coffee.
Book on Agoda
It was $27.75 in total (all in) for one night. Booking a room on Agoda is too easy.
The Conclusion?
I planned to stay in Calbayog City for one night and move on. The S & R Bed and Breakfast was so damn relaxing that I ended up staying there for three nights. Why? Certainly not because I wanted to tour Calbayog City for that long. It was a nice break from traveling off the beaten path in Samar. It just felt like a home away from home and allowed me to recharge my batteries and get caught up with online chores.
There are a couple of other nice hotels in Calbayog City, but they cost more and are busier places. The S & R only has five rooms. If you've been staying in a crowded village with your wife's family, the S & R is exactly what you need for some peace and quiet.