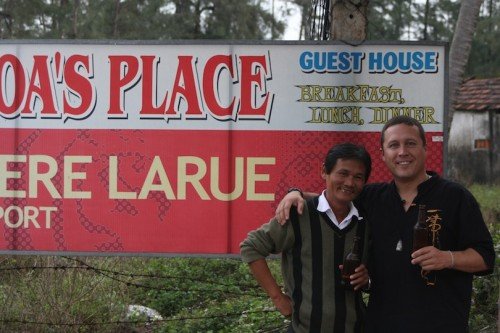 UPDATE to original article below: Hoa's Place is now back OPEN for business! The new location is approximately one-hundred meters from his old building. Hoa's cell number is 0905640542.
Hoa's Place- Da Nang, Vietnam
In 2010, I decided to spend Christmas in Vietnam. Why? I don't know. I just felt like that's where I needed to be to ride out the holidays. I was already in northeast Thailand visiting with the family on a pre-planned trip.
After a few days, I decided that I couldn't take two solid weeks of domestication and started plotting an adventure. I picked up a new map of southeast Asia and within minutes I had formulated an operational plan. I informed the relatives that me and the old lady were going to depart the next morning and began to pack. For attire, I grabbed a pair of jeans, three shirts, and a pair of shorts. I threw in my cameras and a toothbrush and my backpack was complete. A quick Google search revealed a hostel of sorts known as Hoa's Place – Da Nang, Vietnam. It was right on China Beach. At only $7.00 U.S. dollars per night, it became my immediate destination. I would deploy to Da Nang, spend some time there, and then start heading north. I would hit Khe Sanh and the City of Hue. My last stop would be Hanoi. I began to get excited.
Embassy of Vietnam in Vientiane, Laos
The next morning, we hopped a bus to Nong Khai, Thailand. Nong Khai is located on the Mekong River which serves as the border with Laos. After talking with some people about how to get a visa into Laos they quickly charged me around $60.00 U.S. dollars to take care of everything. Since I was in a hurry, I didn't try to bargain with the folks. I'm pretty sure that I didn't even need their services anyway. The only real advantage I saw in using them was that I didn't have to wait in line like everyone else. Regardless, they got me squared away and soon I was across the Thai-Lao Friendship Bridge and free to roam around Laos. We beat feet over to the Vietnam Embassy and filled out the paperwork for our visas.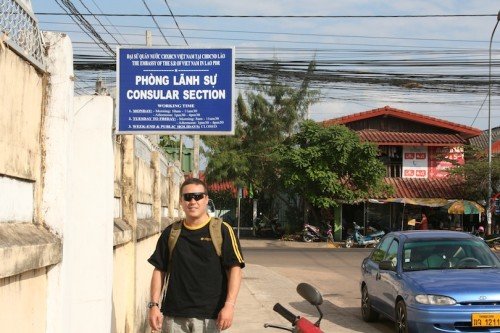 The nice Vietnamese gentleman initially told us to come back the next day but then asked me about when we had planned on traveling. I told him that we were getting on the next bus to Da Nang if he could square us away. Luckily, he accommodated us on the spot.
The Sleeper Bus Ride from Hell
At the bus station in Vientiane, we bought two tickets aboard a sleeper bus. It sounded great. You supposedly had your own seat which was more like a gurney. According to the lady behind the counter, you could stretch out and just enjoy the trip. She handed us the tickets which had assigned seats on them. The bus was leaving at around seven which gave us just enough time to grab some food. After a quick meal, it was time to roll. As we boarded, I noted that the seats were as described but it was tight quarters. There were three rows – a row on both sides by the windows and one straight down the middle. I started shuffling my way toward the back, trying to match the tickets with the seat numbers. As I came to the end of the line, I looked up to see a shelf of sorts that was padded. From the shelf to the top of the bus was maybe two feet at the most. I gasped as I realized that we had been duped by the lady at the counter. Claustrophobia set in and I hadn't even tried to climb up there. It reminded me of documentaries I've seen on how sailors live on submarines. I was pissed. I got off the bus and cussed out the bus driver. He wouldn't budge on changing our seats and basically told me to take it or leave it.
Damn.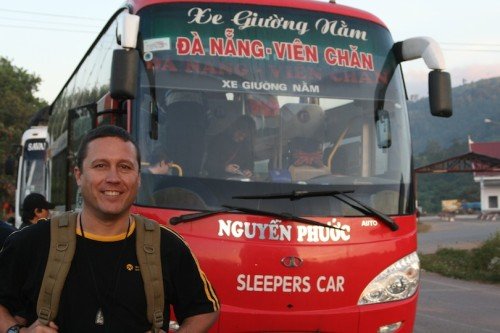 I've been in much worse situations and decided that nothing was going to stop me from getting to Da Nang. After some gymnastic-type moves, I finally maneuvered into the sardine can and began to accept the situation. This ain't so bad, I thought. That was, right up until three fat-ass Australians arrived and began to stare up at the shelf. To make a long story short, a few minutes later I was ass to ass with a sweaty fat guy. I would remain in this torture chamber of sorts for around thirty hours. They told us the trip would only take twenty. When we finally pulled into Da Nang, it was like getting paroled after serving ten years in the slammer.
If you never listen to any other travel advice from me, just please remember this one thing: If you take a sleeper bus in southeast Asia, make damn sure you don't get stuck on the back shelf.
Da Nang, Vietnam
A swarm of taxi drivers descended upon us the minute we stepped off. I would quickly realize that vendors in Vietnam are much more aggressive than the folks in Thailand. I guess after decades of war and getting bombed for no good reason, the people still have that survival mindset. I picked a guy out of the crowd and first asked to use his cell phone. I called Hoa's Place and found myself speaking to Hoa himself. I attempted to inquire about whether or not he had any openings but was quickly told to just come on over and not to worry. About twenty minutes later, we pulled up in front of the establishment.
"Get out of that cab and come drink a fucking beer with me!"
That was my introduction to Hoa. I loved the guy from the start. How could I not? We already had two things in common—cussing and beer-drinking. A match made in heaven. I found myself drinking 50-cent Biere Larue's with Hoa and sharing stories. It was like we'd known each other all our lives. Before I knew it, I was feeling no pain. Those damn Biere Larue's go down so smooth that it's hard to turn down the next one. A few hours later, Hoa and crew finally showed us to our room. It was up on the second floor and had a full bath. Not exactly the Hilton, but it was a backpacker's dream. How in the hell can you complain about a suite, one block from the beach, that only costs $7.00 U.S. dollars a night?
Surfing China Beach
The next day, I had the grand idea that I would grab a board and go surfing. I had to. How many people can say they've surfed China Beach? Hoa loaned me a board and off I went. I stood on China Beach and tried to imagine what it was like from 1965 to 1975.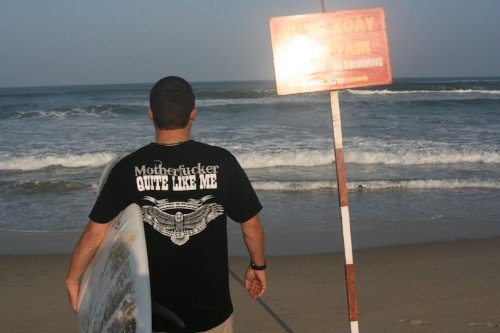 It was kind of crazy to think that thousands of American G.I.'s had frequented the place for in-country rest and relaxation. I stood there and only saw a couple of other people walking on the beach. After downing another beer, I hit the waves a running.
An hour later, I finally realized something. I'm the world's worst surfer. Maybe it was only because I'd had too much to drink.
Nah, I just can't surf. I'm man enough to admit my limitations.
Exhausted, I limped back to Hoa's place and gladly returned the surfboard.
Christmas Dinner
On Christmas Eve, Hoa and crew prepared a meal for all the guests. About a dozen or so strangers sat down and broke bread together that evening.
I don't recall everyone's nationalities. They were mostly from different European countries and there was one other American guy from California who looked just like Jesus.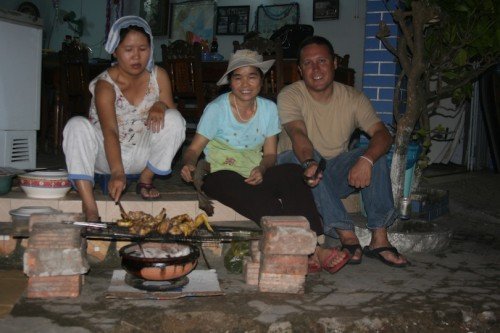 After a wonderful dining experience, Hoa advised that he'd prepared a bonfire for us. We all packed up some beer, ice, and drinks, and moved the party down to China Beach. For several hours, we drank, conversed, and had a great time. Jesus and another guy rolled up a joint and got stoned on some local weed. What do you expect? If you look like Jesus and come from California, you're probably a pothead.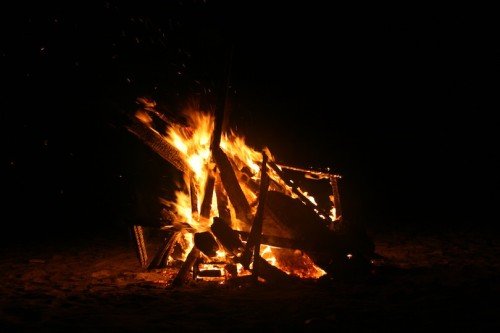 In the end, Christmas at Hoa's Place turned out to be the most memorable holiday of my entire life. I'll never forget it.
The End of an Era
Da Nang has been over-run with resorts being built on China Beach. When I first arrived there, I thought I was in Miami or West Palm Beach, Florida. It wasn't what I'd expected. I guess they call it progress. Hoa talked about the fact that the government might tear down his place to make room for a new resort. Back then, it seemed 50/50 as to whether or not he would have to move. Over the past two years, I've read posts which said he was good to go and some which said his place was going to be torn down.
I recently checked the Facebook Group for Hoa's Place and realized that the worst had already happened. Hoa's place had been torn down and was no more. A gentleman had posted a Youtube Video of the Destruction. After watching it, I just had to share my personal experience at this historic landmark.
Hopefully, Hoa will rebuild and continue to entertain guests from all over the world. I am certainly thankful for the hospitality he showed me during my time with him. I look forward to seeing him again soon.