How to Extend Your Philippines Tourist Visa After 30 Days in Country – The First Extension
I recently found myself coming up on 30 days here in the Philippines. After searching online, there didn't seem to be a clear answer as to what the process was, the fees, or even the hours of the Cebu Immigration Office.
After going through the process to get the visa extension, here's how I did it. I'll give you the bullet points up front and then get down to the details. Make a note that the first visa extension is also referred to as the Visa Waiver. It will give you an additional 29 days stay here in the Philippines.
Update: Readers have reported that you can get your tourist visa extension done in 1 day!
Go to JCentre Mall in Mandaue. Immigration is located on the 2nd Floor near the Samsung shop.
Hours are Monday thru Friday, 8:00 A.M. to 5:00 P.M. You have to submit your application before 3:00 P.M. and pay the cashier before 4:00 P.M.
Bring your passport and 2,130 Pesos. No need for passport photos.
Go to the desk on the right at the entrance to the immigration office. Sign in on the notebook ledger.
Talk to the official there and receive an application form to extend your visa.
Fill out the form.
Give it back to the official at the desk. He will stamp it.
Take your passport and the application to Window #1. Submit your passport and application. Take a seat and wait for about an hour and a half.
They will call your name. Pick up your documents from Window #1 and take them to the cashier at Window #4. Pay the fees. It cost me 2,130 Pesos.
Wait until your name is called at Window #1. They will give you a receipt. The receipt will tell you what day to pick up your passport.
Come back on the specified date and retrieve your passport from Window #6 (Releasing). You will have an additional 29 days on your visa.
How to Get to Cebu Immigration – JCentre Mall
The Cebu Immigration Office is located on the 2nd floor of JCentre Mall which is in Mandaue. Most of the taxi drivers in Cebu City are familiar with JCentre Mall. It's next to SM Hypermarket.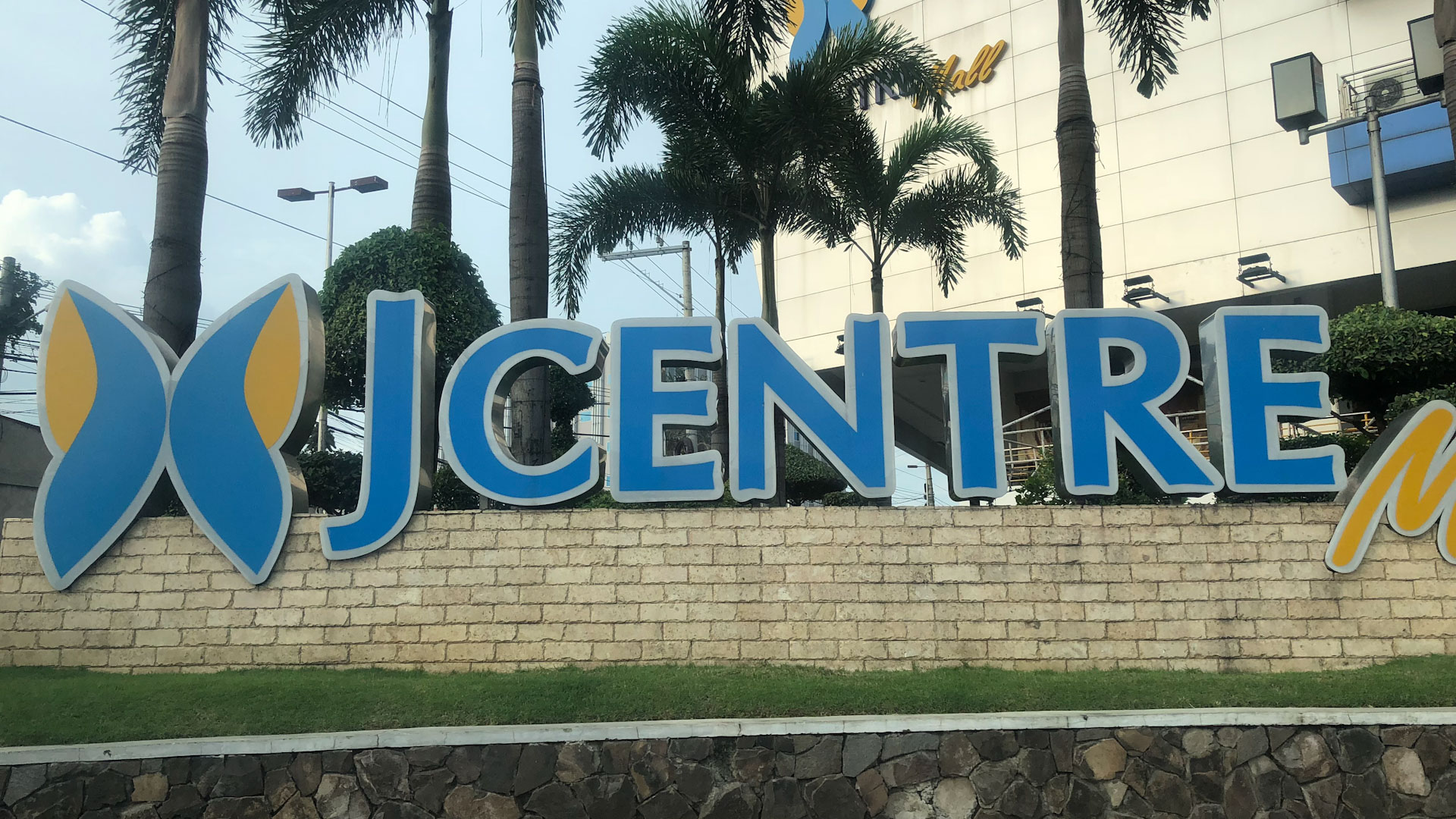 When you get to JCentre Mall, the taxi should drop you off at the front entrance. The front entrance is across the street from a Suzuki dealership. Walk up the stairs and enter the mall. You'll pass through the security check.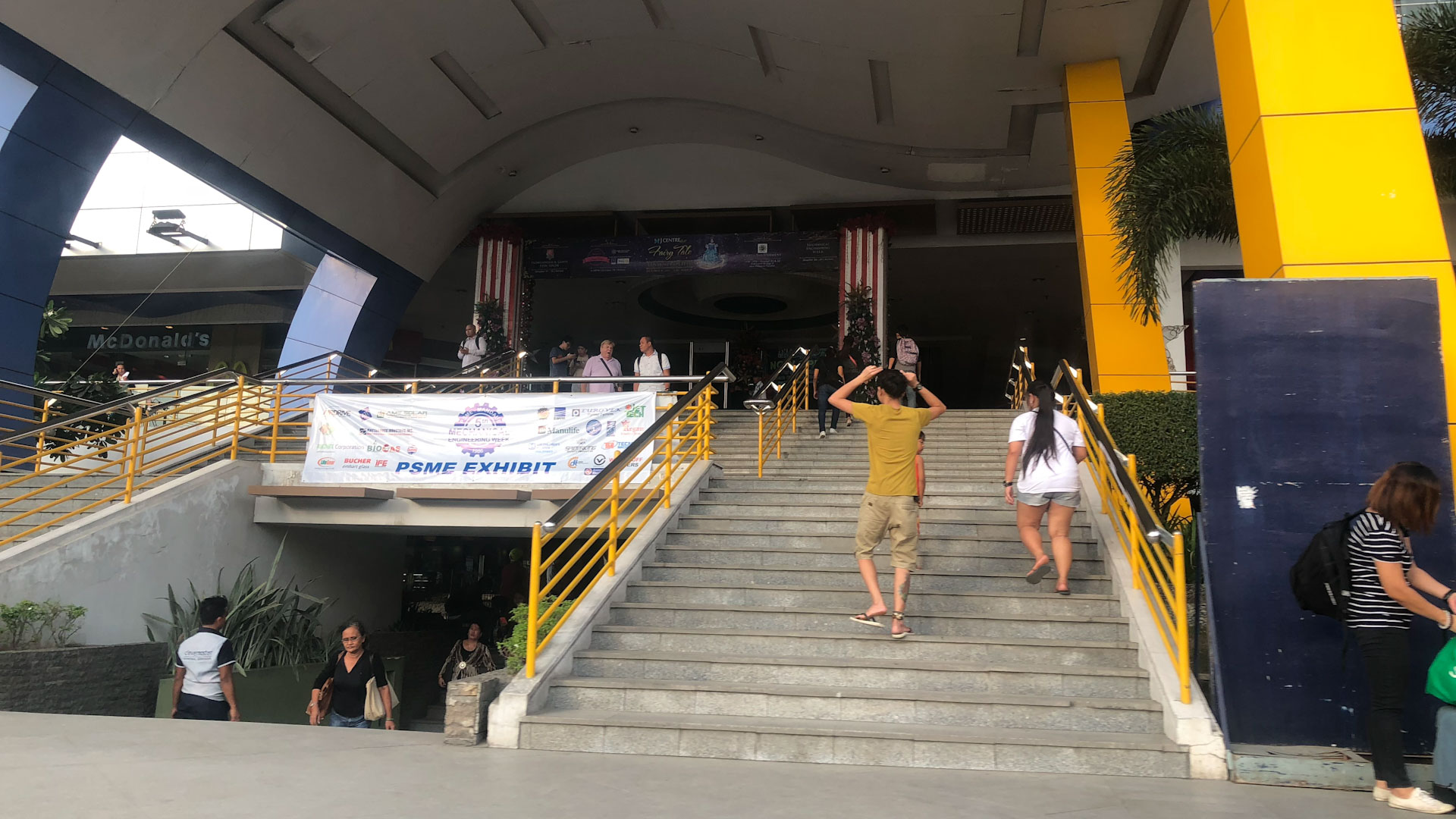 After you clear security, take the escalator in front of you up to the 2nd floor.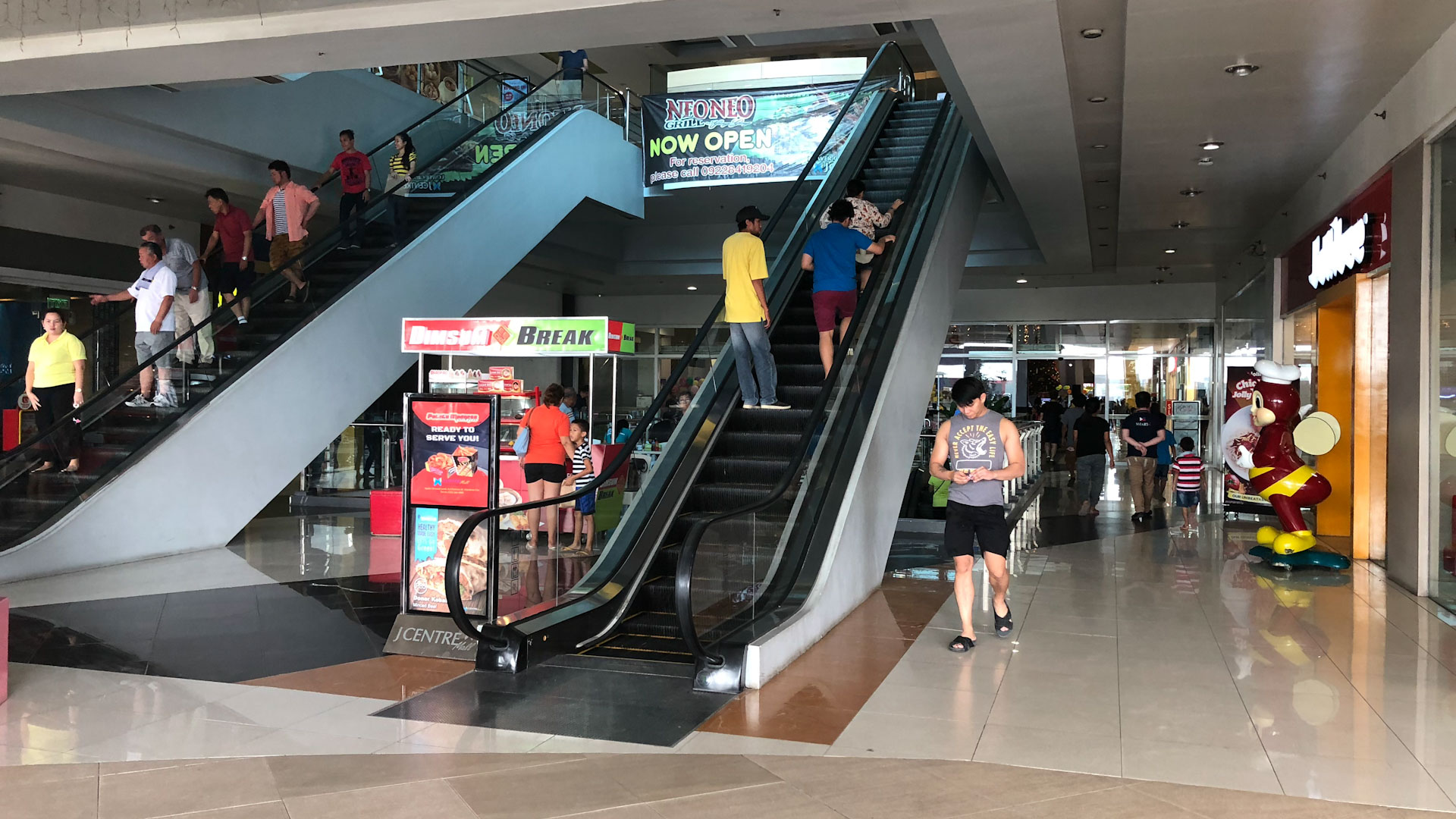 When you get to the second floor, stay to the right and keep walking forward / straight. Look for the Samsung shop on the right. Turn right at the Samsung shop. Cebu Immigration is down on the left.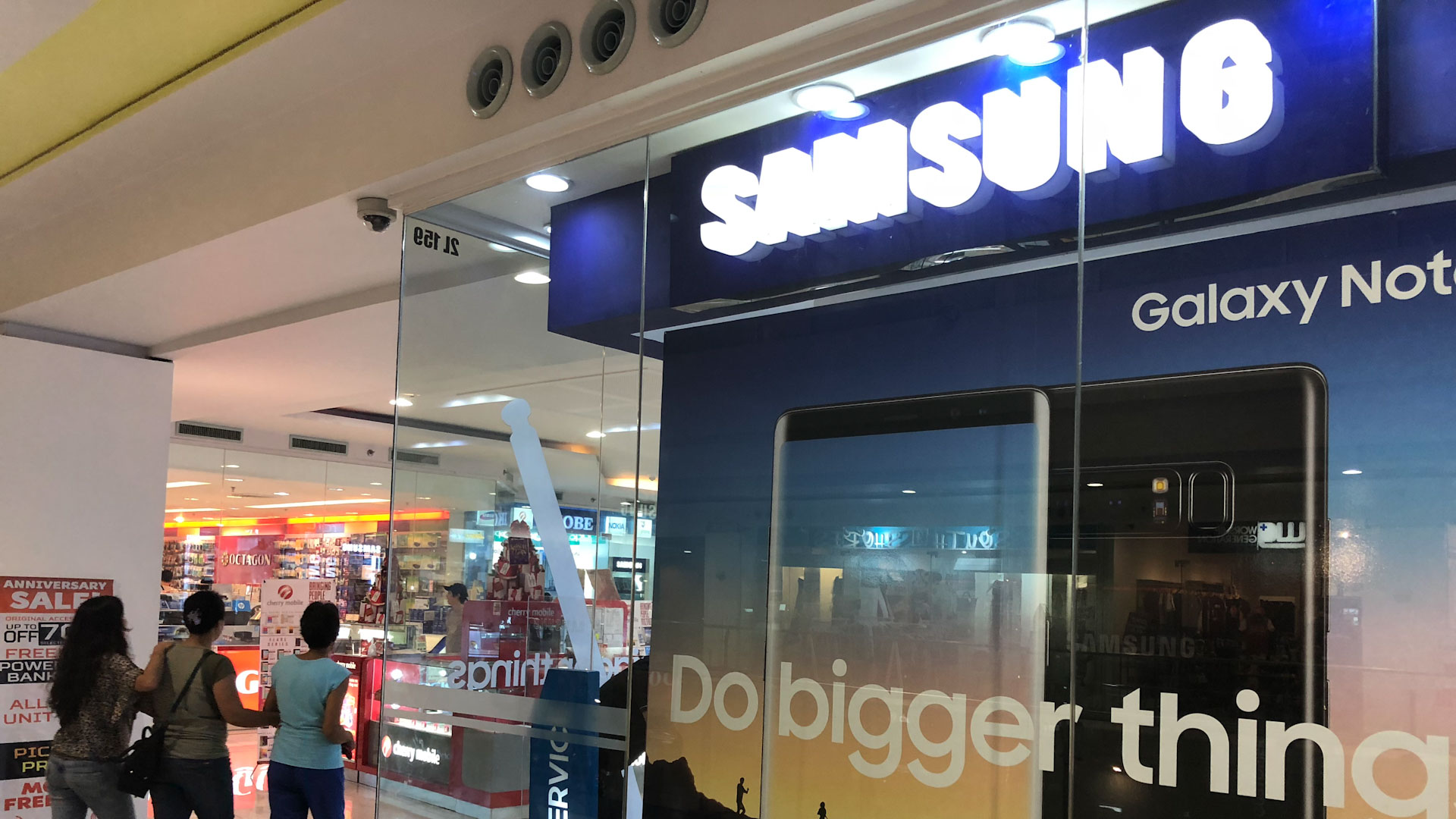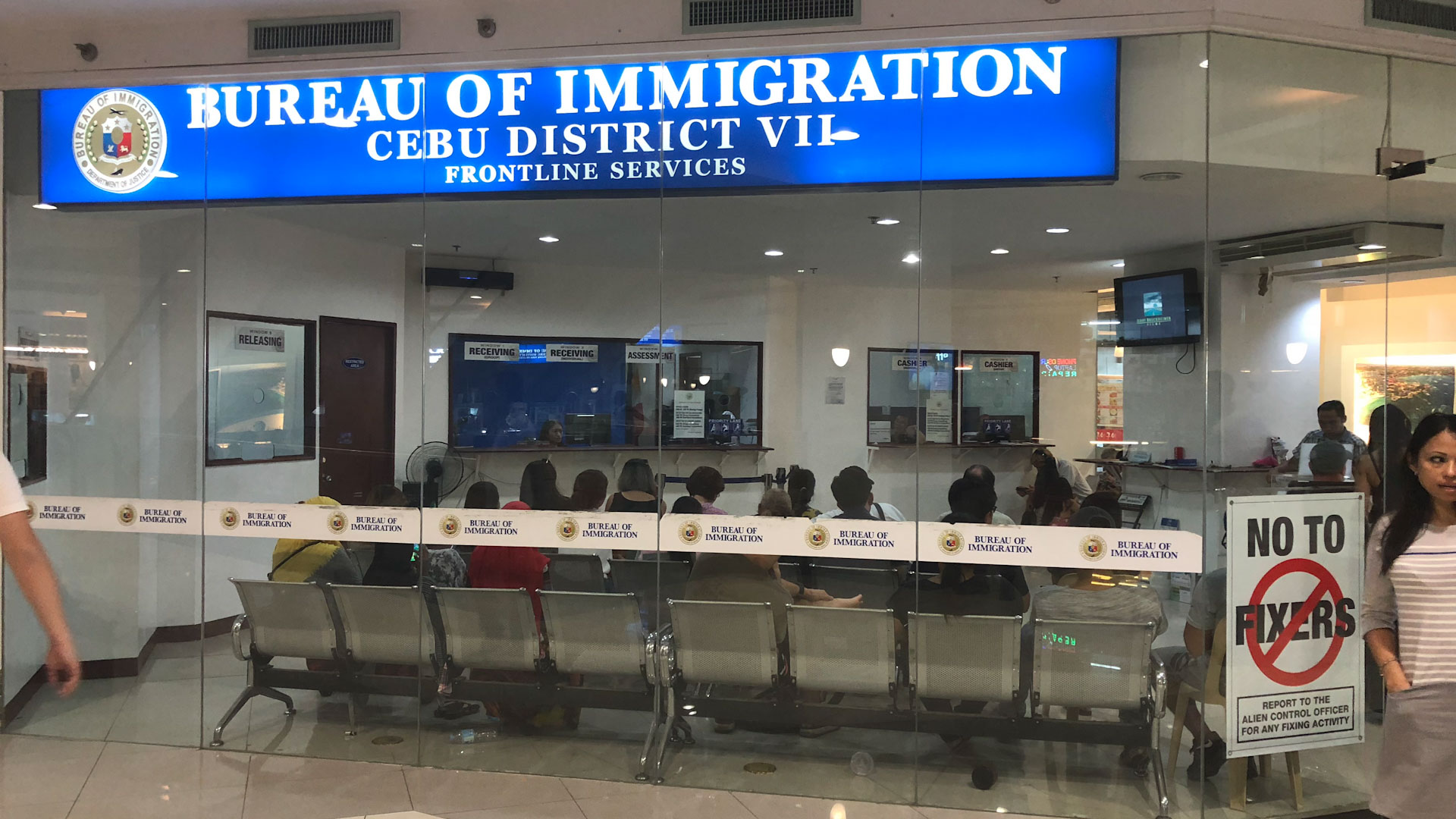 *If you go to immigration in the morning before the mall opens, go to the right after you clear security. Follow the signs and you can get to the immigration office around the back.
How to Extend Your Philippines Tourist Visa – The Process
You only need to bring your passport and 2,130 Pesos. You will fill out the visa extension application there at immigration. You do not need to submit passport photos.
Upon walking through the door of the immigration office in Cebu, there is a desk to your immediate right. On the far right corner of this desk is a notebook ledger. Go ahead and sign in on the ledger. It just asks for your name, nationality, and the time.
1:15 P.M. – When I arrived, there was a heavyset official sitting at the desk. He was eating Jollibee chicken and spaghetti with a side of french fries. I first thought the guy was an American expat who had somehow wrangled a side job. He looks more Western than he does Filipino. He's got a goatee and wears glasses. He's a really nice guy and is very helpful.
I explained that I needed to extend my tourist visa and he handed me an application form. I filled out the form in about five minutes. The exact name of the form is BI Form No. TVS-CGAF-VE-2016 Consolidated General Application for Tourist Visa Extension.
Be prepared to fill out the following information on the form:
Number of months requested (Just put 1)
Reason for extension (Pleasure)
Name
Citizenship
Country of Birth
Date of Birth
Gender
Civil Status (Married, single, etc.)
Height
Weight
Signature
Residential Address in the Philippines. Number & Street, Barangay, Municipality, City, Province, Zip Code (Make sure you have the name and address of your hotel)
Mobile Number
The form is self explanatory and easy to fill out. Just remember to bring the address of your hotel. That's the only info you won't know right off the top of your head.
1:25 P.M. – After I filled out the form, I gave it back to the gentleman at the desk. He stamped it and then told me to take it to Window #1.
I asked the gentleman about how long it would take to get the visa. He said it would take 3 to 5 working days at the least. He said they may not work on Thursday or Friday for some reason. Therefore, it could take longer.
1:30 P.M. – At Window #1, the official took my passport and the application. She just told me to sit down.
2:55 P.M. – The official at Window #1 called my name. I received my passport, the application form I had filled out, a document that indicated I was not on a black list, watch list, or had any Police holds, and a receipt that indicated how much I had to pay.
Here's the cost breakdown per the receipt:
| Assessed Items | Pesos |
| --- | --- |
| Visa Waiver Application Fee | 1,000 |
| Visa Waiver | 500 |
| Visa Sticker Fee | 100 |
| Certificate Fee | 500 |
| Legal Research Fee | 30 |
| Total Charges | 2,130  |
I took the documents to the official at Window #4 and paid 2,130 Pesos. He told me to sit down and wait. He kept my passport and all of the paperwork.
3:00 P.M. – The official at Window #1 called my name. She gave me a receipt with a date written on it. It was five working days from then (total of 7 days). She told me I could pick up my passport on or after that date. This receipt was the only document I had upon departure. I don't think it usually takes that long to get a visa issued. I heard the officials say something about them not working on Thursday and Friday of that week for some reason. I don't really know what the deal was. Regardless, the time indicated was a full week before I could get my passport back. Keep that in mind if you have other places to be.
The Good, the Bad, and the Ugly of the Process
The good of the process is that it took less than two hours to submit my application. Ultimately, it was very simple. The cost was only 2,130 Pesos. If you look at it like that then it's really painless to extend your tourist visa.
The bad of the process is that there is absolutely no information posted at the immigration office. There's no info on the process, the fees, the wait times, etc. You are flying blind and that's what makes it frustrating. It's not clear as to what to expect next, what other documents you may need, etc. I read online that you need passport photos. I assumed that at some point I needed to submit the pics. It turns out that you do not need to submit passport photos. I didn't realize that they would keep the passport or that it would take a week to get it back. The bad is the lack of information and perceived disorganization.
The ugly. The experience itself was like trying to get your driver's license renewed in the U.S. It's not exactly pleasant when the place is busy. Here are a few points:
Place is crowded to where it is standing room only.
Hot at times because the AC can't keep up.
Everyone trying to get their visa is pissed off for some reason.
Speaker is so muffled that you're not sure if they're calling your name or not.
59 people in the room. Seating for 25.
Kids running around wild.
Not enough staff to handle the number of customers.
Constantly getting bumped into because it's crowded.
Everything seems disorganized which adds to the frustration and confusion.
Patience. Have patience and everything will work out.
Cebu Immigration Hours of Operation and Cutoff Times
The posted hours of operation are 8:00 A.M. to 5:00 P.M., Monday thru Friday. However, note the following cutoff times as well:
Cutoff times for submitting visa applications are 2:00 P.M. for groups and 3:00 P.M. for individuals. Cutoff times for submitting payments are 2:00 P.M. for groups and 4:00 P.M. for individuals.
Cebu Immigration Additional Information
Make sure you wear some comfortable shoes because you may find yourself standing around for a while. If I have to do it again, I will probably drop my documents at Window #1 and then go get lunch to kill some time.
The place started to clear out at 3:00 P.M. but the seats were still full with three additional people standing.
The windows as labeled:
Window 1 – Receiving (Group)
Window 2 – Receiving (Individual)
Window 3 – Assessment
Window 4 – Cashier (Individual)
Window 5 – Cashier (Group)
Window 6 – Releasing
Window 7 – Immigrant & Non-Immigrant Visa Application
Best Time to Go?
I would say 8:00 A.M. on a Monday morning.
Picking Up Your Passport
My receipt said that I could pick up my passport on November 6th. I went to Bohol for a few days so I didn't go back to immigration until the 13th. I got there at around 8:30 A.M. The mall had yet to open but the guard directed me to the right of the security booth. There are signs posted that will lead you to immigration around the back way.
When I walked in to immigration, it was a totally different atmosphere from when I applied. There were only five people sitting in the waiting area. The place was quiet, slow, and much more inviting. I signed in on the notebook ledger and showed the official my receipt. He directed me to Window #6.
I gave the beautiful girls my receipt, signed another notebook ledger, signed my original application again, and then received my passport. They returned the receipt and the document which showed I'm not on any type of watch list. I guess since you pay for that service they give you the certification letter.
The time it took to pick up my passport was less than five minutes.
Mission accomplished.
My Thoughts on "Immigration"
A small yellow sticker inside my passport is the only visible evidence of the time and money wasted due to this world-wide debacle we call immigration.
We all live on Planet Earth.