Required Documents for Thailand Tourist Visa
Original Passport – Valid for at least 6 months from the date of arrival into Thailand. If it expires within 6 months of the date of your arrival, I recommend you renew your passport first.
1 copy of passport bio page (the page with your name and photo on it)
2 passport-sized photographs – 3.5 cm X 4.5 cm
Copy of hotel booking in Thailand (I submitted a hotel booking for the first night only. I didn't have to show hotel bookings that covered the entire 60-day duration of the visa.)
Copy of flight itinerary showing the date you will travel to Thailand
Copy of proof of onward travel (airline ticket, hotel booking, train ticket, bus ticket, or other proof that shows the date you will depart Thailand)
Copy of bank statement showing the equivalent of at least $1,000 U.S. dollars
1,600 Philippines pesos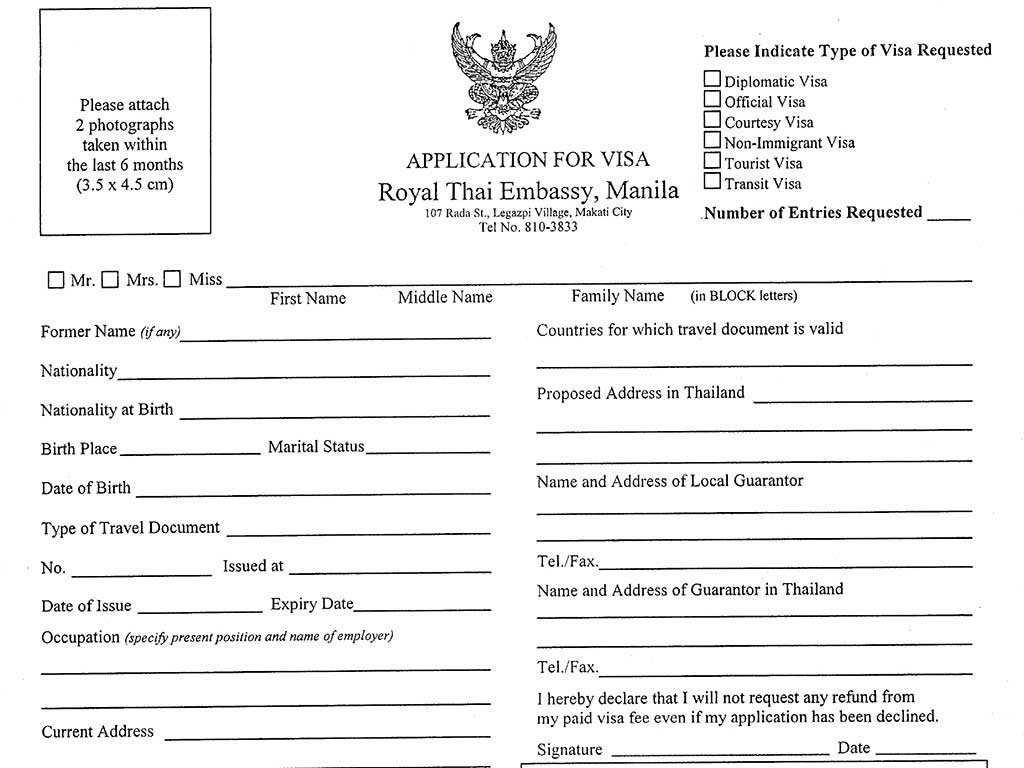 Royal Thai Embassy Manila Location
Makati, Metro Manila, Philippines
Google Map of Royal Thai Embassy in Manila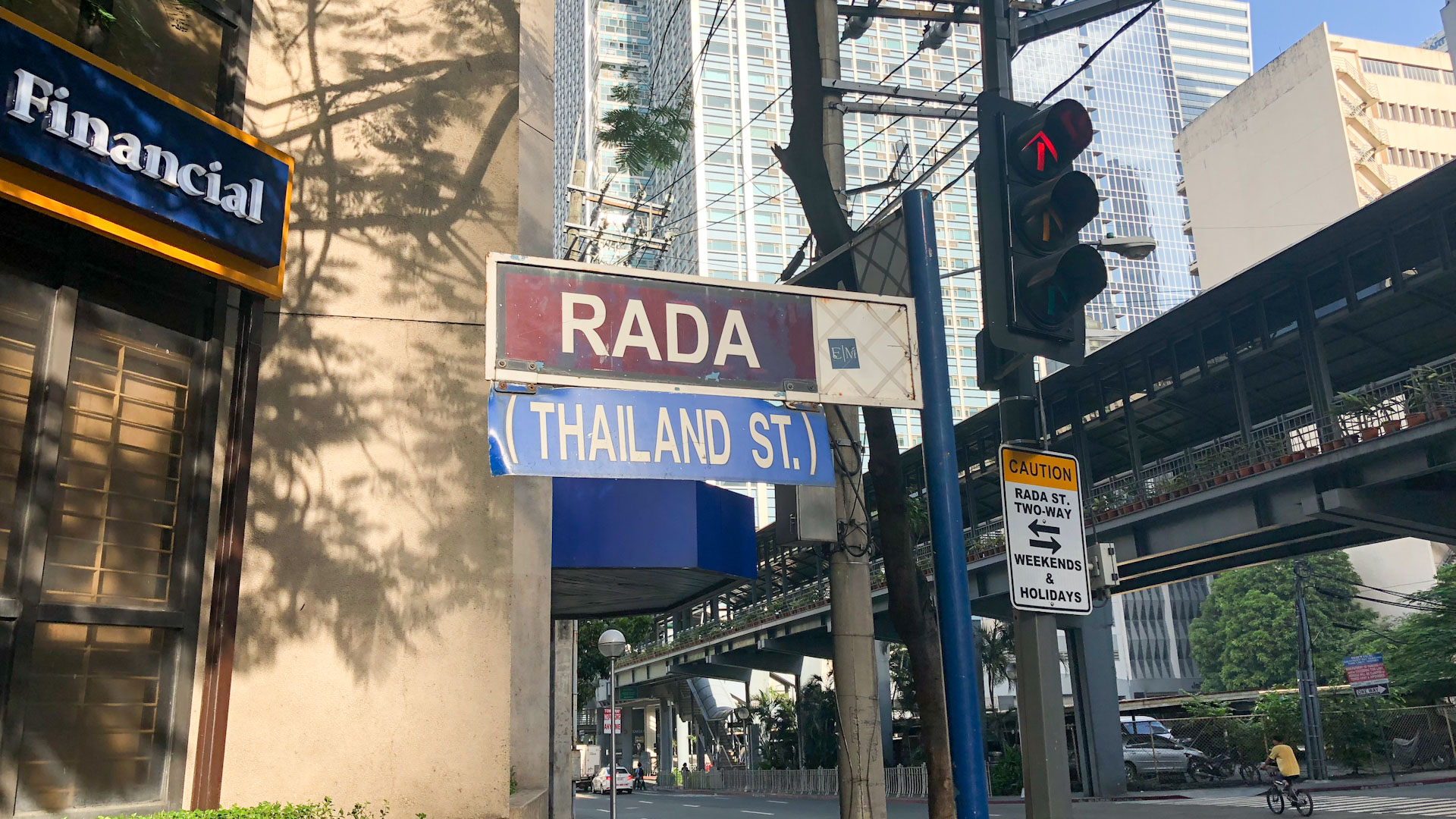 The Royal Thai Embassy is located about 8 blocks from Greenbelt Mall and Glorietta.
Royal Thai Embassy Manila Hours of Operation
You may submit your visa application from 9:30 am until 12:00 pm, Monday thru Friday.
Tourist visa applications take approximately 2 working days to process.
You may pick up your processed visa application between the hours of 3:00 pm and 5:00 pm, Monday thru Friday.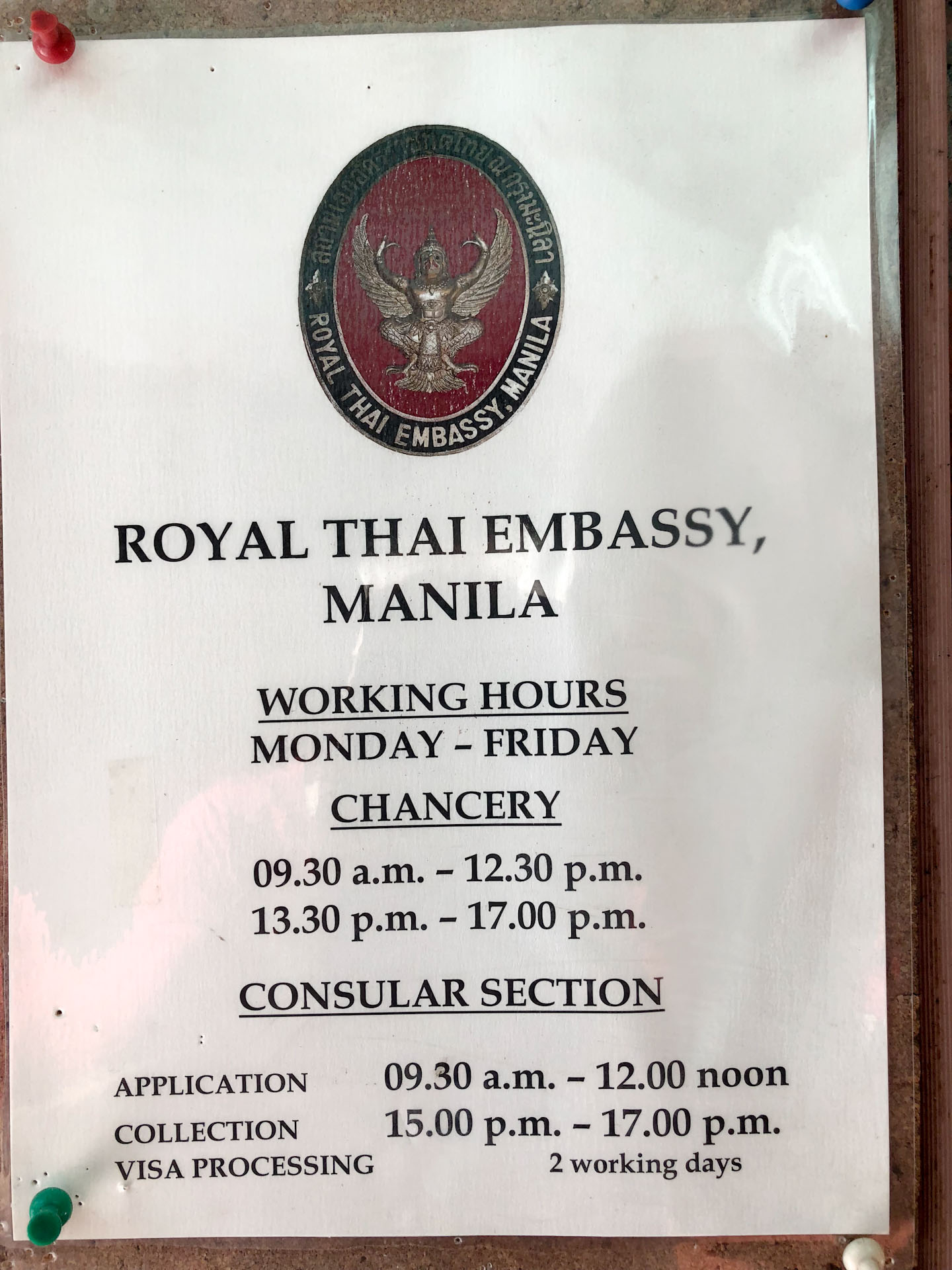 Thailand Tourist Visa Length of Stay
The tourist visa is valid for 60 days from the date of your arrival in Thailand. This may be extended for 30 days by going to an immigration office in Thailand.
Make a note, that in the past, the Thai Embassy in Manila required me to show that I had an onward departure ticket within the 60-day period of the original visa.
I had already booked an onward ticket close to the end of the 90-day limit. I tried to explain that I planned to extend for 30 days once I got to Thailand but they wouldn't go for it. I had to rebook my onward travel to indicate I would depart within the 60 days of the original visa. I'm not sure what the current policy is, but keep this in mind. Even if you plan to extend in Thailand, you may need to show the embassy an airline booking or some type of onward departure within the 60-day period.
The best way to do this (in my opinion) is to book a cheap room in Siem Reap, Cambodia. Show the embassy staff the hotel voucher. Explain that you plan to take a bus to the border crossing at Poipet because you're going to Siem Reap to tour Angkor Wat. It's worked before. Once you get to Thailand, just cancel the booking or eat the 8 bucks it cost to book the room. You can extend at immigration and book your true onward flight.
Either way, you've got to show them some type of documentation at the embassy in Manila.
Print Shop Near the Thai Embassy
If you need copies or photos for your visa application, there is a print shop on Rada Street called Mackim Prints. It's near the Thai Embassy. If you walk out of the Thai Embassy, turn right. The print shop is down on the right, next to a Mini-Stop. It's only about a one to two-minute walk. We needed to get photos and they charged us 80 Pesos.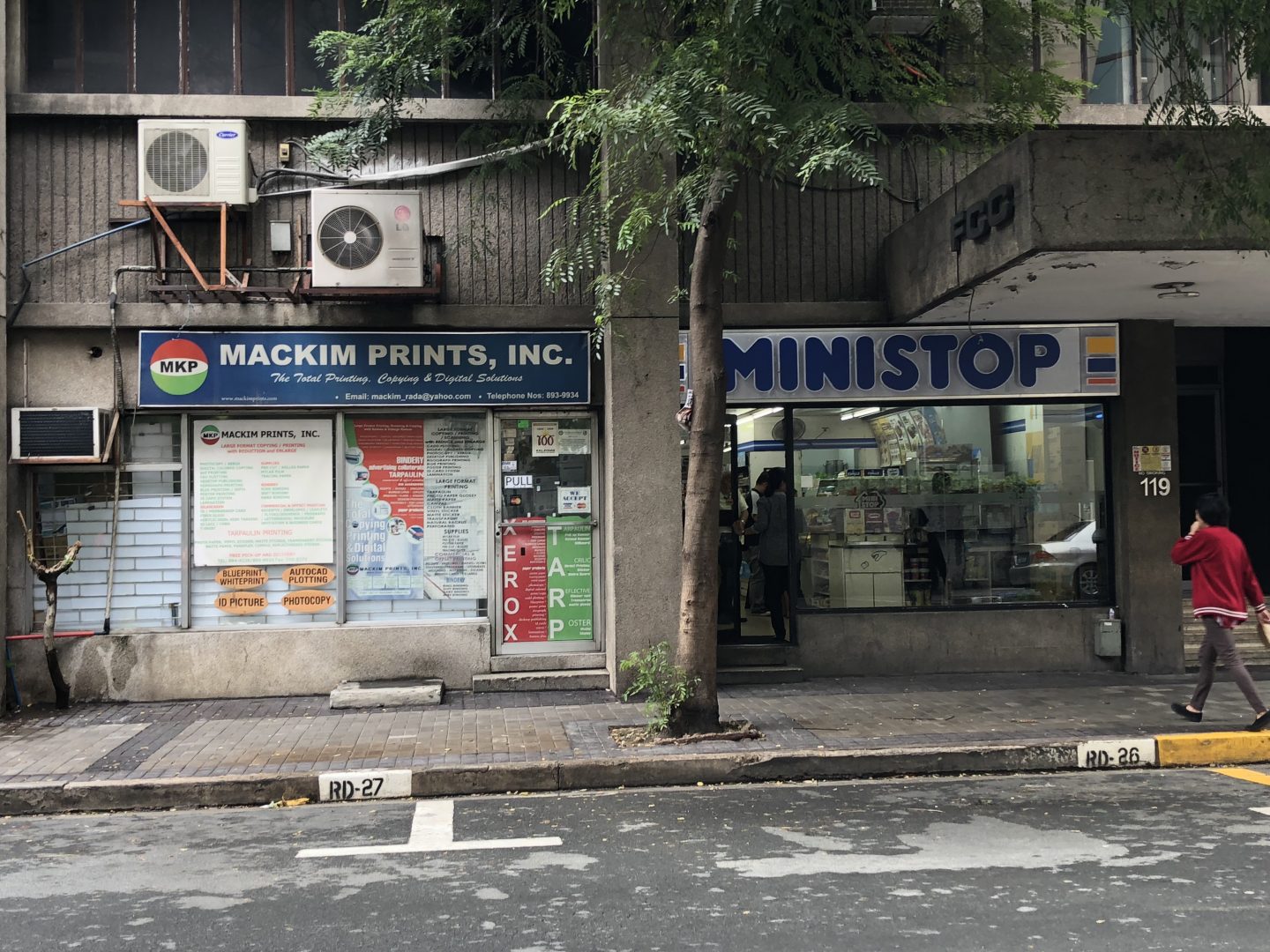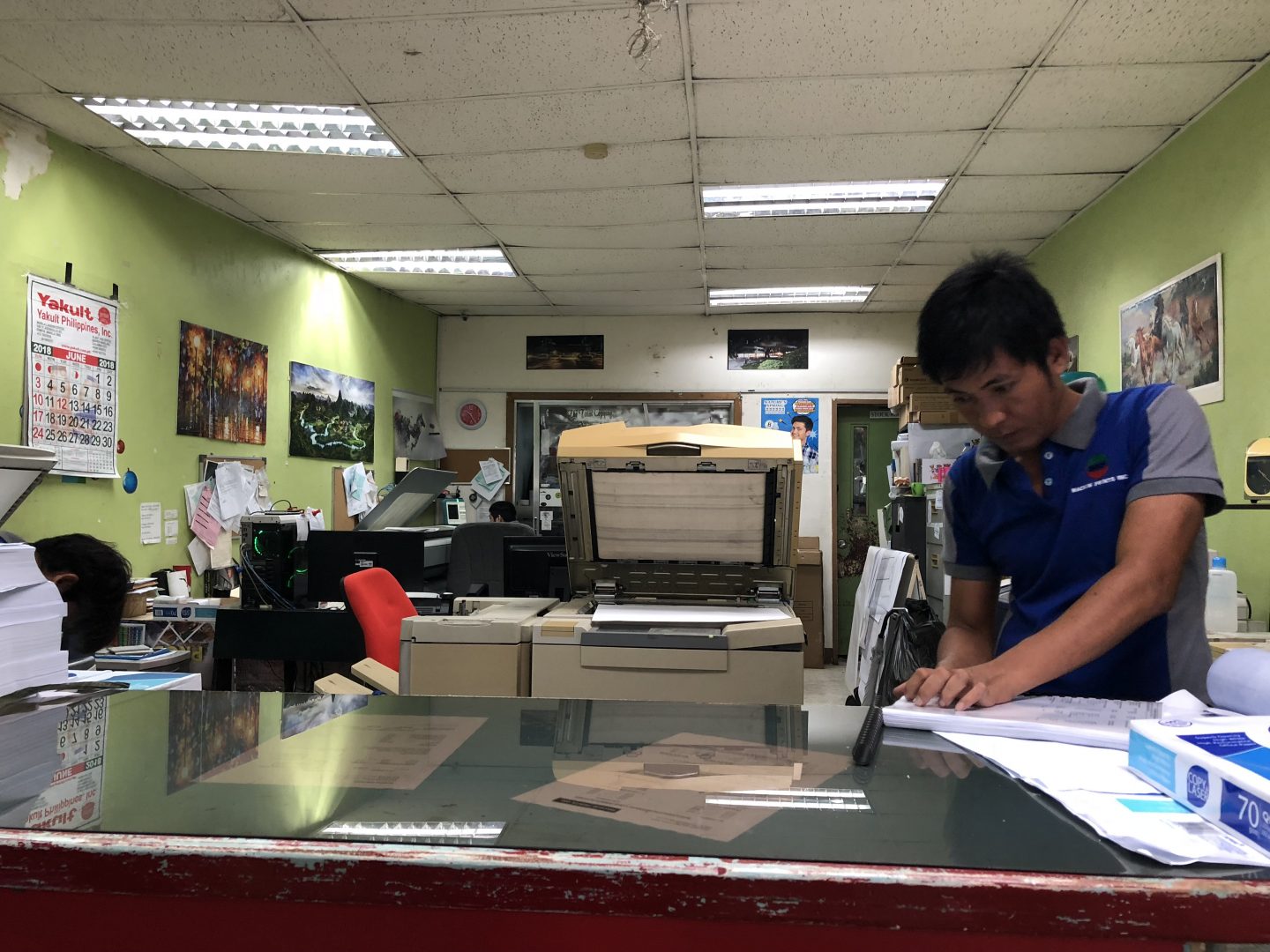 Random Notes
I decided to publish this article to try and clear up the confusion over what they require for the visa.
When I went to the Thai Embassy in Manila a few weeks ago, there was a Western guy at the window arguing with the clerk. She asked him for several of the above mentioned documents, which he did not have.
His point was that nowhere did it say he needed a copy of his bank statement or the hotel booking in Thailand. Also, he told the girl that he was staying with a friend and not at a hotel. She insisted that he show a lease agreement or a hotel booking. The guy told her it sucked to have to book a hotel room for one night and eat the cost when he had a free place to stay. He left, pissed off and frustrated.
I spoke to the Filipina and she said that the same issues happen every day. She said the staff had suggested that the requirements be posted on the Embassy's website, but it hadn't happened.
The list of documents I have provided above came straight from the clerk working the window as of July 2017. If you find anything to be inaccurate, blame her and not me.
If you go to the website for the Thai Embassy in Manila, there is only basic information. Also, take a look at this page about visas from the  Thai Department of Consular Affairs.
Here is one more tidbit of information I'll mention. If for some reason you renew your passport at your country's embassy while you're in the Philippines, make sure you bring the old passport. The clerks have to see your entry stamp into the Philippines. Therefore, you'll have to submit the old passport as well as the new one since the entry stamp will be in that book.
Philippines Citizens
If you are a citizen of the Philippines, there is a second page to the visa application that you need to fill out.
If you are a foreign guy trying to get a tourist visa for your Filipina girlfriend, you need to write a sponsorship letter for her. You will also need to provide the embassy with a copy of your passport bio page, and your bank account showing at least $1,000 USD. If you have a Thailand visa already, you'll need to make a copy of that page as well. If not, just let the clerk know you'll get the visa on arrival at the airport. All of this is assuming that your Filipina does not have a bank account of her own. If your Filipina is a businesswoman, then she can probably fend for herself. A girl from the province is going to need you to write the sponsorship letter if I had to bet on it.
The sponsorship letter needs to have some basic info like how long you've been together, the nature of your relationship, the fact that you will support her during her stay in Thailand, and things like that. I actually hand wrote the sponsorship letter while there at the embassy. Use some language like, "I will support her during our vacation in Thailand to include travel, lodging, food, medical care, and any other expenses incurred…" At the top, I just titled the document, "Sponsorship Letter".
The tourist visa is free for Philippines citizens.
Extending Your Tourist Visa in Thailand
If you arrive by air without a visa, you'll get 30 days. The visa upon arrival can be extended for 15 days by visiting an immigration office in Thailand.
Make a note that foreigners are technically required to register their address at immigration in Thailand within 24 hours of arrival. The reality is that most tourists do not do this. If you stay for 30 days and then leave, it's not an issue. It does become a small issue if you go to extend your visa. If you did not register your address with immigration, you will have to pay a 1,600 Thai Baht fine for failing to register.
If you receive the tourist visa from the Thai Embassy in Manila, you will get 60 days. This can be extended for 30 days at an immigration office in Thailand. The same applies about registering your address at immigration within 24 hours.
Do I Really Need to Get a Tourist Visa from the Thai Embassy in Makati? Can I Just Get the Visa Upon Arrival?
If you are a citizen of the Philippines, or you're from a country that Thailand gives its citizens visas upon arrival (Be 100% sure of this!), you probably don't need to get the tourist visa from the embassy. The question is, how long do you intend on staying in Thailand? If your trip is less than 30 days, just get the visa upon arrival. Make sure you have at least 6 months validity left on your passport and an onward flight out of Thailand. That's all you'll have to show the airlines in Manila to board the flight. Again, you can extend a tourist visa upon arrival by another 15 days if needed by visiting an immigration office in Thailand.
Here's a quick note about this as well. A few months ago (around June 2018 or so) when I went to get my girlfriend a tourist visa, the clerk questioned us as to why we were applying for the 60-day visa and not just getting the visa upon arrival. For some reason, I had booked my girlfriend's return flight within the 30-day window. So, when the clerk saw that her return flight was within 30 days, her point was that my girlfriend didn't really need the 60-day visa. She could just get the 30 days upon arrival and save the Embassy the paperwork. I pointed out to her that we may want to stay longer than 30 days so we needed the 60-day visa. She reluctantly submitted the paperwork and we did in fact get the visa. Maybe the clerk was just having a bad day. Just thought I'd share that experience with you.
You're Going to Love Thailand
Good luck on getting your Thailand Tourist Visa. It shouldn't be a problem as long as you have all of the required documents. You'll love Thailand, I promise.
If you have any info to add to this page or corrections, please leave a comment below so others can benefit. Thanks.