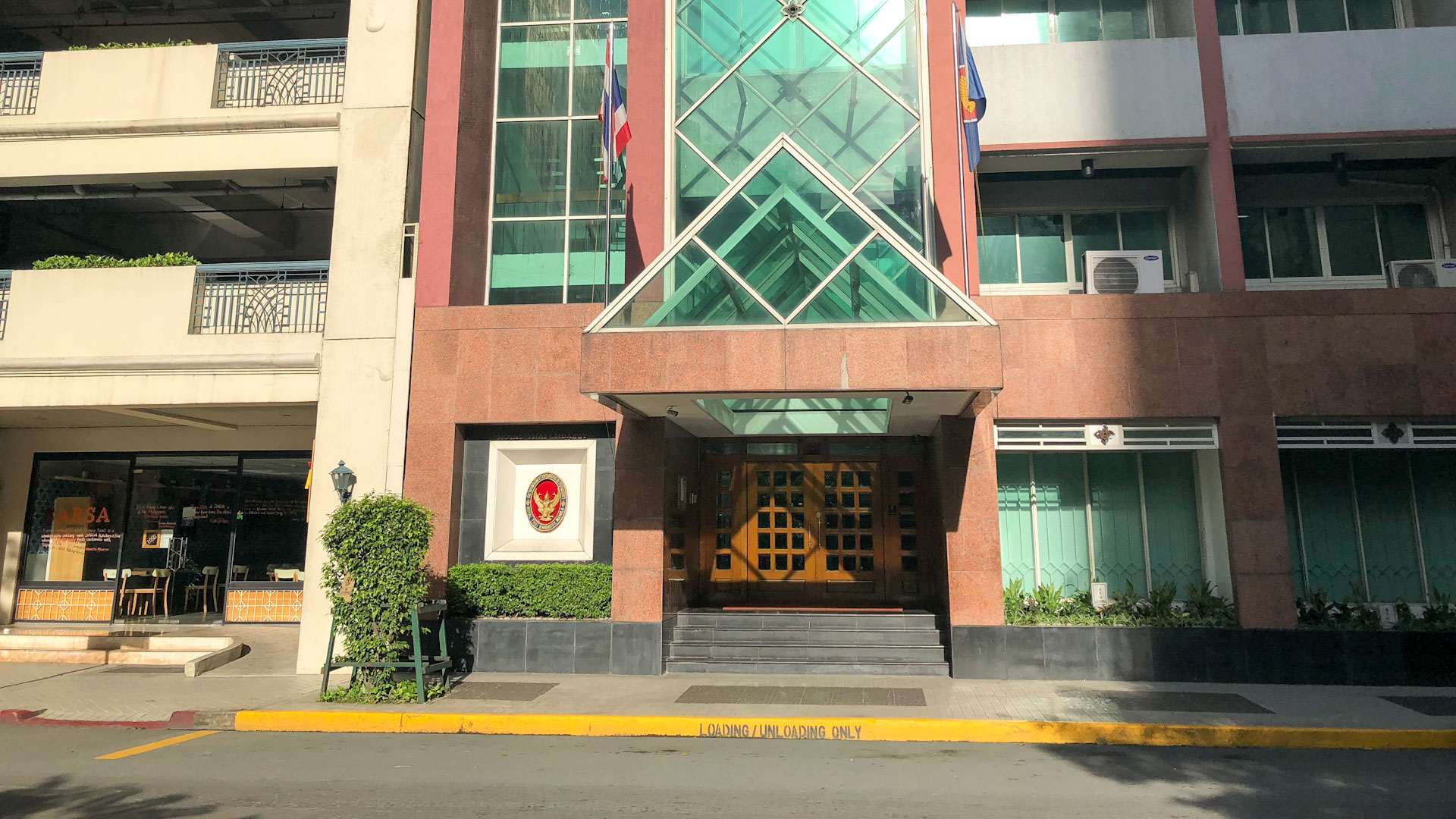 Required Documents for Thailand Tourist Visa
Original Passport
1 copy of passport bio page (the page with your name and photo on it)
2 passport-sized photographs – 3.5 cm X 4.5 cm
Copy of hotel booking in Thailand (I submitted a hotel booking for the first night only. I didn't have to show hotel bookings that covered the entire 60-day duration of the visa.)
Copy of flight itinerary showing the date you will travel to Thailand
Copy of proof of onward travel (airline ticket, hotel booking, train ticket, bus ticket, or other proof that shows the date you will depart Thailand)
Copy of bank statement showing the equivalent of at least $1,000 U.S. dollars
1,600 Philippines pesos
Royal Thai Embassy Manila Location
Makati, Metro Manila, Philippines
The Royal Thai Embassy is located about 8 blocks from Greenbelt Mall and Glorietta.
Royal Thai Embassy Manila Hours of Operation
You may submit your visa application from 9:30 am until 12:00 pm, Monday thru Friday.
Tourist visa applications take approximately 2 working days to process.
You may pick up your processed visa application between the hours of 3:00 pm and 5:00 pm, Monday thru Friday.
Thailand Tourist Visa Length of Stay
The tourist visa is valid for 60 days from the date of your arrival in Thailand. This may be extended for 30 days by going to an immigration office in Thailand.
Make a note, that in the past, the Thai Embassy in Manila required me to show that I had an onward departure ticket within the 60-day period of the original visa.
I had already booked an onward ticket close to the end of the 90-day limit. I tried to explain that I planned to extend for 30 days once I got to Thailand but they wouldn't go for it. I had to rebook my onward travel to indicate I would depart within the 60 days of the original visa. I'm not sure what the current policy is, but keep this in mind. Even if you plan to extend in Thailand, you may need to show the embassy an airline booking or some type of onward departure within the 60-day period.
The best way to do this (in my opinion) is to book a cheap room in Siem Reap, Cambodia. Show the embassy staff the hotel voucher. Explain that you plan to take a bus to the border crossing at Poipet because you're going to Siem Reap to tour Angkor Wat. It's worked before. Once you get to Thailand, just cancel the booking or eat the 8 bucks it cost to book the room. You can extend at immigration and book your true onward flight.
Either way, you've got to show them some type of documentation at the embassy in Manila.
Random Notes
I decided to publish this article to try and clear up the confusion over what they require for the visa.
When I went to the Thai Embassy in Manila a few weeks ago, there was a Western guy at the window arguing with the clerk. She asked him for several of the above mentioned documents, which he did not have.
His point was that nowhere did it say he needed a copy of his bank statement or the hotel booking in Thailand. Also, he told the girl that he was staying with a friend and not at a hotel. She insisted that he show a lease agreement or a hotel booking. The guy told her it sucked to have to book a hotel room for one night and eat the cost when he had a free place to stay. He left, pissed off and frustrated.
I spoke to the Filipina and she said that the same issues happen every day. She said the staff had suggested that the requirements be posted on the Embassy's website, but it hadn't happened.
The list of documents I have provided above came straight from the clerk working the window as of July 2017. If you find anything to be inaccurate, blame her and not me.
If you go to the Thai Embassy's Website, there is only basic info.
Here is one more tidbit of information I'll mention. If for some reason you renew your passport at your country's embassy while you're in the Philippines, make sure you bring the old passport. The clerks have to see your entry stamp into the Philippines. Therefore, you'll have to submit the old passport as well as the new one since the entry stamp will be in that book.
If you are a citizen of the Philippines, there is a second page to the visa application that you need to fill out. I'm not going to get into that aspect because it's a whole other lengthy topic. Maybe I'll write an article about that later on.
Good luck on getting your Thailand Tourist Visa. It shouldn't be a problem as long as you have all of the required documents. You'll love Thailand, I promise. It's worth getting the 60-day visa. If you arrive by air without a visa, you only get 30 days. The visa upon arrival can be extended for 15 days.
If you have any info to add to this page or corrections, please leave a comment below so others can benefit. Thanks.