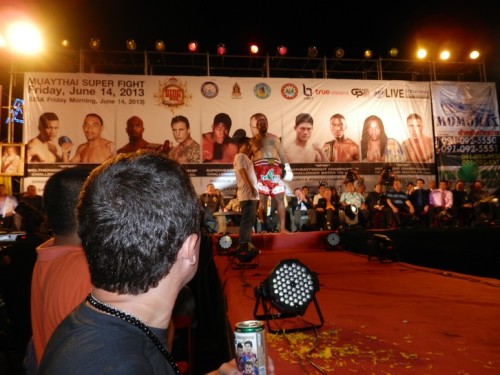 Back in May, I found out that Riddick Bowe was in Thailand for a Muay Thai fight. I shot him a quick message on Twitter and he advised he was training in Bangkok. I got excited about the upcoming event but the next thing I heard was that it had been cancelled. Bowe had reportedly injured his ankle. Almost immediately, they announced that it was back on and the venue had been changed to Pattaya.
Who is Riddick Bowe?
For those of you who don't know, Riddick Bowe is a former two-time world heavyweight boxing champion. He was the first fighter to beat Evander Holyfield and the first fighter to knock him out. Bowe's boxing record stands at 43 wins, 1 loss, and 1 no contest, with 33 knockouts. He's a true boxing legend even though his career and personal life turned a bit rocky. I'm not going to elaborate on that aspect of his life because there are enough articles out there already which focus on the negative.
Trying to Find a Ticket
I kept inquiring around Pattaya about how to get a ticket to the event but no one seemed to know. I had to wait until the day of the fight and ride over to Bali Hai Pier. I got there around four and found that a temporary ring had been erected next to the marina at the end of Walking Street. About a hundred chairs had been set up with metal gates to control access to the seating area.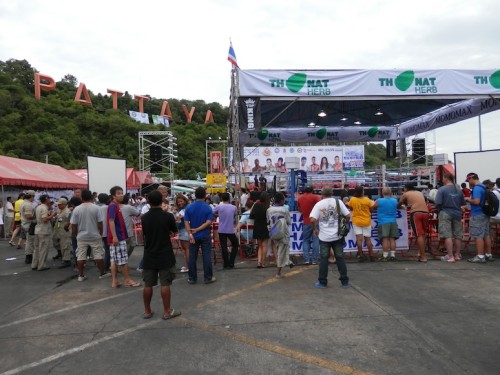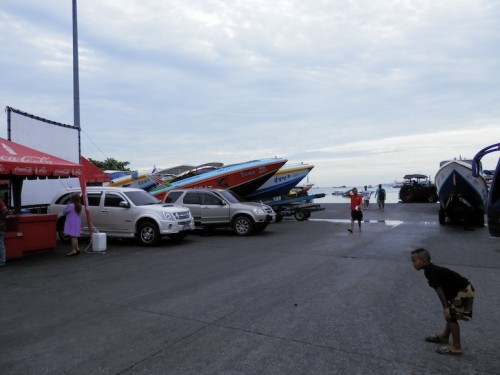 I spoke to one of the security guards and asked him about where I could get a ticket. He told me that the event was free. It was first-come first-served as far as the seating went.
Awesome. I'm going to be first in line and get a ringside seat.
Scoring a VIP Ticket
I hurried to my room, grabbed a quick shower, changed clothes, and was back within an hour. There were only a few people occupying the seats so everything seemed to be going my way. As I attempted to make it through the gates, a different security guard stopped me and asked for my ticket.
Huh? I thought it was free?
The guard elaborated that it was free to stand outside the gates. To grab a chair inside, you had to have a VIP card. I assured the guard that I was, in fact, a VIP. It didn't work. For some reason, he'd never heard of me.
I started hitting up all of the vendors until I finally shook down a couple of Thai kids handing out posters. They initially told me they didn't have any VIP passes but gave off too many indicators of deception as they said it. Bingo!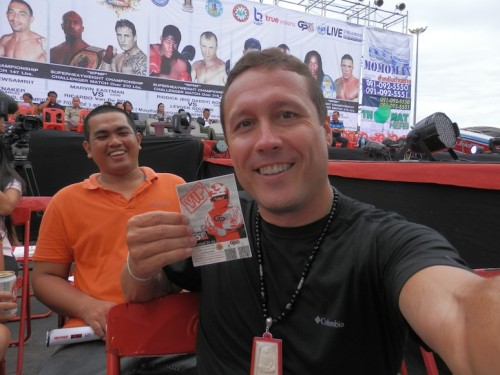 I preyed on their sense of decency until they felt sorry for me. One reluctantly pulled out a VIP card and handed it over. I thanked him whole-heartedly and went back to the security guard at the gate.
See, I told you I was a VIP.
Pre-Fight Events and Intro
I grabbed a seat next to the red carpet, only three rows back from the ring. With my sack of cold Chang Beer, I waited for the festivities to kick off. Soon, Thai announcers began to introduce people associated with the event. A brief show with traditional Thai dancing also entertained the crowd.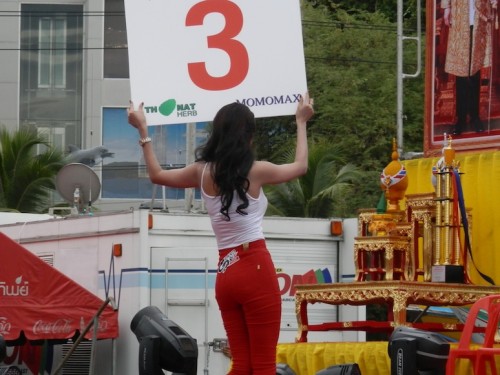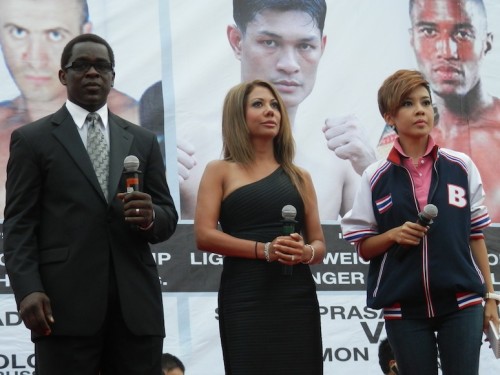 The King's song was played and everyone stood and faced his picture on the stage. Afterward, I think a fight or two kicked off to warm up the crowd. Then, the headliners were brought in with the flags of their countries leading the way. With the fighters standing in the ring, all national anthems were honored and played. Riddick Bowe stood tall beside Old Glory as the Star-Spangled Banner resonated throughout the venue. There ended up being quite a few of my fellow Americans in the crowd. We're always easy to spot when our national anthem is played, no matter what country we're standing in.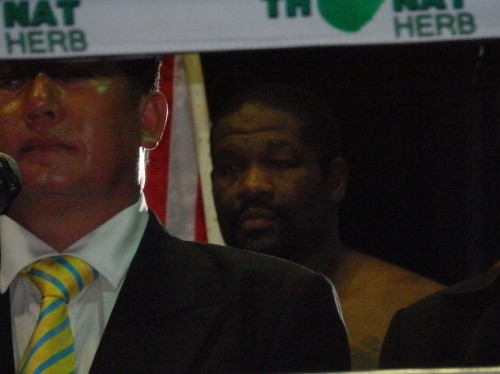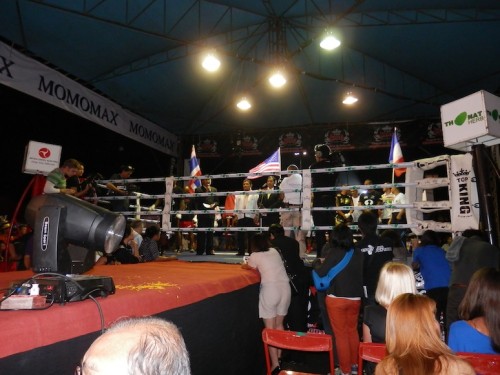 Stepping Into the Ring
When it came time for the main event, the excitement intensified. Bowe walked on stage and acknowledged the real VIP's before heading to the ring.
As he walked past me, I yelled some words of encouragement.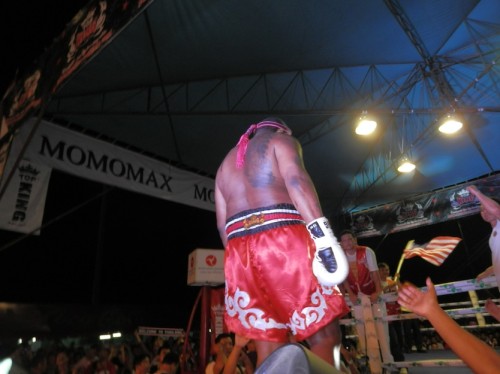 "Kick some ass, dogg!"
He seemed to nod his head in acknowledgment. Bowe climbed into the ring for the first time in years and into very unfamiliar territory. At forty-six years old and around three-hundred pounds, Bowe was already outmatched by the young thirty-year-old Russian Muay Thai Champion, Levgen Golovin. Unless Bowe got lucky with a quick hay-maker and knocked Levgen's ass out cold, even a blind man could have predicted the outcome of the fight.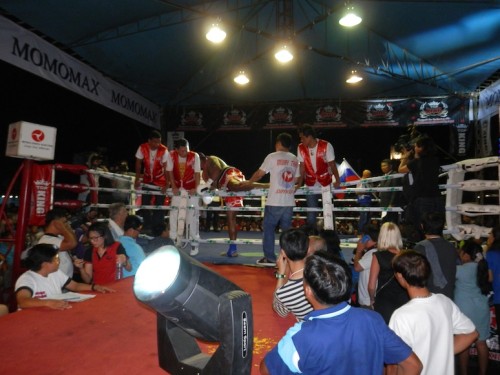 Riddick Bowe Muay Thai Super Fight – Time for Action
When the Muay Thai music began playing, it was blatantly obvious Bowe is a boxer. You're not going to change decades of conditioning with one month of training. In boxing, you can only get hit with a left or a right. In Muay Thai, you've got to watch out for legs, elbows, knees, gloves, and the ever-changing combination of them all.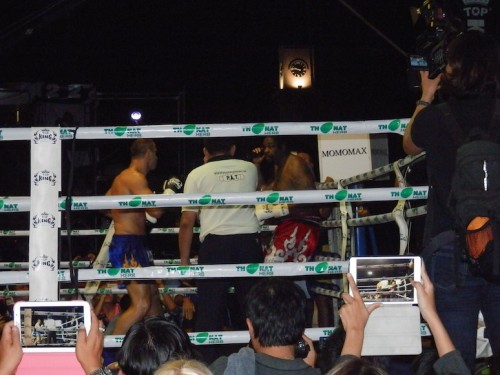 When Golovin quickly landed a kick to Bowe's legs, Bowe landed on the mat. He wasn't expecting it because you just can't do shit like that in a regular boxing match. Bowe was out of his comfort zone.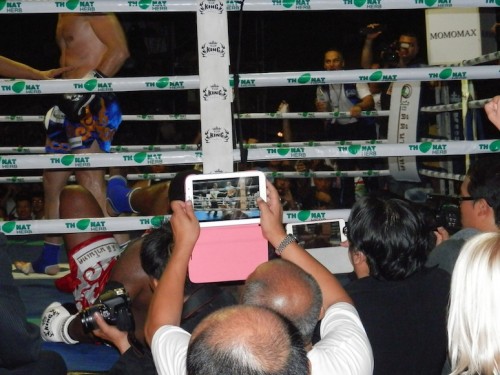 Bowe made it through the first round but you could tell he was hurting.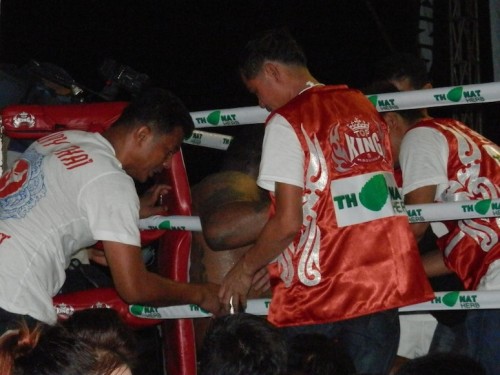 In round two, he took a kick that put him back on the mat for good. It was over.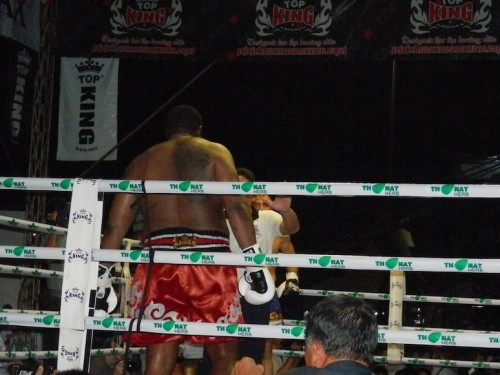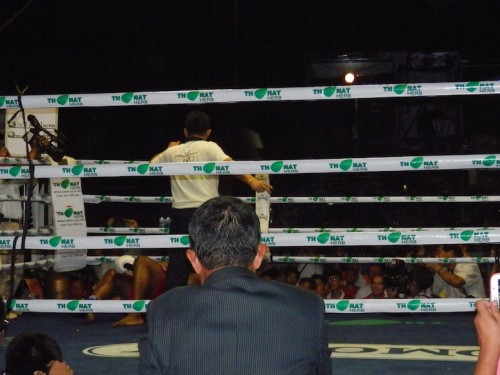 Several of the VIP's jumped from their seats and rushed into the ring to check on him. The swarm of cameramen followed.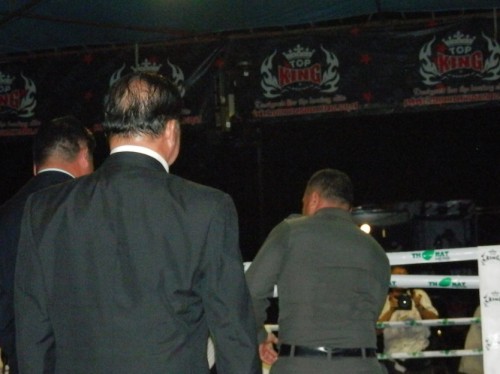 A True Gentleman
After a few tense minutes, Bowe got back on his feet. He congratulated Golovin and gave him a hug and a pat on the shoulder. As he was led from the ring, he paused to show respect for the crowd in the traditional Thai manner. He placed his hands together as if in prayer and bowed his head while saying, Thank you. He left the ring the same way he entered—like a true gentleman. Now, that's the real story behind his Muay Thai debut.
The Media and Critics Just Don't Get It
The next day, I read nothing but article after article claiming that Riddick Bowe's Muay Thai debut was a "flop" and that he was "punished" by Golovin. Here's a sampling of the carnage:
Riddick Bowe Learns Muay Thai the Painful Way
Riddick Bowe Punished in MMA Debut
They all focused on Bowe's fall from grace in the boxing world and that his Muay Thai fight was a joke. All of these folks don't see the big picture so allow me to educate them. First of all, Bowe spent a month roaming around Thailand, taking pictures with the kids, giving interviews, and doing media events. He acted as a gentleman and ambassador from the United States toward the Thai people and their culture. His presence promoted their national sport unlike anyone else has done in recent history. Bowe had the balls to step into the ring with a Russian kid who was built like a brick shit house. I wouldn't even fathom trying to fight the guy and neither would you. The real story here is that Riddick Bowe's trip to Thailand was a huge success. The Thai people love him. I had a great time at the event, as did a thousand or so other people who came to see him. Therefore, maybe the critics should consider that this was, in reality, more of an exhibition fight than a professional match and cut the guy some slack. I know nothing about sports and still figured that one out on my own.
Regardless, I wish Riddick the best and hope to see him again in Thailand.
The Man in the Arena
I'll close with the Man in the Arena speech by Theodore Roosevelt on 23 April, 1910. This speech is probably the most tasteful way to address those who offer negative comments about one's accomplishments and failures. It's basically a gentleman's way of saying, Screw you, you weren't there. Riddick Bowe was the man in the arena on this occasion against a younger opponent in the heat of Southeast Asia. I'm dedicating this speech to all of the sports writers who were quick to jump on the man, while comfortably sitting at their keyboards under the cool air-conditioning, eating Cheetos, and sipping on Starbucks.
"It is not the critic who counts; not the man who points out how the strong man stumbles, or where the doer of deeds could have done them better. The credit belongs to the man who is actually in the arena, whose face is marred by dust and sweat and blood; who strives valiantly; who errs, who comes short again and again, because there is no effort without error and shortcoming; but who does actually strive to do the deeds; who knows great enthusiasms, the great devotions; who spends himself in a worthy cause; who at the best knows in the end the triumph of high achievement, and who at the worst, if he fails, at least fails while daring greatly, so that his place shall never be with those cold and timid souls who neither know victory nor defeat."