Why is a man writing a review on a woman's purse? It's because I'm just that good and I know everything about fashion. Dolce & Gabbana often call me for advice.
Ok, so not really on those points.
I decided to write this review myself because buying the Saddleback Leather Clutch Purse turned out to be a good investment. I really like the way it looks on my old lady (loving term for my girlfriend) when we're out and about. She loves the purse and carries it everywhere we go.
Most reviews contain the "what" about a particular product. I'm going to buck the system and focus on the "why" this time.
Be sure to check out the customer reviews on Saddleback's website after you finish reading the magic on this page.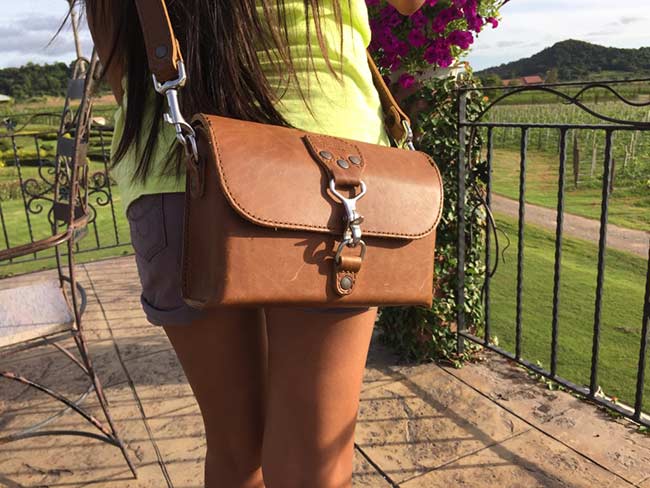 Ladies First…
Ladies, be prepared to get real jealous.
As a matter of fact, you'll probably want to project some anger and hostility toward your husband or boyfriend after you read my article and view the photos. Why? Because if you're reading this review it could mean that you DO NOT already have a Saddleback Leather Clutch Purse! Let me offer my sincerest condolences. I'm very sorry to hear that. I'll also apologize on behalf of your husband or boyfriend for putting you in this heinous predicament. Not to rub it in, but my girl already has a Clutch Purse.
Ouch.
Sometimes, men just don't realize how important you are to them. It's not entirely their fault, though. Fashion is not a strong point of most guys. The majority of males are about durability, function, and utility. Don't worry because these points are going to end up working in your favor.
Ladies – Here's How to Get Your Husband to Buy You a Saddleback Leather Clutch Purse – Follow These 2 Steps
I'm going to explain to you exactly how to convince your man to buy you this purse. Follow my instructions carefully and you'll be waiting by the door for the UPS truck. It's a simple two-step process:
Step #1: Start by discussing the craftsmanship and durability of the purse over a good, home-cooked dinner. Let him know that it is made with full-grain leather, copper rivets, and stainless steel. Tell him that it even comes with a 100-year warranty! Inform your husband that the owner of the company is a cool guy who was flat broke when he started the business. He was living down in Juarez, Mexico, with nothing but his dog named Blue and an old Toyota Land Cruiser. That will peak your husband's interest, I promise. When a man hears keywords such as leather, copper rivets, broke, Mexico, dog, and Land Cruiser, it's as if a fire alarm went off inside his head. He will sit up and pay attention.
Step # 2: After dinner, put a cold beer by the computer and pull up the following web page: Saddleback Leather Classic Briefcase.
That's it. There's no need for any more dialogue at this point in the game. Just sit back and let nature run its course. One sip of that beer and a quick glance at the computer screen is all it takes. Your husband will want a Classic Briefcase so bad that he'll order your purse an as excuse to get a Saddleback bag for himself. Is that playing dirty pool? Absolutely. Hey, do you want the purse or don't you?
Voilà! Your purse is on its way. See how easy that was? If you don't use this up-front method of attack, your husband may end up ordering a bag behind your back. You'll get left out in the cold. Share the wealth and encourage him to buy the Classic Briefcase. Everybody wins without a fight.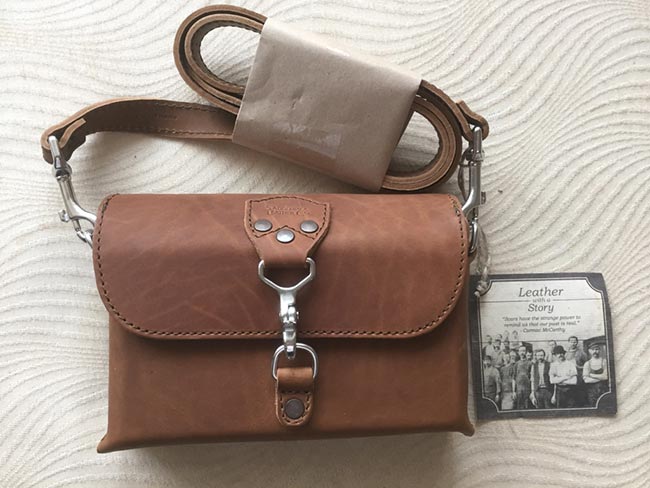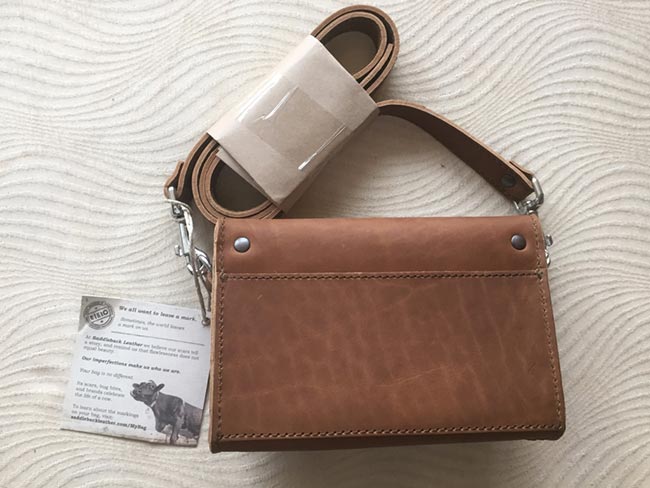 For My Fellow Man
Men, I want you to check something for me. Open up your wife's purse and stick your nose in there. Take a big whiff. If it smells like vinyl, she's carrying a crappy purse made in China. You know that smell. It's the same as a cheap inflatable raft or blow-up crocodile you buy for an above-ground swimming pool. If the smell of her bag reminds you of your grandmother's vinyl couch cover, that's even worse. Either way, the odor, look, and feel of landfill-bound vinyl is horrible. Your poor wife has to experience that trauma at least a dozen times a day. Imagine the emotional roller coaster she finds herself on just digging for the damn car keys.
What does the type of purse your wife carries subliminally say about your relationship? How does that correspond to your marriage? Well, a cheap purse stinks and it's going to break in a few months. Is that what you really think about your relationship? A Saddleback Leather purse smells good and it's going to last until you die. Ponder that for a minute.
You need to man up and get the girl a better purse. Believe it or not, that purse is a direct reflection on you. If her bag is a Walmart clearance item you bought last Mother's Day, you're wrong. I didn't always think like this, but after many years of dealing with different women, wives, girlfriends, etc., I've learned a few things. These days, my game is stepped up a bit when it comes to my old lady.
My girl now is sporting a medium Saddleback Leather Clutch Purse in Tobacco. It fits her perfect and looks great. It's a minimal design and is durable as hell. The best part is that I won't have to buy her a new purse for at least a few years. I'm a realist so I'm sure she'll want one in Dark Coffee Brown at some point.
The leather smells good. When my girl opens that purse, I don't have to worry about any repressed memories being triggered by the stench of cheap vinyl. The purse smells like high-end quality to me.
My Fellow Man – Here's Why You Should Buy Your Wife This Purse – The Selfish Reason
The medium Clutch Purse costs $200 bucks. That's a mere two Benjamins to step up your game. The joy is that you can use this purchase as a HUGE opportunity to get something nice for yourself. Buy her the Clutch Purse and nonchalantly add the Large Classic Briefcase in Tobacco to the order. Hey, you're the king. Don't hesitate one bit.
It may be slightly lop-sided as far as the money spent, but don't worry. When the box gets there, she'll be too busy with the new purse to gripe about the fact you spent $845 on your briefcase. Hey, she played dirty pool in getting you to buy the purse. Repay the gesture and even the playing field. In the end, you're both happy about the whole situation. It makes for a great story to tell about how you acquired your leather bags.
Here's her story if she encouraged you to buy the Classic Briefcase:
"I tricked my husband into buying me this new purse. It was easy. I read this article by some guy who tells you exactly how to do it. All I had to do was put a beer next to the computer, with a web page open about this classic leather briefcase. It's made by the same company who makes the purse. Bill ordered that darn briefcase right then and there and threw my purse in the cart with no questions asked. I couldn't believe it.
Here's her story if she DID NOT want you to buy the Classic Briefcase:
"I can't believe my husband. I talked him into ordering me a new purse that cost $200 dollars. When the UPS man delivered the box, it seemed a bit big for a small purse. I opened it up and found out that Bill had ordered a briefcase for himself that cost $845 bucks! He's sneaky. But how can I complain? I guess I started the whole thing in the first place. That's ok, because I've got my eye on the Satchel Purse now. He doesn't know it yet but he's getting me that for Christmas."
The Man's Story:
"I got my wife good this time. She kept pressuring me to buy her a new purse that cost $200 bucks. I said, ok, no problem. When I placed the order, I threw in an $845-dollar briefcase for myself. Ha! You mess with the bull you get the horn. Damn, I love this Classic Briefcase, though. I'm glad she turned me on to Saddleback Leather but I can't tell her that."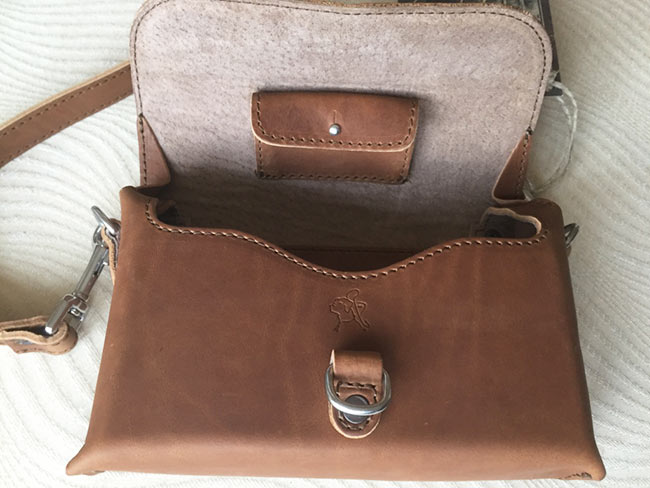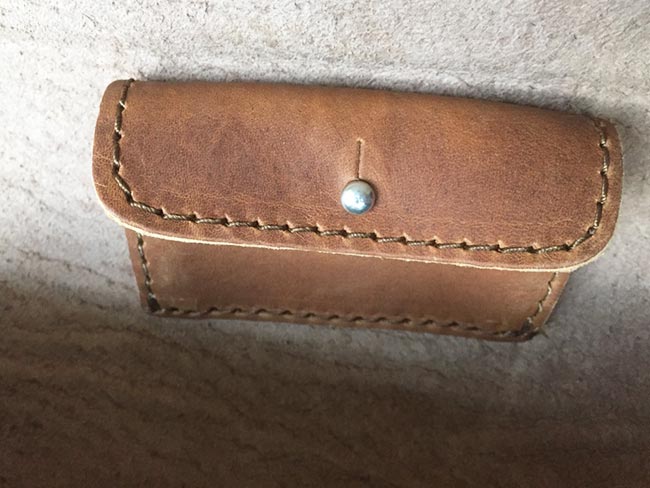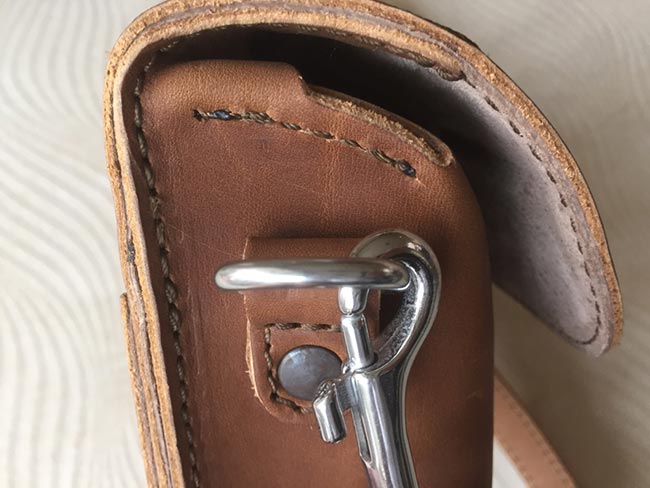 Saddleback Leather Clutch Purse – How Much Will it Hold?
Here's what my girlfriend usually carries in her Clutch Purse:
iPhone 6 – outside pocket on the back
Passport, Book of Revelation, and cash – back interior pocket
Two ink pens
One pencil
Sunglasses
Keys
Six-pack of Oreos (Often, there are 2 six-packs of Oreos in there.)
Small Snickers chocolate bar
Lipstick
Remote control for gate
Rosary beads
Coins – change pouch (70 Thai baht)
Small bottle of perfume
Small makeup kit
Saddleback Leather Clutch Purse – Small vs Medium
My girlfriend and I both recommend you go with the medium. She's a short girl and the medium looks just fine on her. The small would probably look ok as well because of her height, but I don't think it would hold all of her items. I would say that the small Clutch Purse would be an excellent gift for your kids. Or, the small would be appropriate if you want to wear it while out on the dance floor and need something very minimal—something to just hold your cell phone, car keys and cash. I view the small Clutch Purse as more of a wearable wallet rather than a purse. But hey, that's my personal opinion. Get the one that best suits your needs. What the heck do I really know about purse sizes? I'm a man.
Recommended Accessory
Since my girlfriend is short (under 5′ tall), we had to adjust the strap down to the lowest notch. It was still too long. Luckily, I just happened to have an antique leather hole puncher lying around. (Not sure why I have this tool or exactly where it came from. Strange.) I ended up punching four extra holes in the strap so that it would fit properly. As a side effect of this, the excess strap has started to curl a bit. We've secured it to the main strap with a piece of string for the time being. However, I think that one of the Saddleback Leather Rings might be perfect to serve as a strap keeper. I can't be certain because I don't have one in hand to test the theory. Either way, if you order the Clutch Purse, pick up a leather ring set just in case. The set costs $55 dollars and comes with four rings—one in each of the Saddleback Leather colors.
Final Opinion on the Clutch Purse
It's a cool little purse that's well worth two-hundred bucks. My girl loves it. What more can I say? I hope you enjoyed the article. Check out the photos below to see the purse in action.
Saddleback Leather Clutch Purse – Medium – Tobacco – Winery & Vineyards Photo Shoot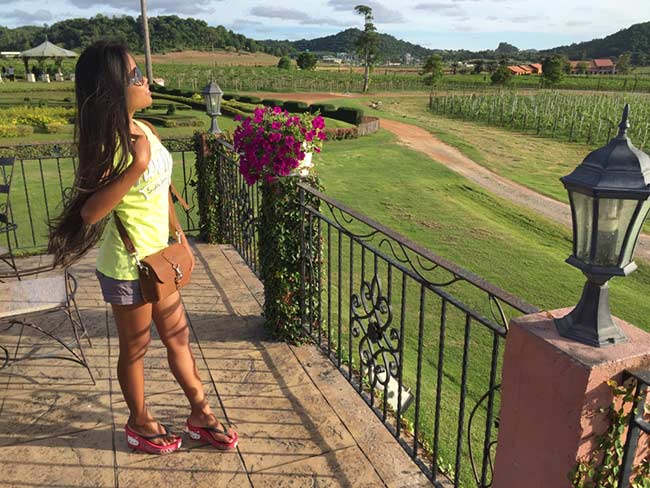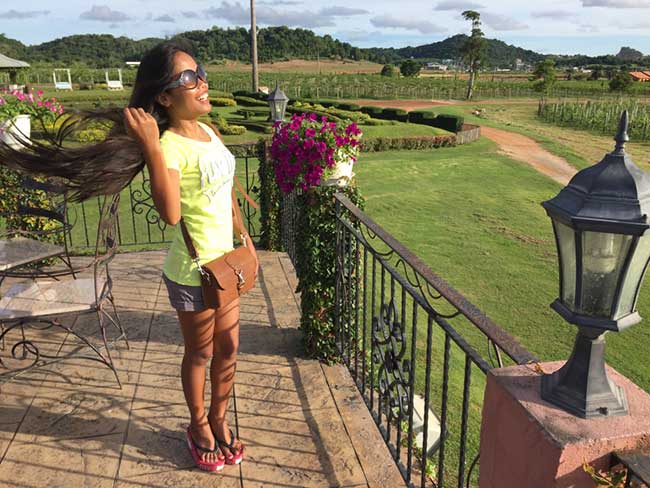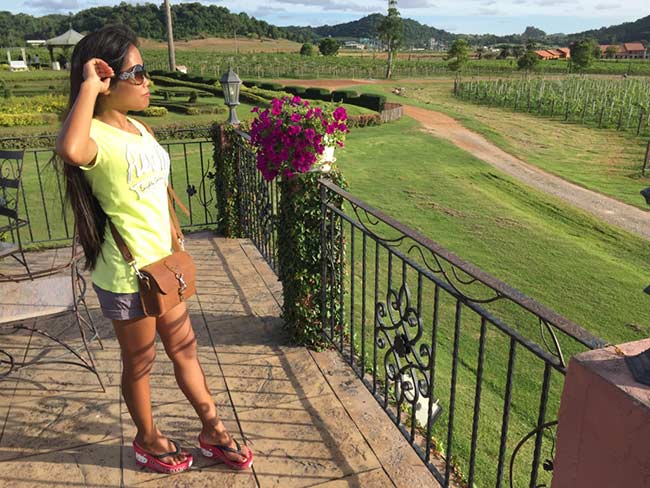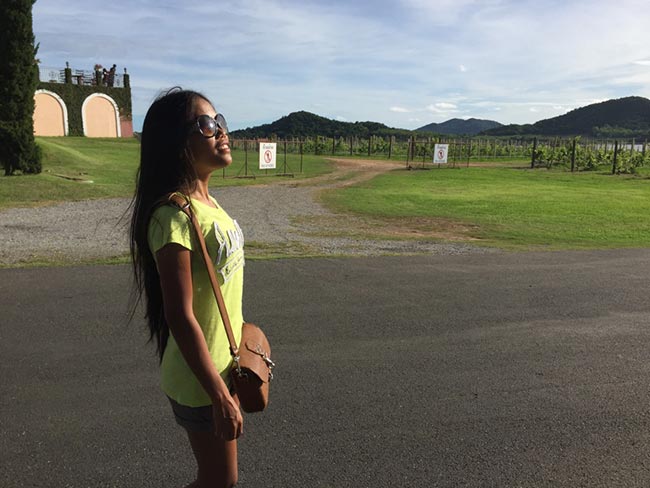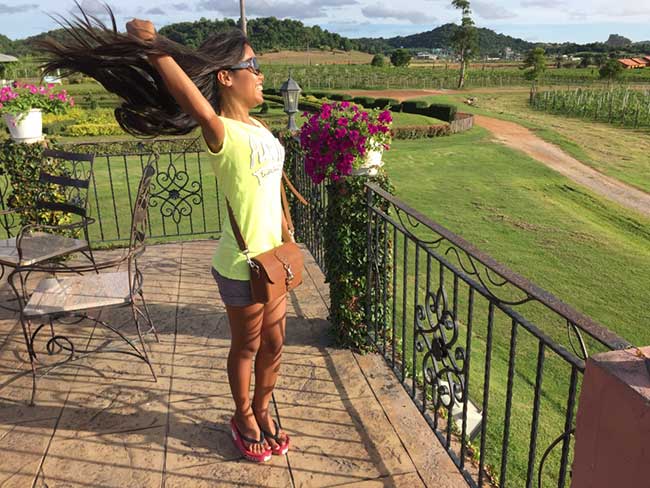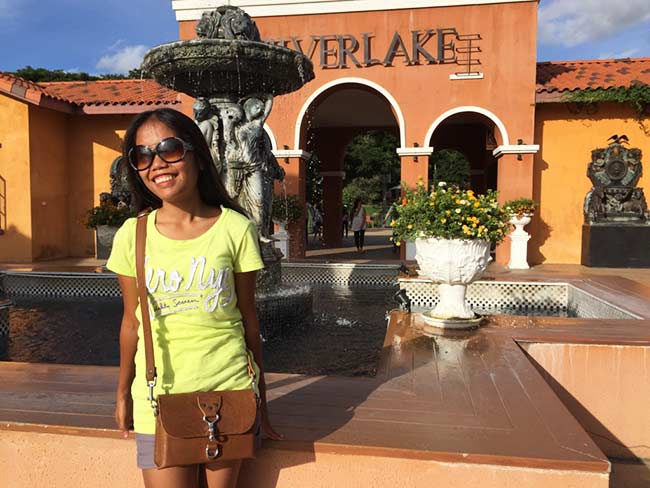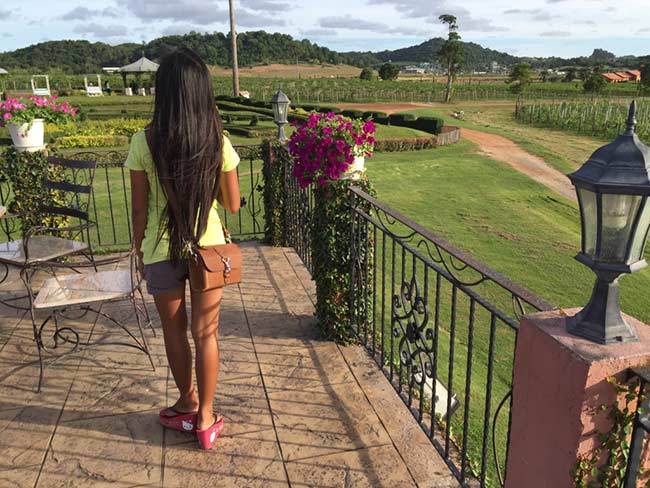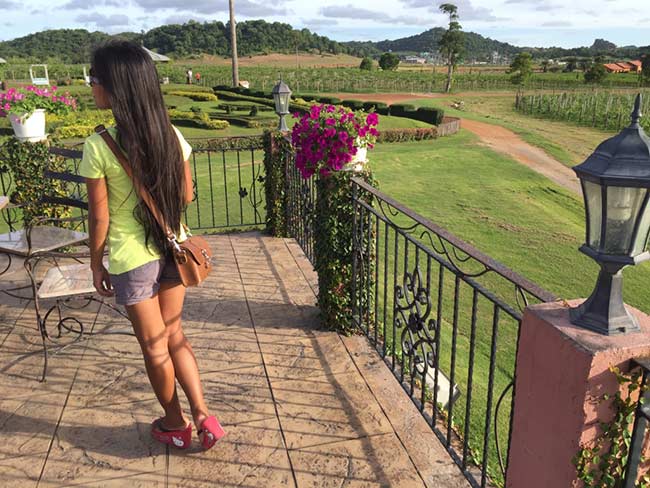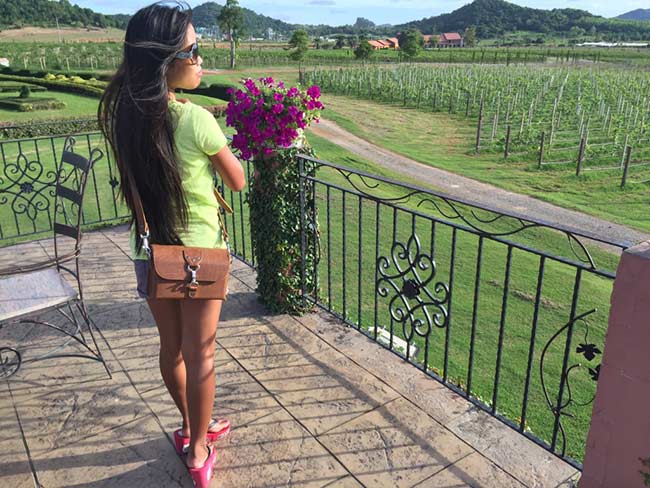 Saddleback Leather Clutch Purse – Medium – Tobacco – Motorbike Adventures