The Decision to Buy a Point-and-Shoot Camera
I purchased the Sony RX100 V a few days ago at a mall here in Abu Dhabi. My aging DSLR is on its last leg and I've been searching for a replacement since last summer.
To be honest, very seldom do I even break out the DSLR because it's just too big and bulky. Also, big cameras cause you to attract unwanted attention from thieves. They're heavy and take up way too much room in your bag as well. On the adventure trail, they generally suck.
A big camera just doesn't work for me.
It's to the point where I've become complacent and use my iPhone SE for all photography. Why? Because the iPhone is always with me and doesn't weigh ten pounds. My DSLR (like many DSLR's) is usually back at the hotel, hostel, resort, tent, or wherever I'm calling home for the night. It's never in my hands when I need it.
Now, don't get me wrong—the iPhone takes great photos for social media and grandma. However, it does not render professional-quality pictures. Just take a gander at the crappy images on most of my past articles! Yep, they were taken with the iPhone.
From this day forward, you will definitely see an improvement in my photography. The Sony RX100 V will always be in my satchel and ready to go at a moment's notice.
Is the RX100 Easy to Use if You're an Amateur?
Let me throw this fact out there:
I'm not a professional photographer
That statement should tell you that I don't know all the ins and outs of ISO settings, shutter speeds, proper lighting, etc.
But, I'll bet you don't know about that stuff either!
That's probably why you're searching for a quality point-and-shoot and the reason you're reading this article. Therefore, we're in this thing together.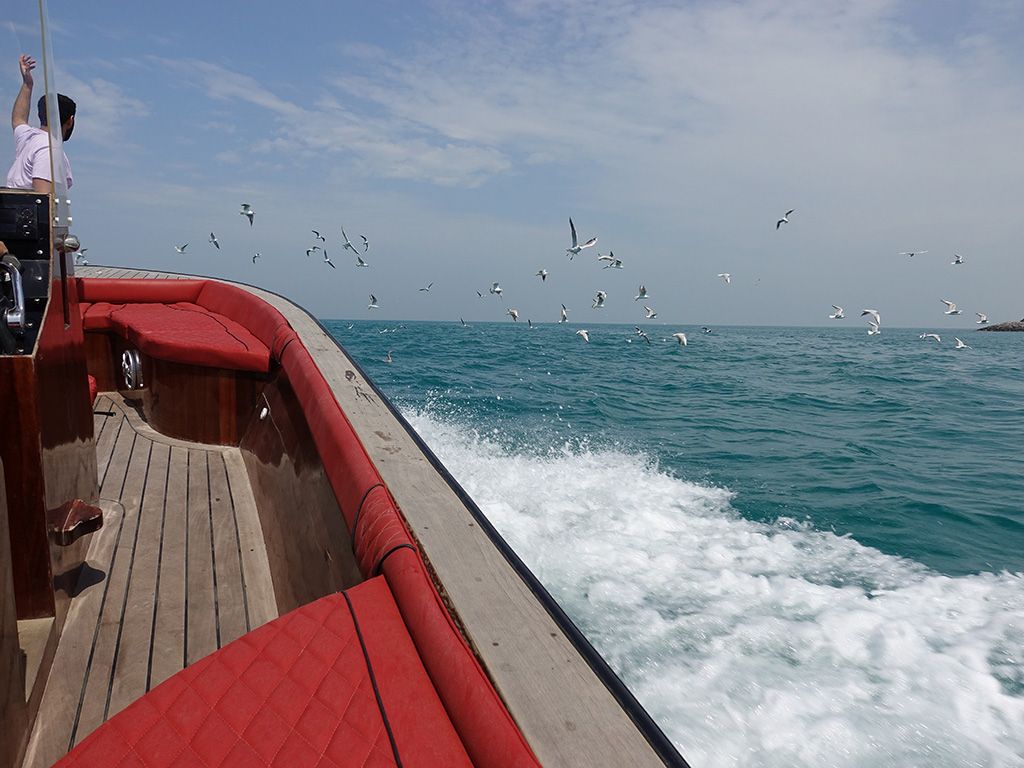 I want professional photos without having to carry around a ten-pound DSLR that requires a degree from MIT to operate. The RX100 is exactly what I need.
The RX100 is equipped with a plethora of advanced settings if you know what you're doing. However, all I did was charge the battery, hit the power button, and start taking pics.
Yes, an amateur can use this camera.
Sony RX100 V – Day 1
Last Saturday, I took the RX100 out for the first time.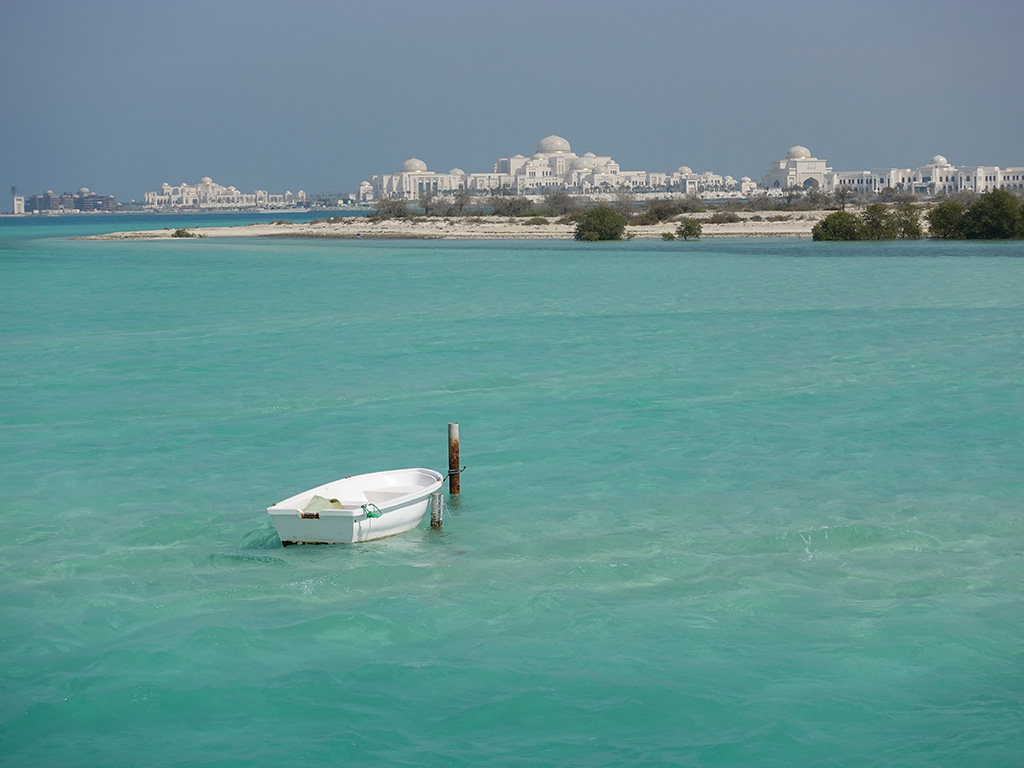 I want to share with you my initial thoughts and review after using the camera for one day.
Battery Life on the Sony RX100 V
Most of the photos taken during my boating trip in Abu Dhabi were shot with the Sony RX100 V.
The reason a few iPhone SE images snuck in there is because I made an amateur mistake and only had one battery.
When I was researching the Sony RX100 V most of the reviewers noted that the battery life was a bit short. I did intend to purchase extra batteries but the store where I bought the camera didn't have any in stock.
Here's what I was able to get out of one fresh battery, using a combination of the LCD screen and the viewfinder.
274 images shot at RAW/JPEG Setting
5:21 of video shot in 4K
I recommend you travel with three batteries for the RX100.
A Sony NP-BX1 Lithium-Ion Rechargeable Battery lists for $37.99 on Amazon.
You can read view the technical specifications of the RX100 battery pack here on Sony's website.
My personal opinion is that people need to stop complaining about the battery life. It's a moot point. Why? It's because the damn battery is removable! It takes less than ten seconds to swap out a battery! If you can afford the camera at $1,000 USD, you can probably come up with $80 more dollars for two additional batteries. Listen, if the RX100 had an internal battery which could not be removed (like the iPhone), then we'd have a valid reason to gripe about the battery life. It's an advanced camera that uses more energy to function than a cheap one. That's a good thing if you're looking for quality. Don't worry about the battery life.
The Viewfinder SAVED the Day!
When I began looking for a new compact camera, it never occurred to me that an electronic viewfinder was important.
I was wrong! An electronic viewfinder is a must-have feature on a point and shoot!
A lot of my time is spent at the beach or on an island. I'm a tropical type of person and I enjoy the outdoors. I'm constantly immersed in bright sunshine. Having a viewfinder should have been at the top of my list of requirements.
I was in Abu Dhabi on a boat during my first day of shooting with the RX100. With the sun and crystal-clear water shining back at me, I couldn't see a damn thing on the LCD screen! It was just too bright out.
I switched to the electronic viewfinder and it was amazing!
By the end of the day, I was exclusively shooting with the viewfinder. It's my favorite way of using the camera now.
I strongly suggest that if you purchase a high-end point-and-shoot camera, it MUST have an electronic view finder.
The Feel of the Camera
The ergonomics are great for me. When taking photos, the layout feels good and it's easy to manipulate the controls. The only thing I will have to get used to is the record button for video. I could never seem to find it by touch and had to visually locate it.
The one downside I will note is that the camera is slippery! The finish is visually appealing but difficult to hang on to.
I'm now on the hunt for the Sony LCJ-RXF Leather Jacket to go on the RX100. It's listed on Amazon for $52.00 USD. The leather case and an upgraded neck strap is the immediate solution to the lack of grip.
If you don't use a neck strap or the included lanyard, you will drop the thing. I'm almost confident of that.
Do yourself a favor and order the leather case from the start. I bought my camera in Abu Dhabi at a retail store and they didn't carry it. Hopefully I'll be able to find one soon.
UPDATE:
I purchased the Sony LCS-RXG Soft Carrying Case. It works great.
To solve the grip problem, I bought the Sony AG-R2 Attachment Grip. It makes a world of difference! This is a must-have item in my opinion.
I also picked up a cool selfie stick. It's the type where you can screw in a small tripod on the bottom. So far, the combination of the case, grip, and selfie stick is working out great.
Focus
This camera focuses so fast that you don't even realize it did anything. You can research the technical aspects of why but just trust me that it's almost instant.
The Compactness and Size
The camera fits perfectly inside my Indiana Gear Bag by Saddleback Leather! This was the main requirement for whatever camera I decided to go with. I wanted a professional camera that could go everywhere with me, much like my 11″ MacBook Air.
Will it fit in your front pants pocket? It might if you're a bigger guy. For a short guy like me, it's a tiny bit too thick for my pockets.
It will ride just fine in a side cargo pocket.
The RX100 will fit nicely in a zippered jacket pocket.
Ladies, it will fit in your clutch purse.
The Sony RX100 is basically a badass DSLR scaled down to a point-and-shoot package. It's a serious camera.
If you're a man looking for a camera to fit the front pockets of your Spandex skinny jeans while you're dancing like a chicken at the club, the RX100 isn't for you. Just take selfies with your iPhone.
The Cost
It's not cheap.
The RX100 is available on Amazon for $998 USD.
You get what you pay for.
It was worth every penny for me.
Initial Impression After One Day?
The Sony RX100 V is exactly what I was looking for. So far, I'm more than impressed. Once I can find a store that has two extra batteries and the leather jacket case, it will be road ready. Hopefully I can find a Sony store in Dubai before I leave the UAE.
*You can check out all of the technical specifications of the RX100 V on Sony's website.
Gear Shopping List