I've been to the Sriracha Tiger Zoo on two occasions. I first made the trip back in 2013 and went again about a month ago. Both times were a lot of fun. Everyone who accompanied me on the adventures enjoyed the experience as well. It's just something you can't get in the West.
I'm going to tell you about the shows, the schedules, and the prices first. At the end of this article, I'll tell you exactly why you should visit the Sriracha Tiger Zoo and feed baby tigers. That will be the political and philosophical part so I'll save it for last.
The Sriracha Tiger Zoo is open from 8:00 a.m. to 6:00 p.m. daily. The admission fee for adults is 450 baht at the door or 420 baht if you book in advance on their website. A child's ticket costs 250 baht at the door or 220 baht online. Kids below 100 cm in height get in free.
Where is the Sriracha Tiger Zoo?
It's located about half way between Bangkok's Suvarnhabumi Airport and Pattaya, Thailand. If you're staying in Pattaya, it will take you about an hour to get to Sriracha. A taxi will probably charge between 1,000 to 1,500 baht to take you there, wait around, and then return you to Pattaya.
A taxi is cheaper than paying the per-person shuttle service price on the Tiger Zoo's website. I recommend arranging your own transportion.
Sriracha Tiger Zoo Schedule of Shows
Crocodile Show
0930
1030
1300
1400
1500
1600
1700
Tiger Show
Elephant Show
Pig Racing
Every 30 minutes from 0900 to 1700
Feeding Baby Tigers
One of the coolest things is having your picture taken with a baby tiger. It's a brief experience so you don't get to really spend much time petting the little guy. The staff gives you a bottle of milk, puts the baby tiger in your lap, and then snaps a quick photo. The whole thing is over within 30 seconds but it's still worth it. You'll have a great photo for Facebook and a newfound love for baby tigers.
This is not included in the price of your ticket. It costs extra to do this and includes a photo.
Photo with a Big Tiger
Many people are just too damn scared to get in the cage with a full-size tiger. It's funny to watch. Those that do take on the adventure seem to be at opposite ends of the spectrum. People in the first group are terrified, but they are determined to get the photo. People in the second group don't have a care in the world because they apparently don't recognize the danger. I've seen Middle Eastern and Indian tourists burst into the cage laughing and joking, plop down on top of the tiger, and pull on its ears. Dumbasses.
The tiger has a chain around its neck and is secured to the little stage. However, I would have to admit that if it got pissed, it could still take a bite out of you or swat you before anyone could intervene. Is it safe? Yeah, for the most part I would say it is. I don't think anyone can give you a solid guarantee, though. There are usually two handlers in the cage with you plus the guy taking the photo. As long as you do as directed and don't act stupid, you'll be just fine.
The cost of taking a photo with the big tiger is not included in the ticket price. You have to pay extra. It comes with a nice photo in a souvenir-type paper frame. Don't bother asking for the digital file to be emailed to you. They won't do it. They will take a couple of pics with your iPhone. Since they do this all day, they're pretty good at cell phone photography. There's no need to explain to the staff about how an iPhone works. They know.
This is one of those things you have to do while you're in Thailand. As I've talked about in previous articles, being up close and personal to these animals will cause you to become involved in their struggle for survival. Watching them from afar at a zoo in the U.S. just isn't the same.
More Activities at the Sriracha Tiger Zoo
You can feed crocodiles. They give you a bamboo fishing pole of sorts with a string tied to a raw chicken. Dangle it above their heads in the water until one takes the bait. It's pretty amazing to see how fast crocodiles are when they decide to strike.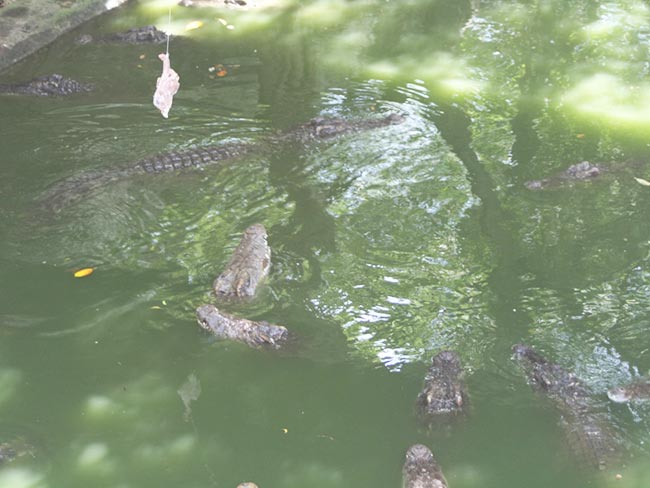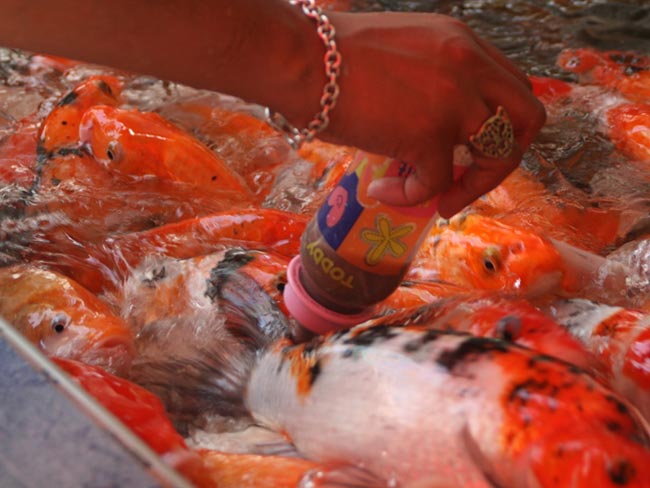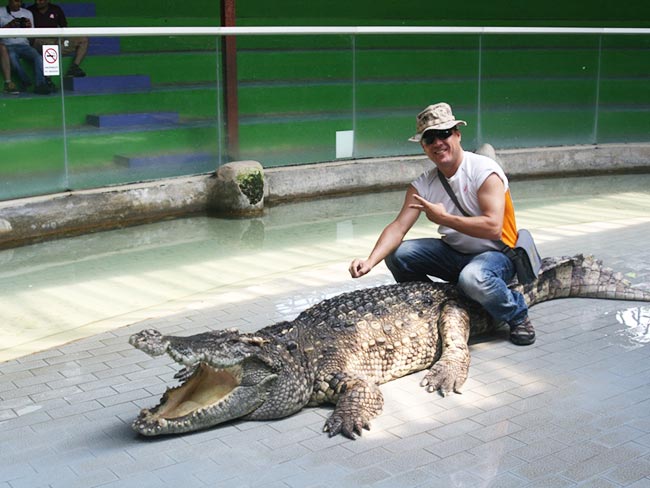 There is a girl with about thirty, real scorpions crawling on her dress. If you decide to take a photo with this chick, be aware that she will try to put one of the scorpions on you when you're not looking. I wasn't the least bit cool with that. Sure, it's a unique photo, but I recommend you make it clear to the girl that she needs to keep the scorpions on her own damn body.
Sriracha Tiger Zoo Contact Information
Here is the contact info taken from their website:
Sriracha Tiger Zoo Co., Ltd.
341 Moo 3, Nongkham, Sriracha, Chonburi 20110, Thailand.
Tel : (038) 296556-8, 339111, 338884, 081-7509104, 084-9453722
Fax : (038) 296559, 338517
E-mail : prstz@hotmail.com
Website : www.tigerzoo.com
Restaurant
Tel : (038) 296562-3, 081-3771470, 081-9963585
Fax : (038) 296561
Bangkok Office
Tel : (02) 9330566, 9330977, 086-3028848
Fax : (02) 9330311
E-mail : tigerzoobkk@hotmail.com
Why You Should Visit Sriracha Tiger Zoo
If you've read my article entitled Ride Elephants in Thailand. You Are Protecting Them., you already have an understanding of my position on "ethics" from animal rights activists. If not, read it and ponder the philosophy. The same philosophy on elephants applies to tigers as well.
There are only a few thousand tigers left in the wild–in the entire world. According to researchers, there were around 100,000 tigers in the wild at the turn of the century and now they number approximately 3,000. At this rate, tigers in the wild will no longer exist within a decade.
Places like Sriracha Tiger Zoo in Thailand and zoos in the West will be where the last of the tigers reside. In the West, no one makes a special trip to the zoo just to view tigers from afar while they lounge around their concrete jungle. Nobody really cares. But, when you feed a baby tiger a bottle of milk in your lap or sit next to a full-grown tiger and touch its fur, you become attached. You're suddenly involved. You won't forget the experience and may begin to further educate yourself about tigers.
No trip to the zoo in America has ever resulted in me giving two shits about any of the animals. You make the rounds with the kids, eat an over-priced hotdog on stale bread, and suffer amidst the stench wafting through the air. The highlight is the petting zoo where you get to interact with the Pygmy goats. That's the only part anyone remembers. It's not exactly a pleasant experience for adults. Since I've moved to Thailand, I think about elephants and tigers every day. Why? Because I'm up close and personal with them frequently.
Is it "cruelty to animals" to make tigers do a few tricks for the tourists? No, it is not. Those tourism dollars protect the tigers, buy them food, and provide veterinary care. It's a small price to pay for ensured survival of the species.
Do animal rights activists really want to release all the tigers back into the wild? They'll be gone because of poaching. I will concede that if PETA can write a check big enough to take care of all the tigers involved in the tourism industry, then there's no need for the tigers to be jumping through hoops of fire. Until then, PETA's arguments are a waste of time and breath. All of the travel writers and their negative articles just make me laugh as well. Don't let others decide what's "ethical" for you from their laptops at a Starbucks in Washington D.C.
My Advice for Tourists?
Come to Thailand. Feed a baby tiger. Have your picture taken with a full-grown tiger. Ride elephants. Feed baby elephants bananas. It's ok to do so. You're helping secure their existence.