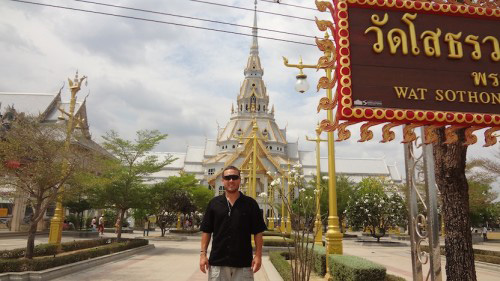 On the morning of the first day of Songkran, my friend Dee called and told me to get dressed. He advised he was already on the way to pick me up and that we were taking a trip to Wat Sothon in Chachoengsao.
For reference, Songkran is the traditional Thai New Year celebration and water festival. It typically runs from the 13th to the 15th of April although different areas of the country kick off the celebration at different times for some reason. In Bangkok and Pattaya, the water fights seem to last for over a week. It's funny to watch people get blasted with buckets of water—for about thirty minutes. Afterward, the concept loses its magic. When you're just trying to make it to the corner bar, getting soaked with cold water by every person you pass gets old, quick. Next year, I plan to hunker down on a small island until Songkran is over. Anyway, back to the story at hand…
It took me a moment to clear my head because I had been out late the night before at the Pattaya Beer Garden doing some socializing. I politely tried to decline the offer, only because I was suffering from a slight hangover. Dee wouldn't take no for an answer.
"Marco, if you don't go to temple you could have bad luck the whole year! Very important you go to temple."
The situation suddenly turned serious because I'm already the unluckiest person in the world. I certainly didn't need to cause any further hardship on myself. I told Dee I'd be ready once he arrived. Twenty minutes later, we were on our way to Wat Sothon. We made a brief stop at a small restaurant to grab some food and then continued our journey.
When we arrived it took us twenty minutes to find a place to park because the area was packed with Thai folks heading to the temple. After making the long walk from the parking area we merged with the sea of people trying to get in. I scoured the crowd for fellow farangs (foreigners) but didn't see any. I had figured there would be a plethora of tourists because of the holiday but there weren't. I found myself being the Lone Ranger representing the West.
We headed into a building adjacent to the main temple and participated in a series of Buddhist rites and rituals. Now, I've been to many temples here in Southeast Asia and always participate in the festivities if possible. I am well-versed in what I'm supposed to do and what I'm not supposed to do. I can go with the flow without too much coaching but I still cannot explain to you the significance of each custom. I just try to absorb and learn as much as possible on every trip.
We moved on to the main building which was spectacular. The architecture was beautiful.
While inside the temple I inadvertently made a tactical, cultural error.
"Please take off sunglasses from your head."
While kneeling in front of the Buddhist statues, I found myself getting counseled by one of the monks. I had put my sunglasses on the top of my head which is not cool while inside the temple. The top of your head is considered the most sacred part of your body and therefore nothing should be placed there. I knew better but just wasn't thinking. I quickly squared myself away and apologized. It reminded me of the time I got thrown out of a Catholic church for washing my face and hands in the holy water.
Hey, it wasn't like there were instructions written on the bowl. I had to wing it.
As we walked out the back to visit the Chinese temple next door, luck and fate engaged in battle. Fortunately for me, luck won. A piece of tile fell off the top of the roof of Wat Sothon and crash landed at my feet. It had narrowly missed cracking my skull open by mere inches. I picked up the jagged piece of tile and held it in my hand. It seemed that Dee had been right all along. By going to the temple I had apparently picked up some luck. Had I been one step ahead in time, I'd at least have a plethora of stitches right now. It was a close call. I think a pigeon knocked the thing off.
We checked out the Bang Pakong River and the Chinese temple located behind Wat Sothon. The Chinese temple was quite colorful and interactive. Dee explained that there are many Thai-Chinese people who live in Chachoengsao.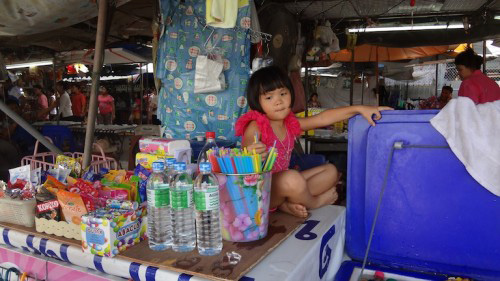 When we departed, I decided to grab some drinks for the crew. As I paid the lady who owned the shop, a young girl handed me four straws. She was only four or five years old. Babysitter? That's a silly concept. Just take your kids to work with you and give them a task. The little girl helped her mom all day long and was proud of her position. It was too cute to describe in words. Before you folks in the West start griping about child labor issues, let me point out that she was merely handing out straws—not exactly hard labor.
If you find the time, Wat Sothon is worth checking out.