Desert Safari Tour – I Highly Recommend It
If you visit Abu Dhabi or Dubai make sure you take the desert safari tour.
I booked our adventure with a company called Abu Dhabi Desert Safari and chose the evening tour at the normal camp.
The ticket cost is listed on the website for 180 AED per adult and 200 AED per child 4 to 10 years of age. As with any tourism-related function, it's worth emailing the company and asking if they have any discounted rates. Maybe you'll get lucky and save a few bucks.
I recommend you book the evening tour. The temperature is cooler and you get to dine under the stars. The wind seems to calm down at night which means no sand in your plate of barbecue.
The evening tour runs from a 3:00 P.M. departure out of Abu Dhabi and gets you back to your hotel around 9:00 P.M. It's perfect.
Pickup Time and Place
The tour company will pick you up direct from your hotel.
However, my friend and I had taken the Big Bus Tour around Abu Dhabi during the morning hours and ended up at Marina Mall. I emailed Abu Dhabi Desert Safari and asked them to meet us at the Big Bus Tour stop in front of the mall's main entrance.
Our driver, Hussain, contacted us via WhatsApp to let us know he was on the way. He met us at Marina Mall around 3:00 P.M. with no problems.
After picking up two additional guests at their hotel, we headed out. It's about an hour drive to get to the dunes in Al Khatim Desert.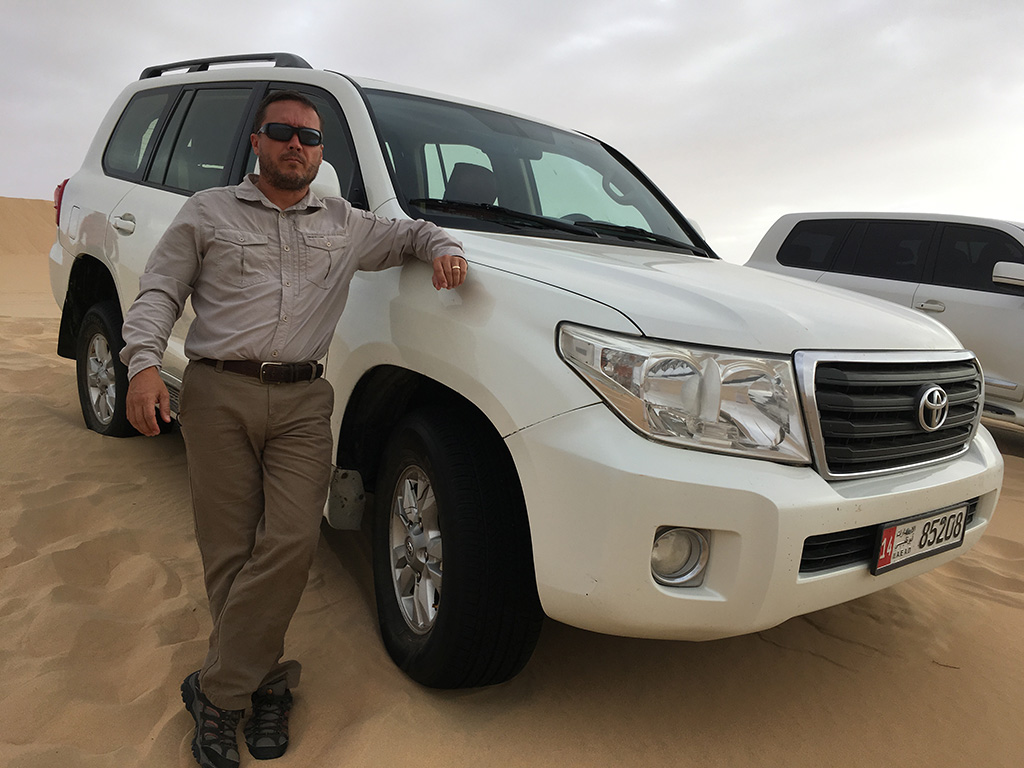 Dune Bashing is an Extreme Thrill Ride!
Heed these words carefully.
Dune bashing is not a leisurely drive out to the desert camp. It's almost an extreme sport. It's a rush. It's comparable to riding a small roller coaster. The difference is that this ride lasts for thirty minutes vs those measly thirty seconds at the amusement park.
If you're not comfortable with excitement and action, you may want to book a tour that just takes you straight to the desert camp.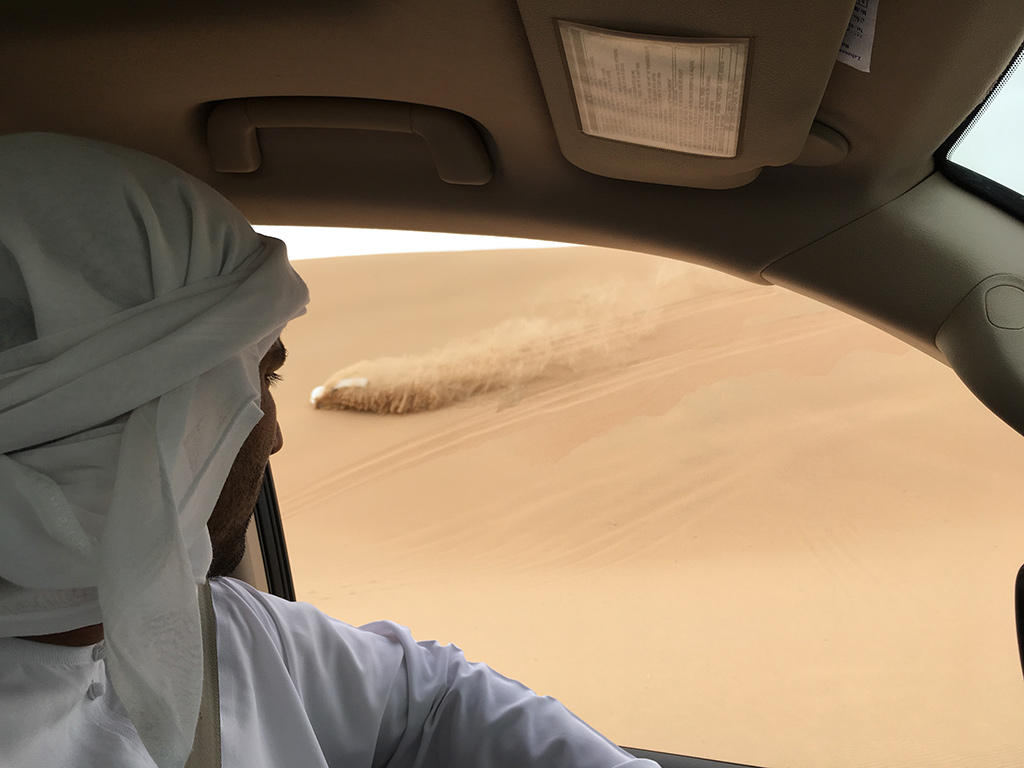 Pregnant women SHOULD NOT go dune bashing in my opinion. Anyone with a heart condition should not partake. If you get car sick easily, this ain't for you. When I went on this tour around 8 years ago, my wife at the time got sick and almost puked. On this particular trip, all three back-seat occupants got to feeling a little woozy as well.
Don't eat a huge meal right before you embark on this tour. Eat a reasonable lunch around 11:00 A.M. so it will be settled by 4:00 P.M. when you reach the dunes (evening tour). Bring a snack in your backpack in case you get hungry before dinner is served.
The Land Cruiser can hold a total of seven people.
In the front you have the driver and a passenger. Three people will occupy the middle seat with two persons in the back jump seats. If you're a bigger guy or claustrophobic, make sure you request either the front seat or middle seat when you book the tour.
Is It Safe to Go On The Desert Safari?
Yes. It's safe.
I know my readers from America are worried about safety. It's just the culture of the U.S. so allow me to talk about safety and security for a minute.
First of all, the drivers are skilled at their trade. They hit the dunes every day. These guys aren't random taxi drivers who decide to cut a hard left and go off road for a few extra bucks. They've had someone show them the ropes. That someone had to be confident enough in the driver's skill level to hand him the keys to a vehicle worth fifty thousand U.S. dollars.
While the ride is exhilarating, it's not reckless—although by design, that's what they want you to perceive. It's a wild ride, but controlled.
The drivers are in communication with each other. Yes, there's cell service out there in case of emergency.
If there are any issues with the vehicle, you're not going to be stranded in the desert with no assistance. There is accountability and you're not miles out in the middle of nowhere in the first place. You're in a designated area that's in the vicinity of the desert camp and just off the paved road.
In the worst-case event that a vehicle did roll off the side of a dune, the Land Cruiser is equipped with a roll cage for passenger safety. Make sure you buckle your seat belt and you'll be fine.
No, there are no damn bandits or terrorists to be concerned about in the desert here. This is the UAE. It's not Egypt.
The United Arab Emirates is the Beverly Hills of the Middle East. It's really the Beverly Hills of the entire earth if you ask me. Yeah, it's that nice.
The bottom line is that there are no major safety or security issues to be concerned with. Book the tour.
Photos in the Dunes
After dune bashing, we stopped to take photos.
While the dunes were a beautiful backdrop, the darn wind and sand kicked up so bad that I was scared to get my Sony RX100 V out in the elements. I had to take photos with my iPhone.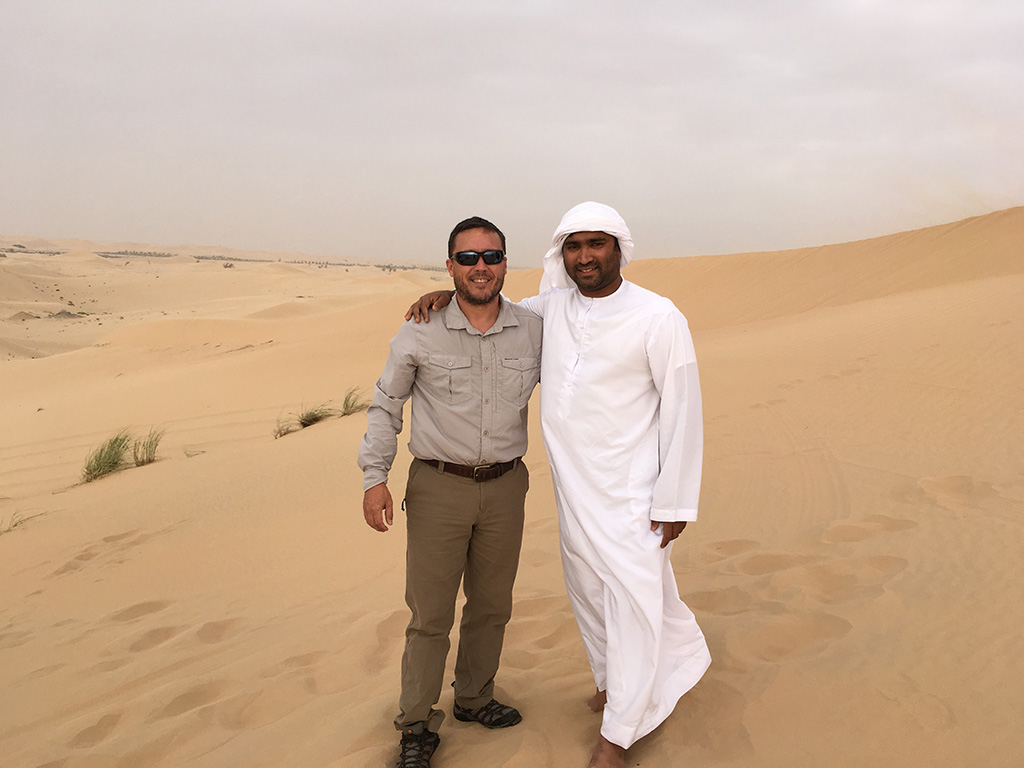 If you're packing an expensive camera, make sure you have your cell phone or a cheaper camera with you in case there's a sand storm. You don't want to get a pound of sand in a thousand-dollar camera.
The Desert Camp
When you get to the desert camp, go ahead and grab a table of your liking. Leave a piece of gear to mark your spot so you know you've got a good seat.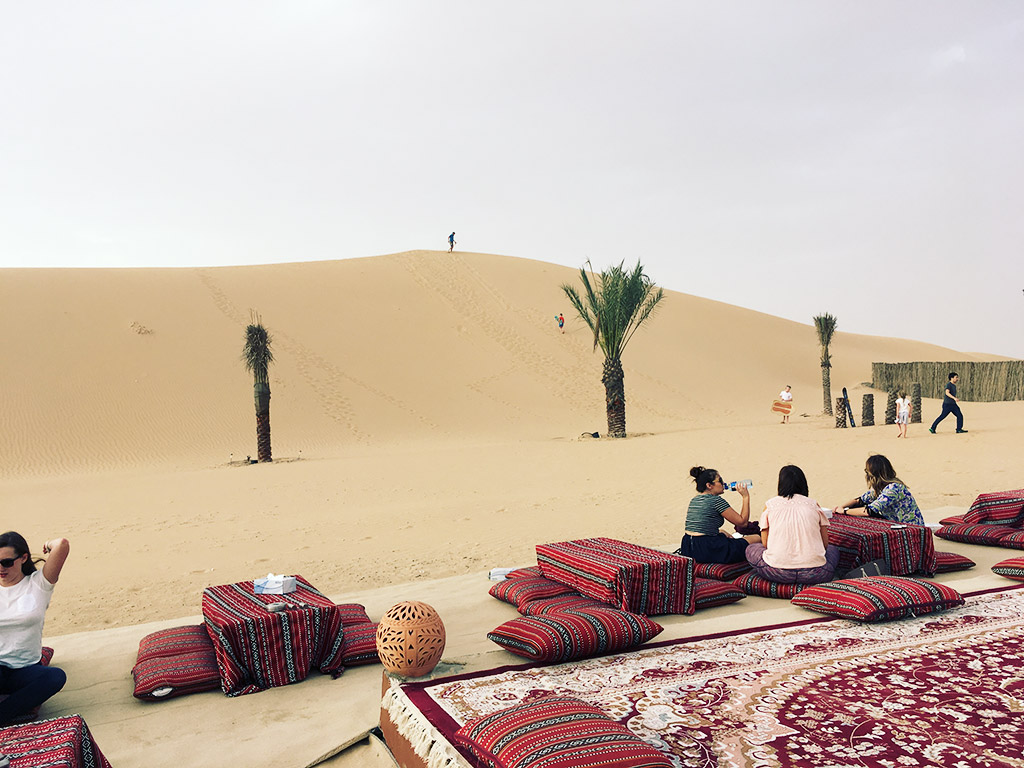 Then, go ride the camels. The staff will walk the camels around a small area so you can get photos for Facebook and Instagram.
The camel rides are included in the ticket price.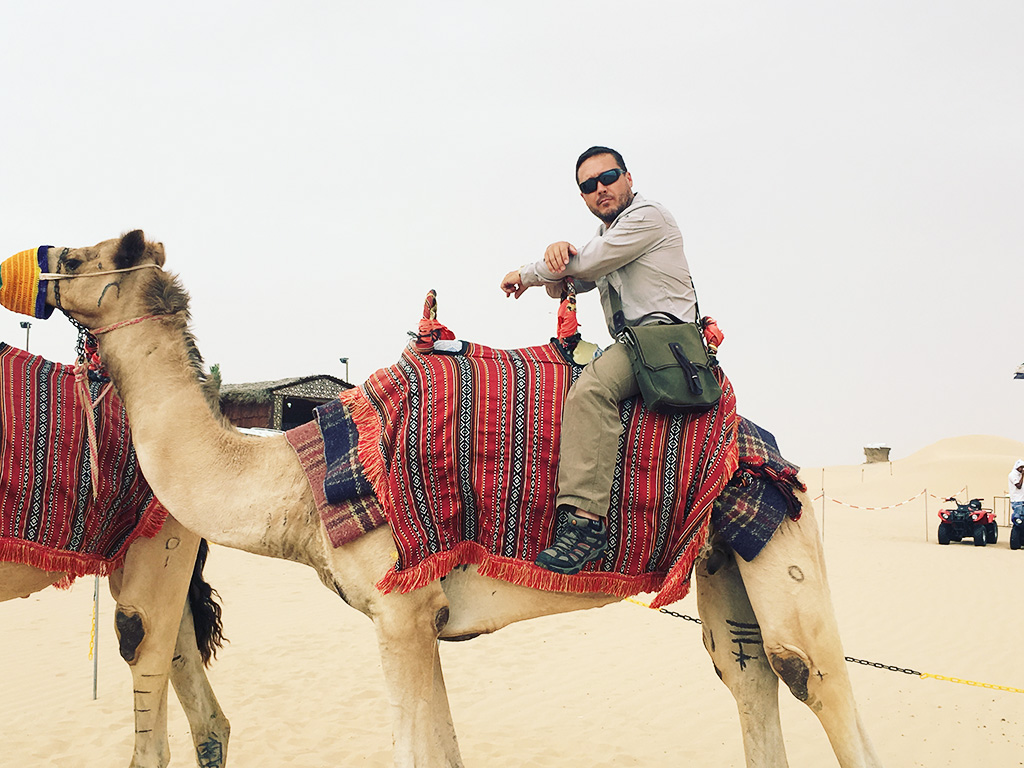 There are ATV's you can ride as well, but it costs roughly 50 AED per 10 minutes (if I remember correctly).
You can take photos with a falcon.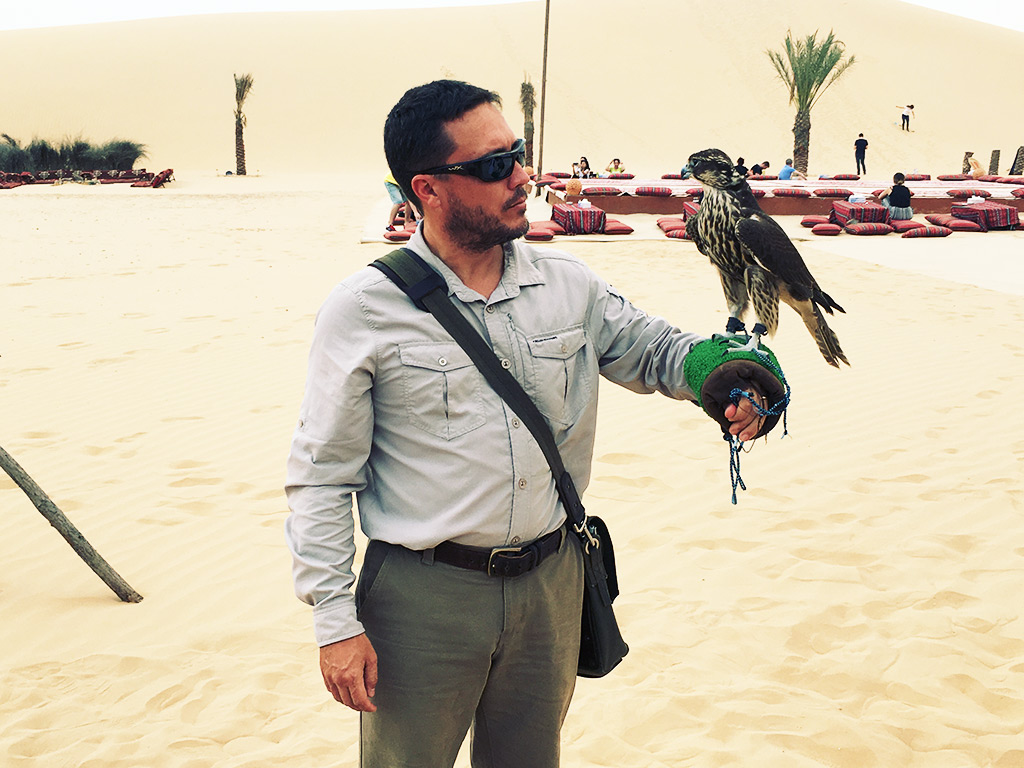 There's an area where you can dress up in traditional clothing to see how you look. The staff will help you fix the head dress.
Men, I recommend you grow a beard prior to your trip to the United Arab Emirates. It will make your travel photos look a bit more authentic. You'll also blend with the culture if you're sporting some facial hair.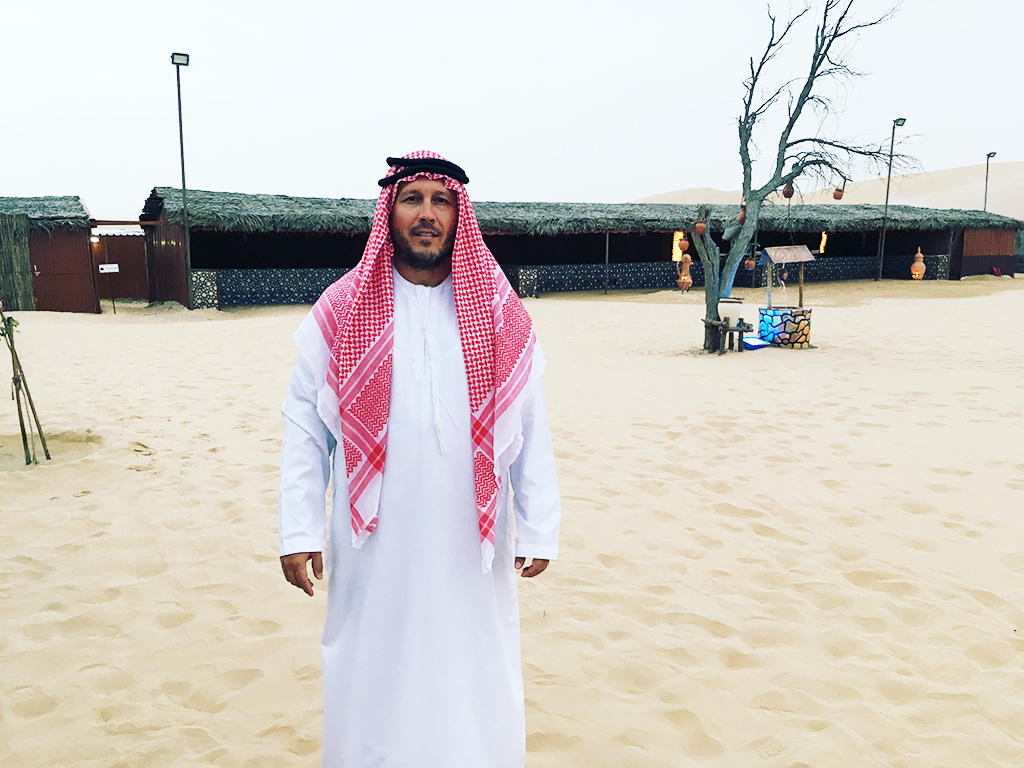 You can snowboard down the sand dune behind the camp. It's an exhausting hike up the dune because the sand bogs you down. If you make it to the top, it might seem scary but the snowboard won't actually go that fast. I promise.
Shows and Dinner
A dance show kicks off prior to dinner.
At around 7:00 P.M,, they announce that the food is ready and to serve yourself. The food is served out of the tent on your far left as you enter the camp. If you're one of those who likes to be the first in line, just wander that way at around 6:50 P.M.
The food is excellent. It's a serving line that includes lamb, chicken, rice, bread, hummus, and fruit.
My buddy ate three plates of food.
The last show of the night is the belly dancer.
They Do Have a Bar
To the far right as you enter the camp, there is a small bar. Heineken is 25 AED per bottle. They have a few other beers and mixed drinks as well.
If you know you'll be hitting the bar, make sure to bring small bills. No one seemed to have any change when I tried to pay with 100 AED.
Shisha Smoking
The last thing on the agenda for the evening is the shisha smoking. This is included in the ticket price so make sure you give it a try.
For those of you who have never smoked shisha, it's NOT an illegal drug. It's not marijuana.
It's a mild tobacco that's nowhere near as bad for you as one cigarette (in my opinion). If you're a non-smoker, just enjoy it like you would a cigar and don't inhale. Puff a bit to get the taste in your mouth and you'll be fine.
Should You Tip Your Driver?
Now, it's your choice whether or not to tip the driver.
Personally, I think a fair tip is 100 AED. That's $27.25 U.S. dollars.
We spent over six hours with the gentleman and he took good care of us.
If you split that by two (me and my buddy), that's roughly $14 U.S. dollars from each of us.
I'm ok with that.
The Ride Back to Abu Dhabi
For efficiency, your driver may ask you to ride back to Abu Dhabi in another vehicle. They do this so they can drop people off who are going to the same general area. It's smart so no need to be alarmed. It saves them gas and you time.
Overall?
Take the tour. It's worth the time and money.
Book the evening tour with Abu Dhabi Desert Safari and ask if Hussain is available to be your driver.
Tell them Marcos sent you.
Best Place to Stay in Dubai?
Check out my article on the Best Place to Stay in Dubai!