The Indiana Gear Bag from Saddleback Leather is a necessity for the extreme world traveler. Hike jungles, run through airports, & survive any adventure.
Saddleback Leather
I've been a fan of Saddleback Leather products for a couple of years now. I started out with a Thin Briefcase in Carbon Black and absolutely love it. Read my review on the Thin Briefcase when you get a chance. For a couple of years, it was my everyday-carry bag as a world traveler.
Last Christmas, I made the decision to give the Thin Briefcase to my dad. I did this because I want him to carry it for the next few decades and then give it back to me. It will have even more nostalgia to it when it comes time to pass it on to a younger generation. I hope for it to become a family heirloom that continually gets issued out on some youngster's first day of college. I miss the briefcase, but it was something I really wanted to do.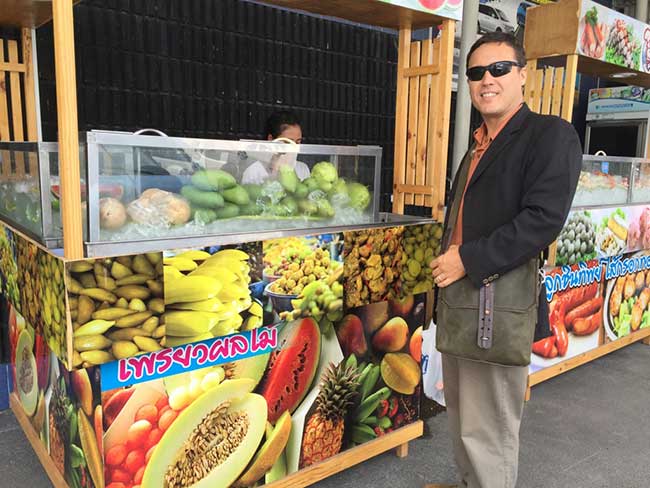 Once the Thin Briefcase was in good hands with my father, I set out on a mission to re-engineer my world travel pack plan. After much thought, research, and internal debate, I came up with the perfect combination for adventure travel. The Indiana Gear Bag will be my daily carry and the Large Classic Briefcase in Tobacco will serve as a suitcase & backpack. That, my friends, is a pack plan that cannot be outdone. It's minimal, mobile, durable, and extremely fashionable. In addition to being the second-most interesting man in the world, I'll now be the best-dressed adventure traveler as well.
Indiana Gear Bag from the Mountainback Collection
Saddleback Leather is, well, a leather company. In my honest opinion, they manufacture the best leather products in the world. Recently, they announced that there will be a significant price increase on all of their products, beginning on September 1st, 2016. All I can say is that it's about time. I've traveled the world and looked at leather goods from "famous" designers that cost thousands of dollars. Most of that "high-end" stuff looks like it will break in a month, but people still pay the crazy prices. Whatever Saddleback decides to charge for their gear, it's still worth it.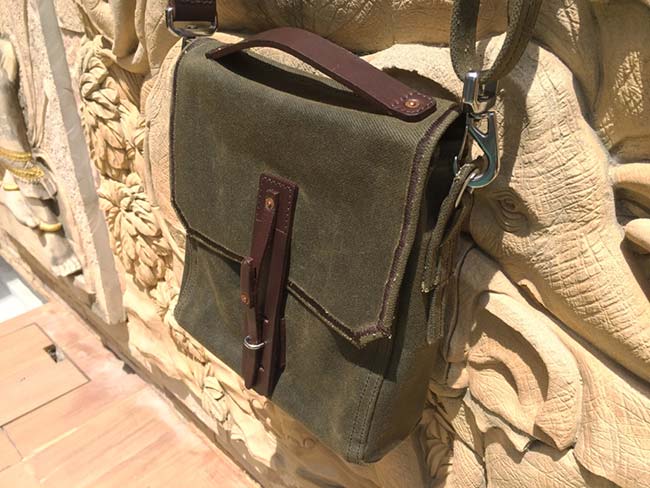 Saddleback came out with a product line called the Mountainback Collection. Instead of leather, the products are made from a waxed canvas specially made in Scotland. The manufacturer uses a vintage process of coating the material with wax, which has been done for hundreds of years. It was used to treat the sails of ships to make the sails more durable. The Mountainback Collection is basically traditional Saddleback quality and craftmanship, projected with waxed canvas instead of leather.
After much detailed research on the size of the bags in the Mountainback Collection, I started eyeing the Indiana Gear Bag. I felt that the Small Gear Bag wasn't big enough and the Medium Gear Bag was too large. The Indiana Gear Bag seemed to be the perfect size for an everyday carry and world travel briefcase. The only thing I wasn't exactly sure of was whether or not my 11-inch Macbook Air would fit. To spare you the suspense, it does. It's a close fit, but it rides just fine. To summarize it up front, this bag is absolutely perfect for what I need it to do.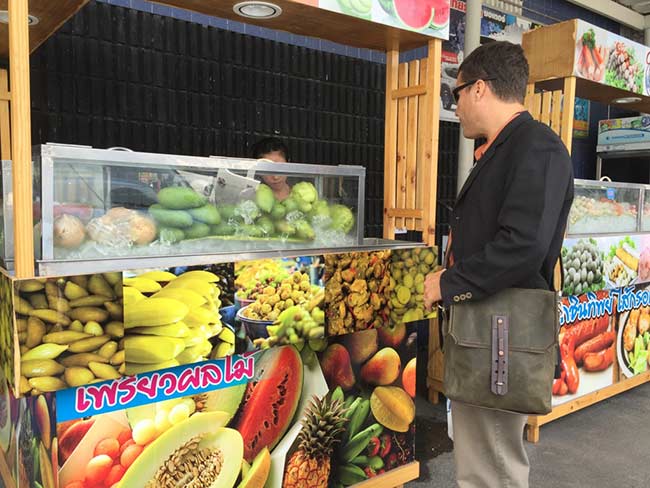 Indiana Gear Bag – Where to Buy?
I recommend that you buy the bag direct from Saddleback Leather. Their customer service is excellent should you have any questions. Read some of the reviews for yourself. You can obviously find Saddleback bags on Amazon, but realize that a lot of folks are knocking off these bags! Make sure you get an authentic Saddleback product. If you purchase direct from Saddleback's website, obviously you know you're getting the real thing. If someone is trying to sell a Saddleback product on the cheap, it's probably fake. These products are like Harley-Davidson motorcycles. They hold their value.
The Durability and Engineering of the Shoulder Strap
When I first looked at the strap, I noticed that the shoulder pad is made from a thick, meaty piece of leather. I assumed that it would take a while to break in like the strap on my Thin Briefcase. I was wrong. The leather shoulder pad on the Indiana Gear Bag was comfortable the first time I wore it. There is no break-in period. It's ready to go right out of the box. The strap itself is so durable that you could probably use it to tow a vehicle.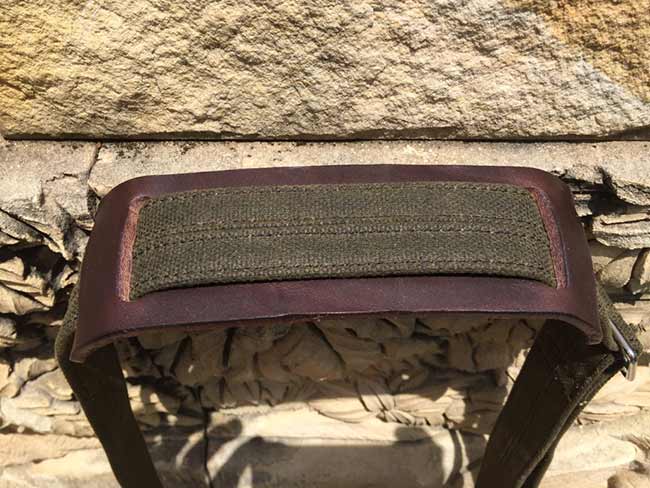 The strap has quick-release latches on both ends. They are not the typical dog-leash connectors like my Thin Briefcase has. These look more adventurous and sort of like climbing gear. It's a much better fit aesthetically for the bag. The latches are made of stainless steel (316 surgical grade) so you don't have to worry about them rusting.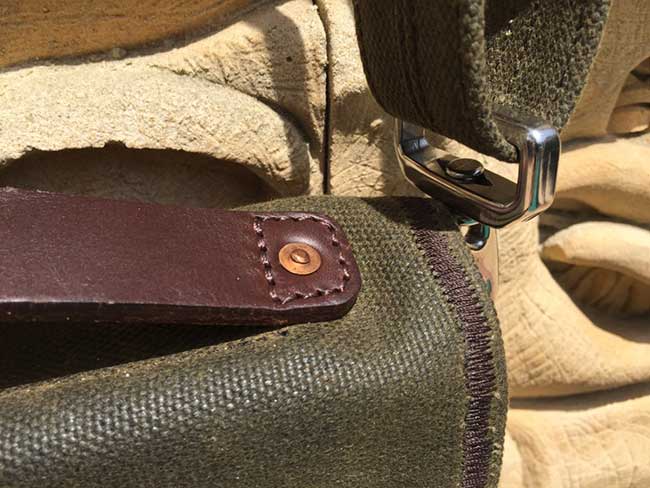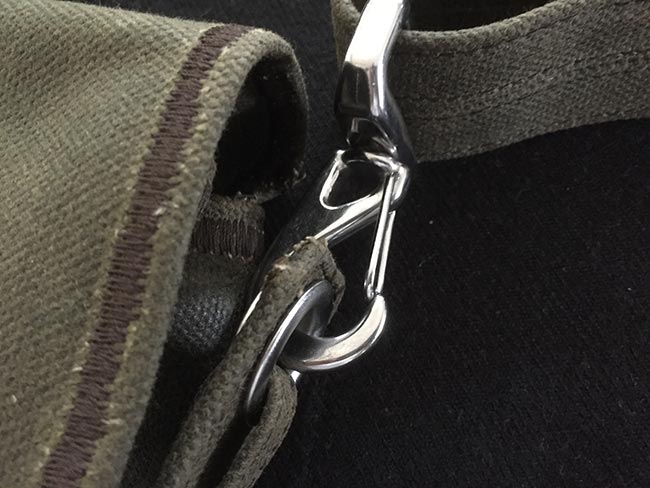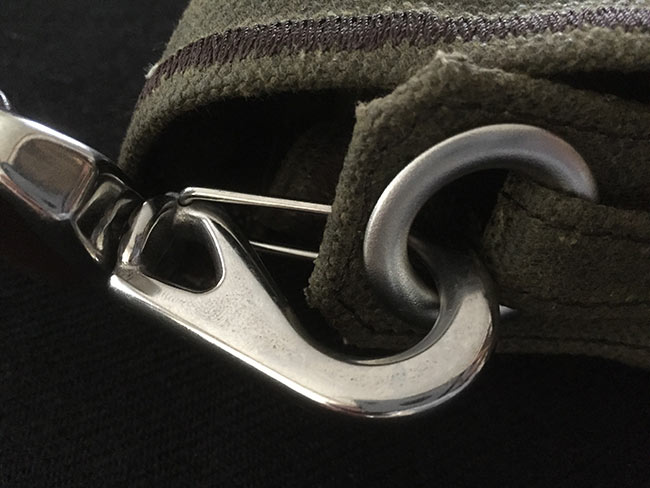 The strap is easily adjustable. On one end, it has a nice piece of leather sewn to the strap. It is secured with two copper rivets for additional support. It looks great.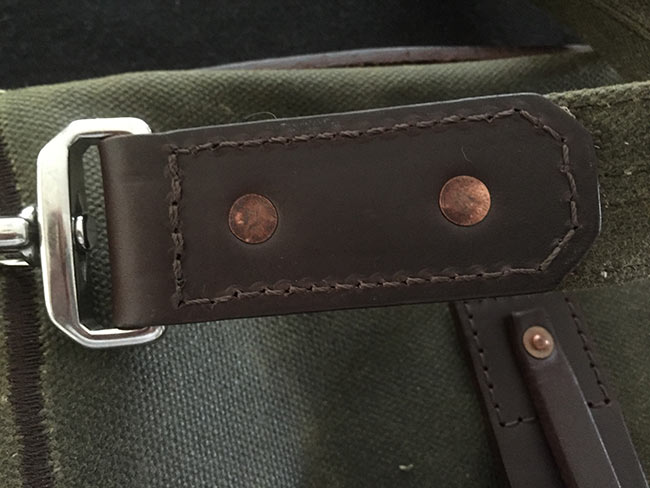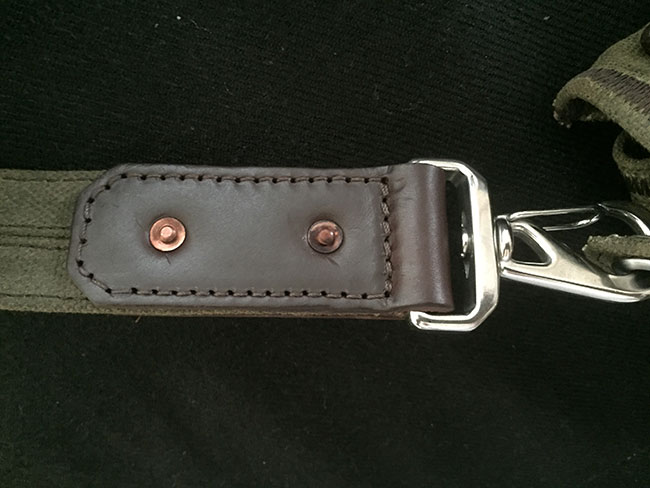 The grommets that the strap attaches to are sewn to the bag in a manner designed by sailmakers from New Zealand. The pattern of the stitching distributes the load over a greater surface area of the canvas. This makes it less likely to fail or tear under stress. There is a piece of leather on the inside of the bag that the connecting pieces are sewn to, for additional support.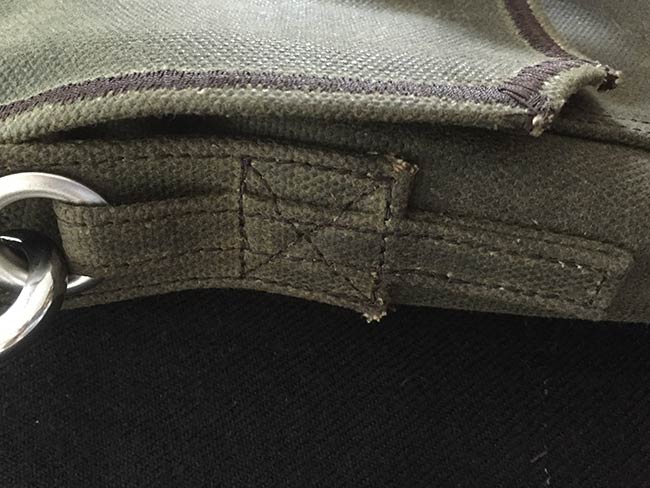 In a nutshell, the straps are not coming off. They'll be great for securing the bag to a chair or table while having lunch or sitting in a bar. They'll serve as an additional anti-theft feature while out on the adventure trail. If a thief tries to cut through these straps, grab the bag and run, he'd better bring a damn sharp knife or saw and be ready to break a sweat.
The Latch and Closure System
This is a pretty cool design. It's easy to open and close with one hand, efficiently and quickly. There is no break-in period for the latch and closure system. It's good to go right out of the box. The leather has three slots in order to adjust for the amount of contents in the bag. When carrying my 11-inch MacBook Air, the flap has to be secured on the lowest slot. Most of the time I secure it in the middle. If you want the bag to be more compact, just use the top hole.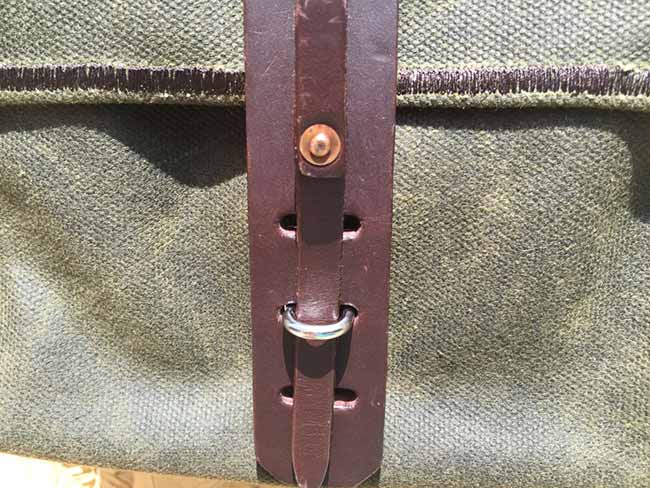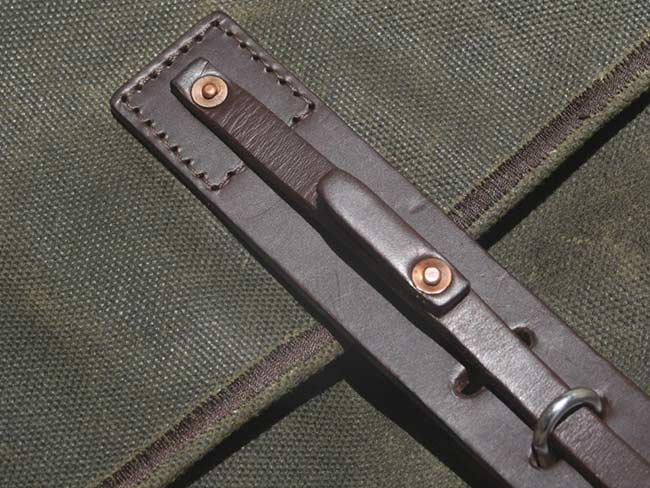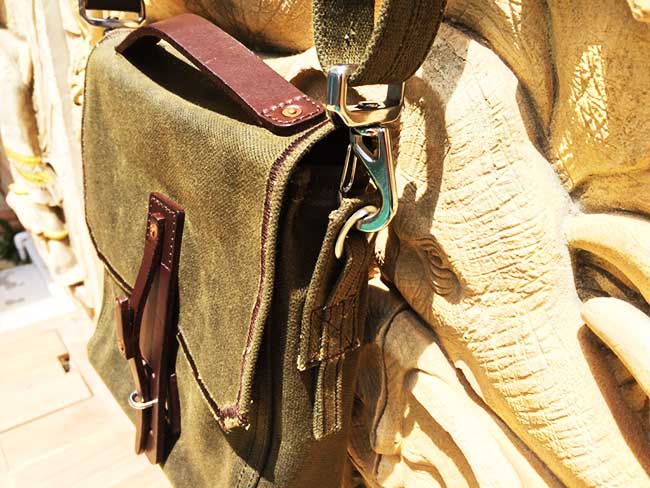 The clasp is secured to the bag with stitching and four copper rivets, on top of a thick piece of leather. It's another example of beautiful design intertwined with over-engineering.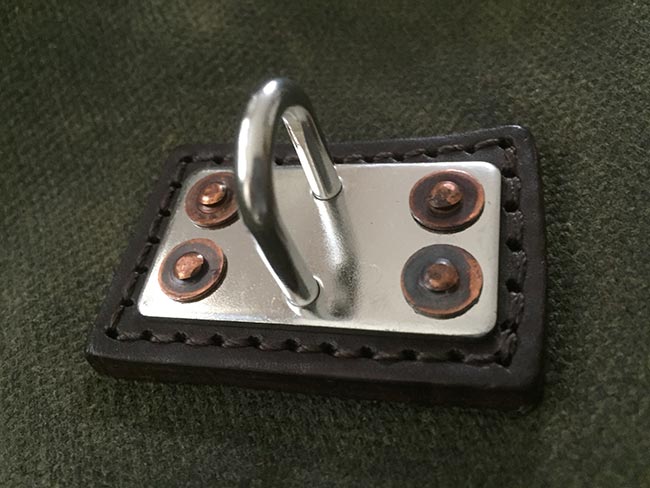 The Interior – How Much Will the Indiana Gear Bag Hold?
Inside the bag, there is a flap at the rear and then there is the main compartment. A small piece of leather makes for a pen holder on the inside of the flap. That's it for the interior. On the back, you can put documents between the leather and the canvas. The bag is of minimal design.
Here's what I carry and it fits just fine: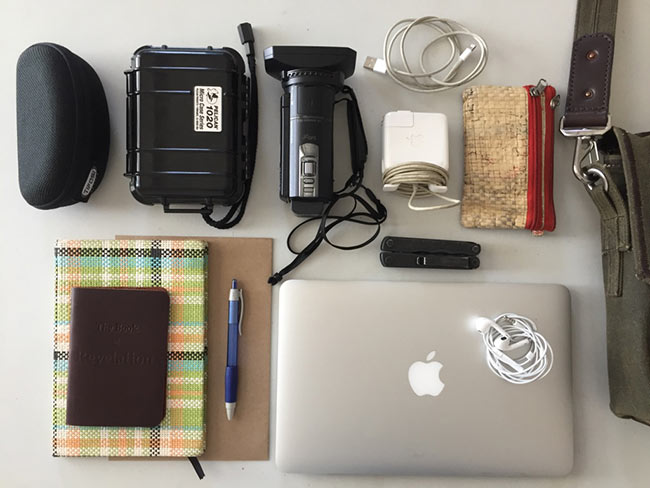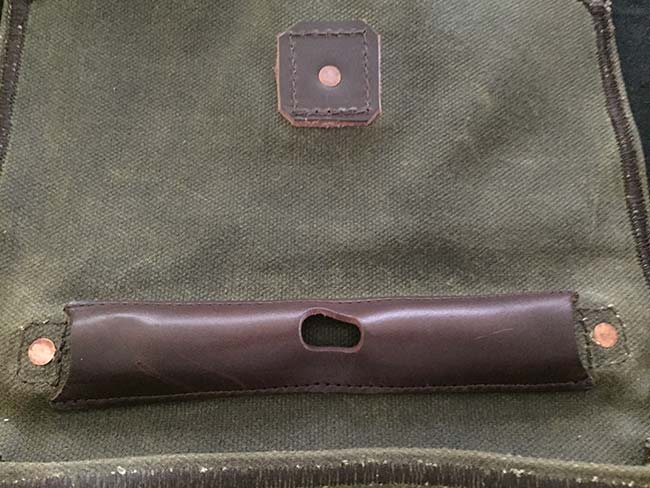 The pen holder under the flap is what makes the MacBook Air fit so tightly. I think the leather will eventually soften up, which will make the flap easier to close. If not, I may just cut it off in order for the MacBook Air to fit better.
Here's a YouTube video showing how I pack the bag:
The Waxed Canvas Material
When you pick up the bag, your hands sort of feel like you've been holding a candle. That's obvious, because the canvas is treated with wax. However, it's not sticky and there is no excess buildup of wax. I'm not worried about the fabric affecting any of my contents. I keep my legal pad in the bag and it hasn't bothered the paper at all.
The material was described by one reviewer as reminding him/her of an army duffle bag. I would agree, but only if we're talking about vintage army gear. This canvas reminds me of the older stuff issued by the U.S. during WWII. That was rugged. The Indiana Gear Bag has a thicker and sturdier canvas than any duffle bags produced these days.
Is the Bag Waterproof?
Allow me to answer this question with a short story.
I'm in Thailand right now. A few days ago, I was about to leave my Thai language school when it started coming a torrential downpour. I tried to wait it out but the rain just wouldn't let up. I finally made the decision to head home while it was still daylight. Riding a motorbike in that mess at night is not fun.
I figured it would be the perfect time to test my Indiana Gear Bag's ability to repel water. I purposely placed a single notepad inside the bag to see what would happen. I took everything else out because I wasn't really certain if the waxed canvas could stand up to a monsoon.
Now, when I say torrential downpour, I mean that the soi (street) turned into a fast-flowing river. That's par for the course here in Thailand. My poor motorbike had to trudge through nearly two feet of water at times. It basically served as a jet ski for most of the journey. After about an hour of this madness, I finally made it home.
I stripped off my wet clothes and opened the Indiana Gear Bag. The inside was dry. The notepad had survived without a drop of water on it! To be honest, I was very surprised. I was sure the test notepad was ruined. Nope. That waxed canvas means business. I had to laugh.
The interior side of the flap did have some moisture beginning to show through the fabric, but not enough to penetrate or drip into the bag. It held firm. That's reasonable since the flap took the full force of the downpour.
My conclusion is that I'm no longer worried about the contents getting wet.
I can't say that the Indiana Gear Bag is 100% waterproof. Don't go scuba diving or take a bath with the thing.
But, if this darn bag can withstand a Southeast Asia monsoon rain for over an hour, it will certainly keep things dry under normal outdoor conditions.
The Exterior Pocket – The Back of the Bag
On the back, there is a thick piece of leather riveted in place. This makes a pocket which is great for your airline tickets or your cell phone. The leather is stamped in three places. It has the Mountainback logo, Blue's logo (Dave's beloved dog that passed away), and the date of manufacture. My bag was manufactured in June of 2016.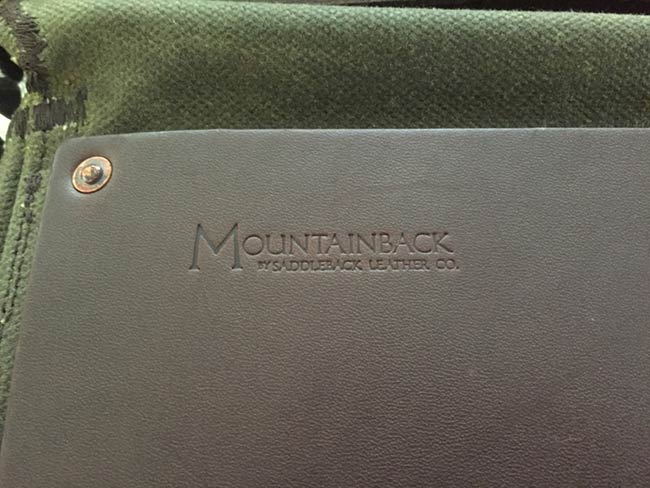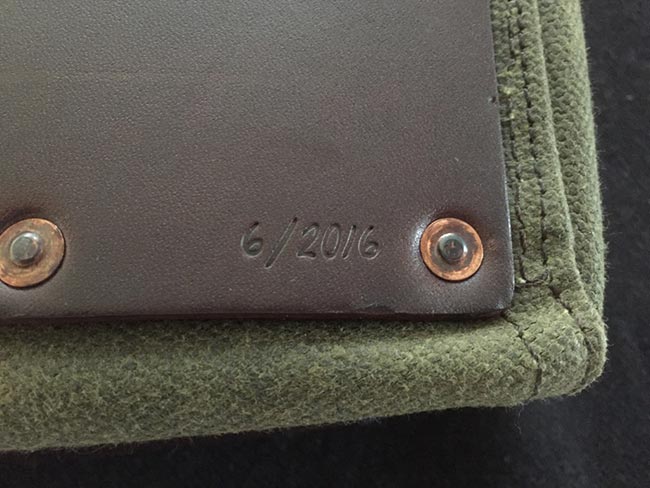 The Philosophy of Why I Like the Indiana Gear Bag & Saddleback Leather
I talk about this subject during my review of the Thin Briefcase but I'll cover it again. One of the main reasons I like Saddleback Leather is because they engineer travel bags that are top quality and designed to last. All of their products come with a 100-year warranty. I'm not joking. Read about it on their website.
In the West, the population has become way too dependent on cheap junk, mass produced in China. Hey, I've got nothing against my Chinese friends. That's not the issue. China just happens to be where most of the disposable products come from these days. I'm not talking about the issue of things being outsourced and not being made in the U.S.A., either. Saddleback bags are made down in Mexico. The point is that manufacturing crap which will break within a month and end up in a landfill doesn't make good sense. It doesn't matter what country they come from. American companies pump out a lot of junk as well. Junk is junk. It's the most wasteful model there is. Society needs to get away from the throwaway concept and never look back.
My Indiana Gear Bag will last a hell of a lot longer than I will. I'm certain of that. When I kick the bucket, it will be passed on down the line to the next world traveler (as will all of my Saddleback items). That makes me smile. It makes the $247 price tag look cheap. I'm curious to see what the Indiana Gear Bag costs when prices go up on September 1st.
The owner of Saddleback Leather, Dave Munson, is best described as a character. I don't know the guy personally, but I've obviously read the stories. He has built a great company from the ground up. If only more people in America shared his ideology in business, the U.S. probably wouldn't be in the mess it's in now.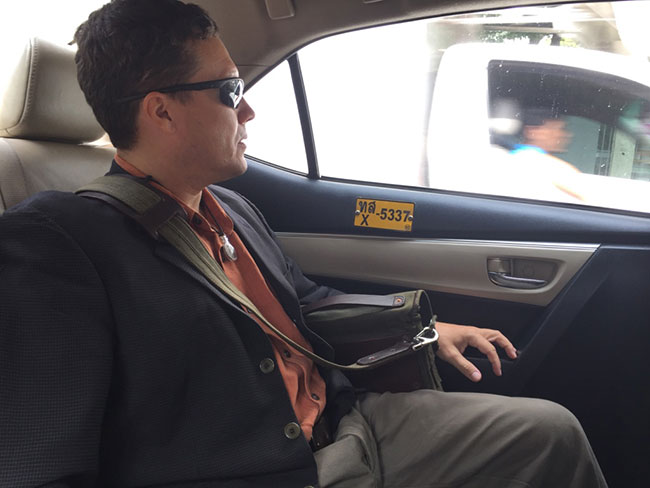 Indiana Gear Bag – Day 1 Review – Bangkok, Thailand – August 19, 2016
I made this video from the back seat of a taxi in Bangkok, Thailand. I'd been wearing the Indiana Gear Bag for only half a day.
Indiana Gear Bag – Day 7 – Jomtien Beach, Thailand – August 27, 2016 – A Night Out with Elvis
I went to see an Elvis Show last night. Elvis kept trying to steal my Indiana Gear Bag. Everybody loves it.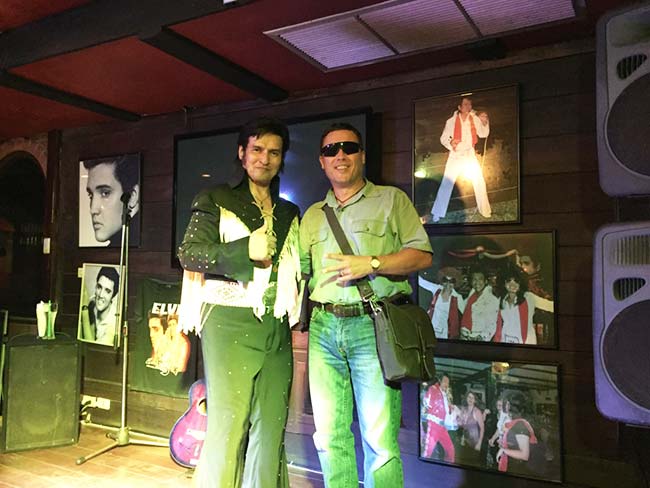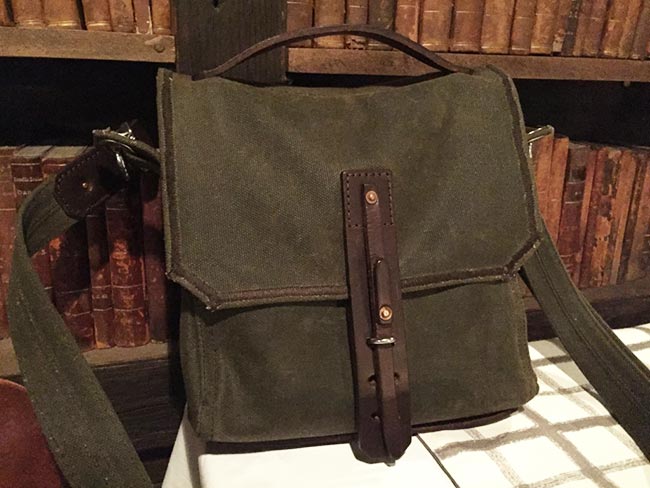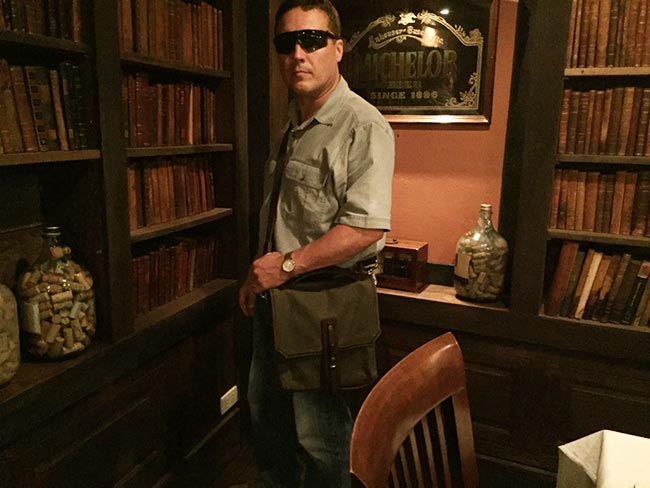 Check out this article for an update: