Quick Synopsis Up Front
Pattaya to Bangkok Train Monday-Friday:
Departs Pattaya at 2:21 P.M. Monday-Friday
Arrives in Bangkok at 6:15 P.M.
31 baht per person
Non Air-Con
Pattaya to Bangkok Train Saturday & Sunday
Departs Pattaya at 4:00 P.M. on Saturday and Sunday
170 Baht
Air-Con
Arrives in Bangkok at 7:00 P.M.
Bangkok to Nong Khai Train:
Departs Bangkok for Nong Khai at 8:00 P.M.
Arrives in Nong Khai at 6:45 A.M.
First Class – Private cabin for two persons – 2,434 baht – (Upper bunk = 1,117 baht & lower bunk = 1,317 baht) I recommend this option.
Second Class – Sleep with air-con – Upper bunk = 688 baht (708 baht) & lower bunk = 758 baht (798 baht)
Second Class – Seat with air-con – 588 baht
Third Class – Seat with fan only – 253 baht
YouTube Video June 2018
I wrote this article in July of 2016, but recently made the trip again. Check out the YouTube video to see the route. There are a few changes but it's basically the same.
The Little Train from Pattaya to Bangkok
A little train runs from Pattaya to Bangkok once a day. It departs Pattaya station at 2:21 P.M., Monday thru Friday. The train costs 31 baht for foreigners and is free for Thai folks. How can you beat that? For less than one U.S. dollar you can go straight to the main train station in the middle of Bangkok. It arrives at around 6:15 P.M. That's in plenty of time to catch the Nong Khai bound train at 8:00 P.M.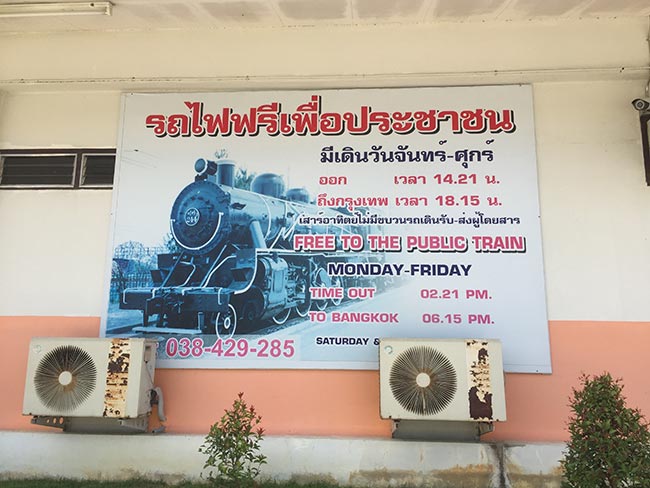 There are no assigned seats on the Pattaya to Bangkok train. It's never crowded there at the Pattaya station so don't worry about having to fight over a seat. I recommend you get a seat on the right side of the train that's facing forward. There's less sun on that side. If you're sitting next to the window you'll catch a nice breeze.
There are fans on the ceiling circulating the air. The train is not air-conditioned but you'll be just fine. It stops around 26 times on the way to Bangkok, but for only two to five minutes. There's not enough time to get off for anything. After a few stops a couple of ladies will show up selling cold drinks and snacks. The prices are reasonable.
2018 UPDATE:
The train now runs on Saturdays and Sundays as well. It departs Pattaya at 4:00 P.M. and costs 170 Baht. It arrives in Bangkok at around 7:00 P.M. There are assigned seats on this train and it is air-con.
Pattaya to Bangkok Train – Where is the Train Station in Pattaya?
The station in Pattaya is located on Train Road, just north of Soi Siam Country Club. If you turn onto Soi Siam Country Club from Sukhumvit Road, you need to take a left on Train Road (at the tracks). The train station is down on the right. If you're taking a motorbike taxi, just show him the above photo and he or she will know where to take you.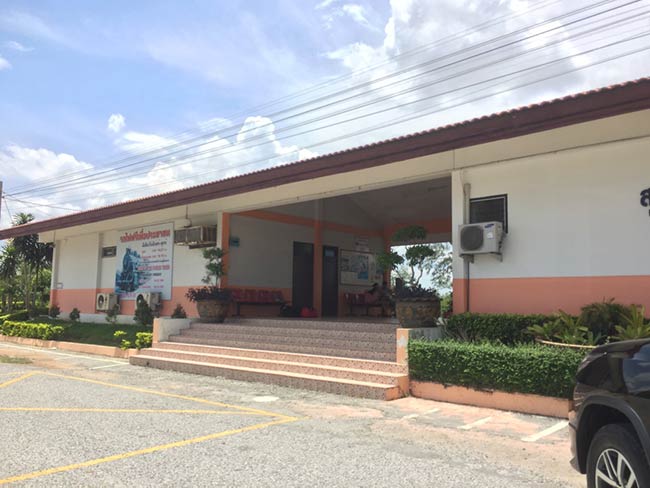 Purchase Tickets for the Train
Purchase your tickets to Bangkok at the Pattaya train depot. There's plenty of room so I don't think you need to make a special trip to purchase the tickets in advance. Just show up at around 1:00 P.M. the day you're traveling and you'll be fine.
You can also purchase your tickets from Bangkok to Nong Khai there at the Pattaya train station. It's the same price as purchasing the tickets in Bangkok and you don't have to wait in a long line.
Now, if it is high season, you may want to play it safe and purchase tickets in advance if you're set on booking a first-class cabin to Nong Khai. I haven't had a problem getting a cabin in the past but you never know. If you're not worried about securing a first-class cabin then just buy your tickets to Nong Khai the day you travel.
When you arrive in Bangkok, you can proceed direct to the Nong Khai train if you've purchased your tickets beforehand in Pattaya.
Quick Travel Tip: Make sure you get tickets for a cabin to where you are facing forward on the Bangkok to Nong Khai train. That's my personal opinion, but I hate riding on a train while facing backwards. The cabins start at seats 1+2 facing forward with 3+4 facing backwards and so forth. That's the way it was on our train. Ask for a forward-facing cabin and the ride will be more enjoyable.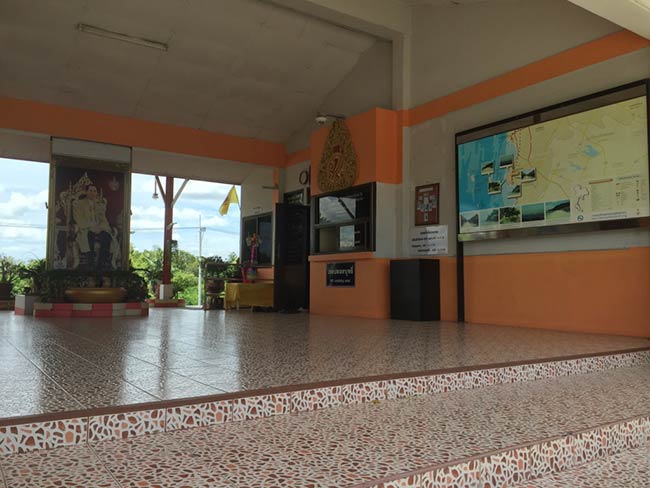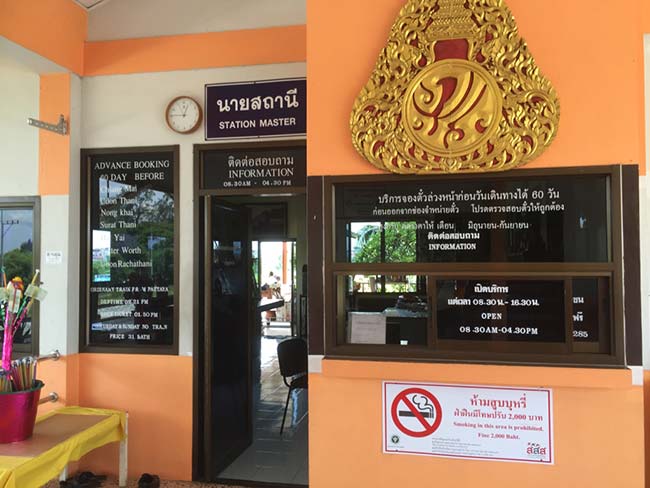 Arriving at Bangkok Station
Stay on the train until the very last stop. The train dead ends into the Bangkok station so you can't get lost. If you get off before the train comes to a dead end, then you got off too soon.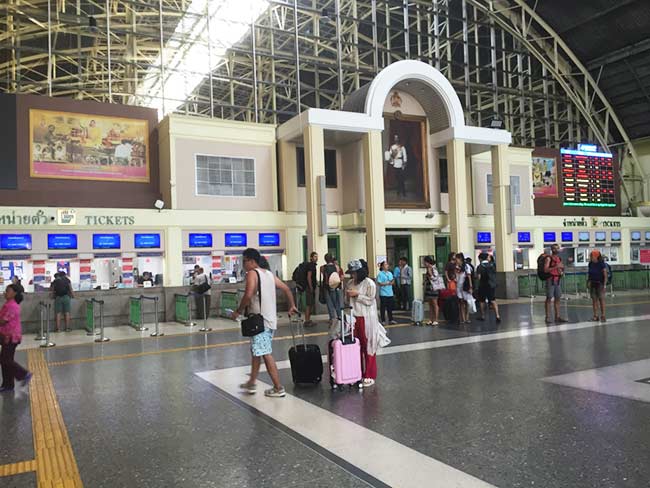 You will exit right. Look at the ticket and it will tell you the train number to Nong Khai. Our train number was 69. I wasn't sure where to go so I just showed the tickets to some nice folks at the security desk. They directed us to platform #5. Too easy.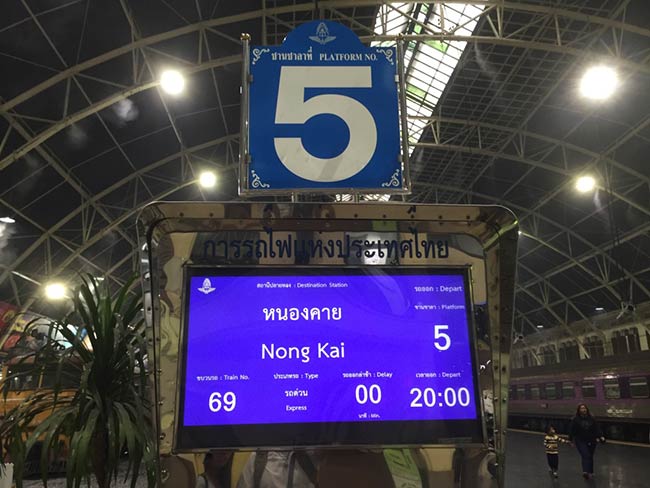 The train to Nong Khai was pulling in as we walked up. The cleanup crew went to work but we were allowed to board right away.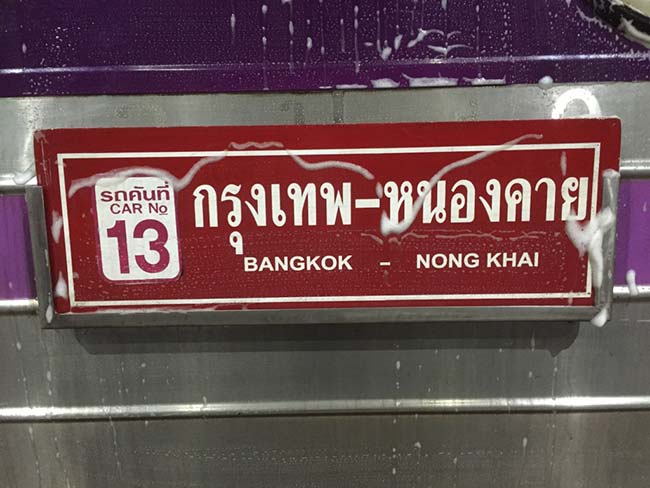 There are several places in the Bangkok train station where you can get a bite to eat. There is a small convenience store near the Dunkin Donuts that sells cold drinks and snacks.
From Bangkok to Nong Khai – Why I Love the Train
If you have the funds, get a first-class sleeper compartment. For the upper deck, it's 1,117 baht. The bottom bunk is 1,317 baht. If you're traveling alone, just purchase both bunks (total of 2,434 baht) and have the cabin all to yourself. It's worth it.
Here are some of the amenities of the cabin:
Two bunks that convert into a couch during the daytime hours
Electrical outlet
Sink with a bar of soap provided
Air-conditioner that blows ICE COLD
Small table (perfect for working on laptop)
Big viewing window
Door that locks
Blankets, sheets, and pillows
Two free bottles of water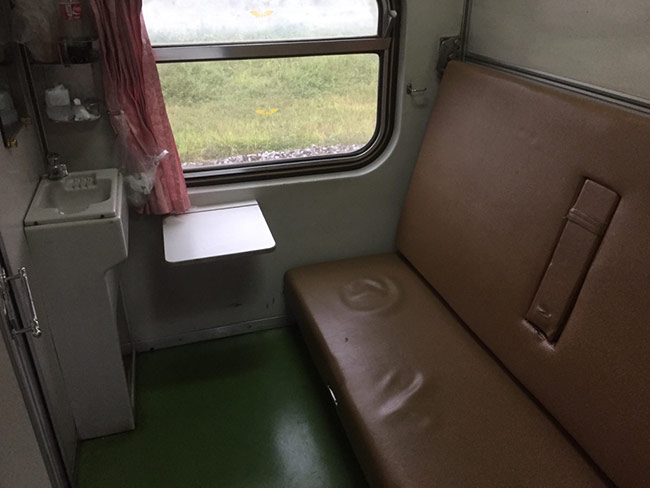 More Advantages of Taking the Train:
There are restrooms on each train car. They're pretty clean as far as public restrooms go.
The staff brings meals and drinks straight to your cabin. The food is good, but not great. It's a step up from your typical airline food, though. Meals cost around 150-180 baht each.
Although the train is a bit bumpy at times, it is comfortable enough to get some sleep.
Your bags stay in the cabin with you, safely under your control.
Once you board the train in Bangkok, you don't get off until you're at the Nong Khai station.
Professional, courteous staff. They are friendly and speak enough English to take good care of you. They are also in uniforms for easy identification.
At the rear of the train car there are two restrooms. The one facing the back of the train has a western-style toilet. The other restroom facing the hallway only has a squat toilet. The restrooms usually have soap and tissue paper for your convenience.
The train is just too convenient. Travel doesn't get much better.
Travel Tips
When you first board the train, don't get settled in and lock the door until you are under way. The staff will open the door several times before the train departs. They need to:
Check your ticket
Deliver two free bottles of water
Deliver a bar of soap
Deliver blankets and pillows
Ask you if you want to order meals and coffee
Make the bunks
Therefore, just leave the door open until all of their tasks are accomplished. Once underway you can secure the door, kick off your shoes, and get comfortable.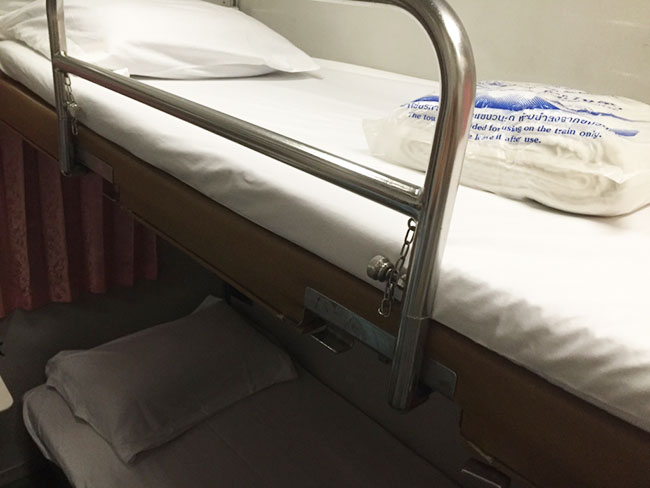 In the first-class cabin, there is an electrical outlet above the door, almost at the ceiling. Unless you have an extension cord, you may have to resort to placing your electronics on the shelf next to the outlet. To make sure your adapter doesn't fall out and crash to the floor during the journey, bring a rubber band. Take a look at the photos below and you'll see what I'm talking about. Just rubber band your adapter to the electrical outlet to keep it secure during the ride.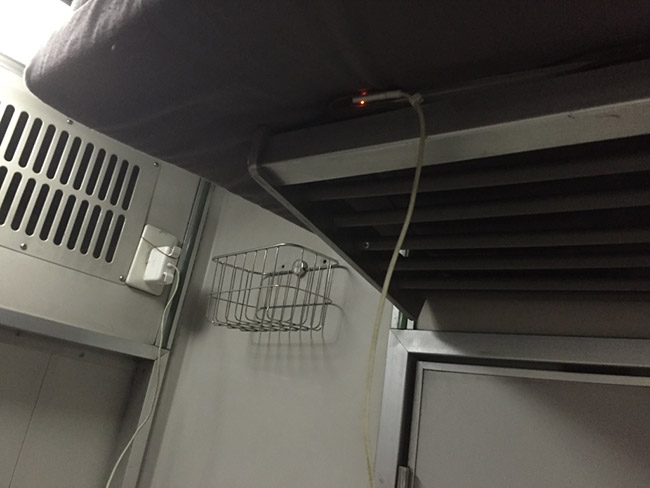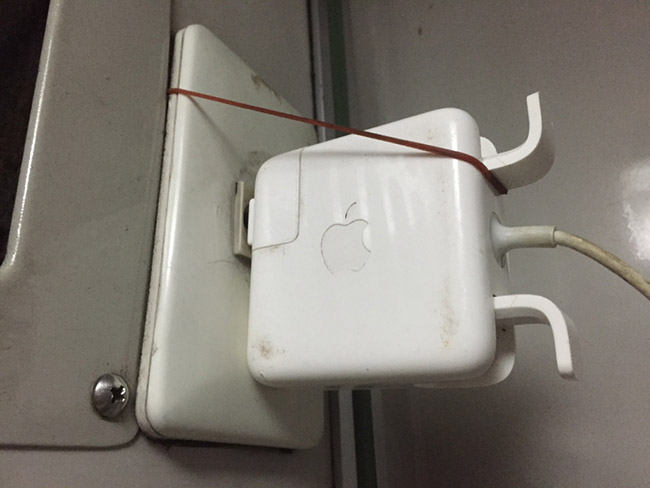 Arriving at Nong Khai Train Station
Set your alarm clock for 5:00 A.M. The staff will start serving breakfast and coffee around 5:15 A.M., at about the time you're approaching Udon Thani. The train will arrive in Nong Khai pretty close to 6:45 A.M. as scheduled. Exit to your right. You're at the Nong Khai train station which is very close to the border.
Getting Across the Laos Border and to Vientiane – The Easy Way
If you are going to Vientiane, you'll want to read this post as well:
Nong Khai to Vientiane, Laos – Train to Thanaleng – Travel Tips
The short of it is you can stamp out of immigration at Nong Khai train station and take the train across the border to Thanaleng, Laos. You will get your Laos visa there at the Thanaleng train station.
It's a lot easier than crossing at the main land border. There are a few ripoffs and scams to look out for that I elaborate on in the above article.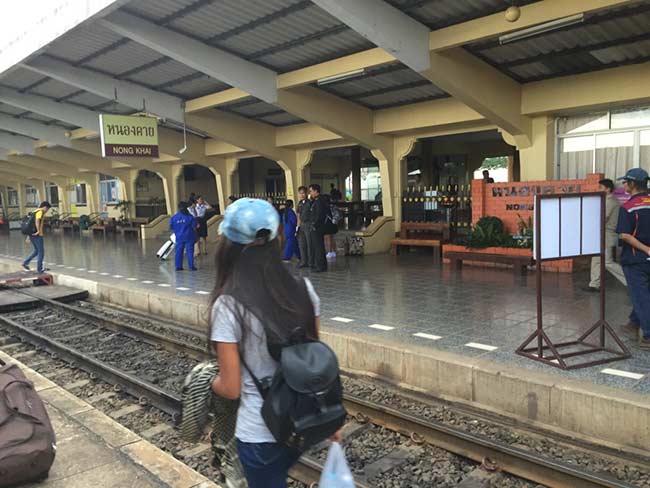 Best Way to Book a Room in Pattaya and Nong Khai?
The best way to book a room and get the lowest price is through Agoda. This is the only booking site I use here in Southeast Asia and highly recommend it. Try it out and see for yourself.
From Pattaya to Nong Khai – Other Travel Options
This is a little bit of rambling but maybe you'll find it useful…
You can fly, but that requires the typical waiting in line at the airport, going through security, buying high-priced airport food, and being wedged in a tin can for an hour. It's not very exciting, appealing, and there's nothing worth writing home about. You will travel half the length of the country and get to see zero sights. What a waste of time.
You can take a bus, which is actually nice if you get a VIP seat on the bottom deck. Taking the bus would be my second choice if I couldn't take the train. You get several breaks during the journey where you can exit the bus, stretch your legs, use the restroom, and buy snacks and drinks. The only real negative thing I can say about the bus is that the onboard restroom isn't exactly the cleanest.
The last method I would ever take to Nong Khai again is the mini-bus. There are several reasons why I won't ride in a Toyota Commuter Van in Thailand anymore, unless I've chartered it for a private trip.
The first thing is that the typical driver tries to break every speed record known to man during the journey. This includes running every red light while driving on the far left shoulder of the road. Unless you are passed out drunk, the ride will scare the shit out of you. I realize they are under pressure to make timelines, but I don't care. These vans constantly crash and burn over here. Just Google it and see some flames for yourself. You are packed in there so tight, with every seat filled, that it would be very difficult to get out of the thing if it crashed.
Another reason is that since it's tight quarters, some jackass will use it as an opportunity to become social.
"Well, since we're going to be packed in here together all night, we might as well get to know one another. My name's Bill. Where you from?"

Guess what Bill? I don't want to chat with you for 14 hours. I don't want to know your name. I don't want to be social.
Yeah, I'm an introverted asshole. But, I paid for a ticket to get me to my destination and it didn't include having to subscribe to someone else's agenda. You don't have this problem on a bus because it's bigger and not as intimate of an environment. When you're packed into a mini-van, people suddenly think you're long-lost friends. This happens damn-near every time with a van full of foreigners. If it's just local Thai people, it's mostly quiet and folks mind their own business. The journey will be peaceful.
Let me expand on that. If I open the door to a mini-van and see foreigners, I close it and find another one. If I open it and see only Thai people, I'm happy and will jump right in. Why? Because there are too many drunk tourists and ex-pats who act like idiots. I can talk because I used to be one of them on a daily basis.
The last time I rode to Nong Khai in a mini-bus, there were two drunks who kept hooping and hollering. They were popping pills, spilling beer everywhere, and just being obnoxious. After six hours of that activity, me and an Australian guy had heard enough. We told the van driver that they had to go or we were getting off. The driver finally transferred one of the drunks to another van. The remaining shithead then shut his mouth for the rest of the trip. Either way, the night sucked for everyone on board.
I don't take the mini-bus here anymore unless it's the last option.
Nong Khai to Pattaya on the Train – The Return Trip
The #70 train departs Nong Khai at 7:10 P.M. and is scheduled to arrive in Bangkok at 6:00 A.M. As long as the train gets to Bangkok on time, you can take the 6:55 A.M. train to Pattaya for 31 baht.
Our train didn't arrive into Bangkok until 7:05 A.M. The Pattaya train had already departed. We ended up taking the #281 train from Bangkok to Chachoengsao.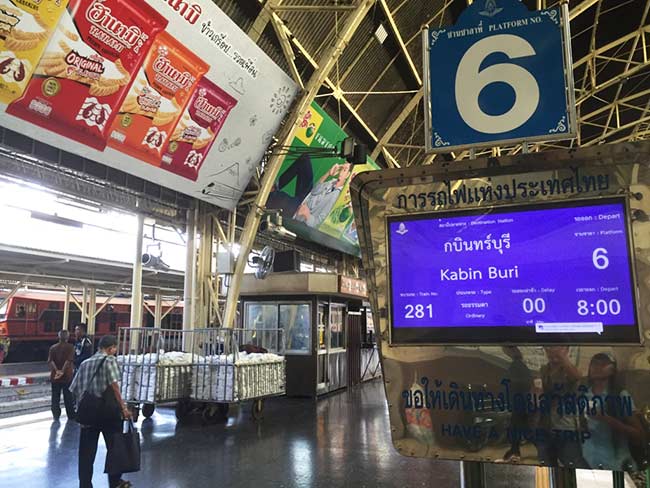 The #281 train is scheduled to depart Bangkok at 8:00 A.M. and arrive in Chachoengsao at 9:30 A.M. The cost is a mere 13 baht per person.
Quick Cultural Lesson: Make a note that at 8:00 A.M. the Thai national anthem is played country wide. Therefore, it will play before the train departs the station. Show your respect and stand at attention with the locals. Take off your hat and sunglasses and face the Thai flag, or whichever direction the locals are facing. Put down your phone and be quiet for a couple of minutes. The national anthem is played at 6:00 P.M. every day as well.
We actually got to Chachoengsao at 10:00 A.M. We rode a tuk tuk to the bus station, which is about five minutes away. The tuk tuk driver charged us 60 baht. At the bus station, we boarded a mini-bus (only option other than waiting for a full-size bus) to Pattaya. The cost was 120 baht per passenger. The ride was as previously described.
Nong Khai Train Station Schedules and Prices
Express Train #76 Nong Khai to Bangkok
Departs Nong Khai at 7:00 A.M.
Arrives Bangkok at 5:00 P.M.
Second Class – Seat with air-con – 498 baht
Third Class – Seat with fan – 253 baht
Local Train #418 Nong Khai to Nakhon Ratchasima
Departs Nong Khai at 12:55 A.M.
Arrives Nakhon Ratchasima at 7:00 P.M.
Third Class – Seat with fan – 64 baht
Express Train #78 Nong Khai to Bangkok
Departs Nong Khai at 6:15 P.M.
Arrives Bangkok at 5:00 A.M.
Second Class – Seat with air-con – 498 baht
Third Class – Seat with fan – 253 baht
Rapid Train #134 Nong Khai to Bangkok
Departs Nong Khai at 6:30 P.M.
Arrives Bangkok at 5:45 A.M.
Third Class – Seat with fan – 213 baht
Express Train # 70 Nong Khai to Bangkok
Departs Nong Khai at 7:10 P.M.
Arrives Bangkok at 6:00 A.M.
First Class – Cabin sleeper with air-con – Upper bunk 1,117 baht – Lower bunk 1,317 baht
Second Class – Sleep with air-con – Upper bunk 688 baht (708 baht)- Lower bunk 758 baht (798 baht)
Second Class – Seat with air-con – 588 baht
Third Class – Seat with fan – 253 baht